Yellow jackets create problems not only for beekeepers. None of us wants to face them in our yard or garden. These pests can be dangerous to your family and pets. That is why finding the best yellow jacket trap is significant for protecting them.
Pros
Effective against wasps and hornets.
Great Value
Pros
Effective against wasps and hornets.
There are many options on the market, as well as for instructions for making DIY traps. But you should know all the essential aspects of fighting yellow jackets before choosing a suitable approach. I've decided to share my knowledge with you in this article.
I've reviewed some solutions to make it easier for you to find the one. Also, here you will find answers and recommendations on how to fight these pests properly.



Top 5 Best Yellow Jackets Traps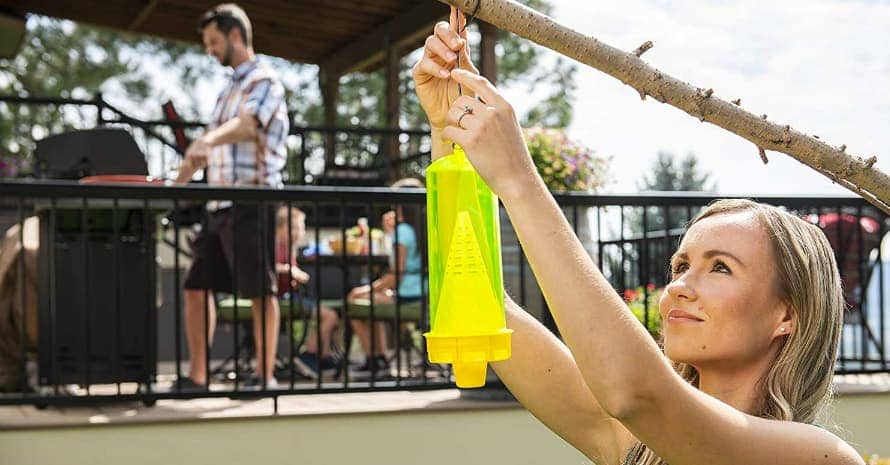 Without at least basic knowledge, it is hard to find the right yellow jacket treatment. A regular person can get lost in the selection of products and their types. That is why you should seek professional help in finding the most effective yellow jacket trap. Check reviews below to define the best solutions.
1. Reusable Yellow Jacket Trap with Attractant from RESCUE
Specifications:
Won't Attract Honeybees
Material: Plastic
Item Weight: 0.05 Pounds
Item Dimensions LxWxH: 10 x 3.5 x 3.75 inches
Target Species: Fly, Wasp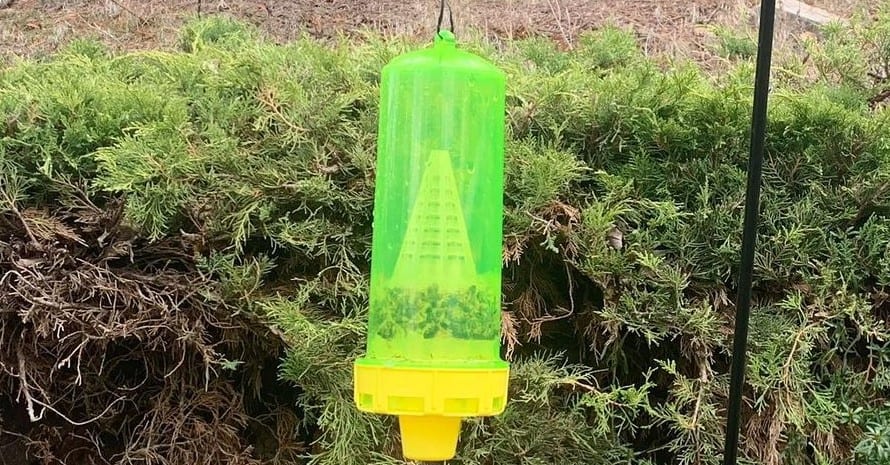 RESCUE offers an affordable solution for controlling the population of pests. Their reusable yellow jacket traps use a non-toxic attractant that is effective against pests without harming the honey bees. This is a wise purchase because you can use it as long as you need it.
Just change the cartridges from time to time. The attractant is included in the package, but you will soon run out of it, so you should either buy extra sticks or make a homemade one. The good news is that the DIY attractant can be applied here as well.
The construction is durable, and it is resistant to temperature or weather changes. Moreover, this product is very convenient because it is easy to maintain.
From my professional point of view, this is the best reusable yellow jacket trap, considering all the benefits of this product.
Pros:
Cons:

reusable;

non-toxic;

safe for bees;

can work with DIY attractant;

easy to maintain.

it requires additional attractants.
2. Disposable Yellow Jacket Trap with Attractant from RESCUE
Specifications:
Material: Plastic
Number of Pieces: 6
Item Weight: 0.13 Pounds
Item Dimensions LxWxH: 3.25 x 7.75 x 8.75 inches
Target Species: Wasps, Yellow Jackets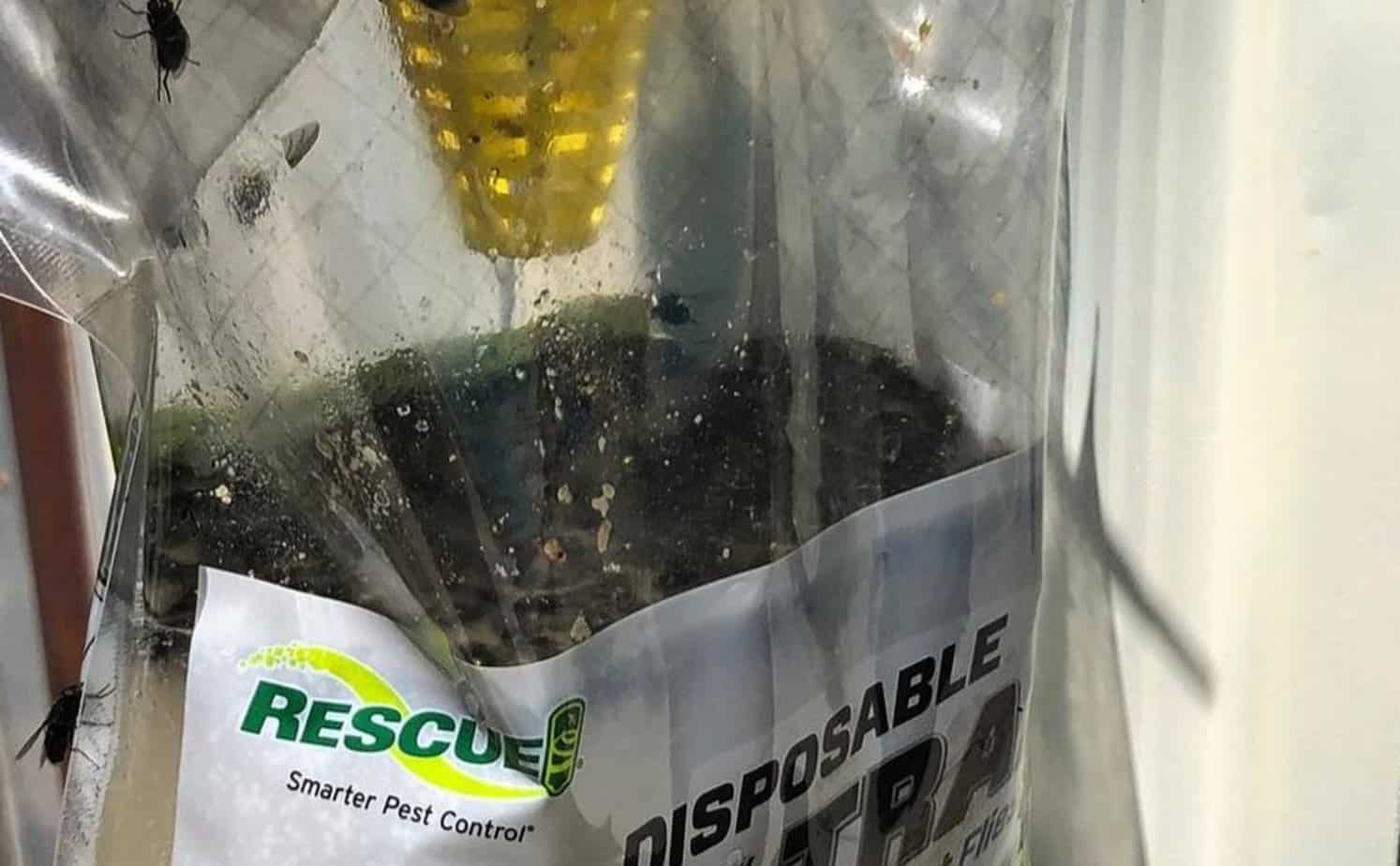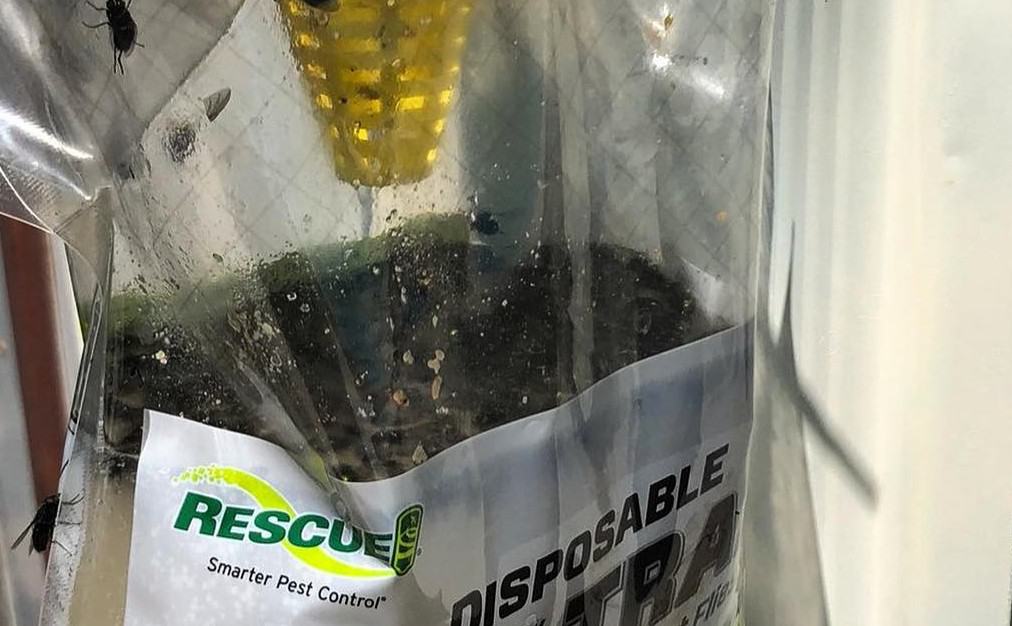 If you do not want to deal with changeable cartridges and to clean the mess from pests, you can apply the disposable traps from RESCUE. This brand is known for providing effective anti-pest solutions. The package includes 6 disposable hanging catchers that contain the attractant, which works for yellow jackets, as well as wasp or hornets. When they get in through the small hole, they are trapped.
The construction is safe for your hands. After the trap is full, you just need to throw it in the trash.
Talking about the best disposable yellow jacket trap, this definitely will be my choice. The only drawback here is that the trap has plastic parts, which is not good for the environment.
Pros:
Cons:

non-toxic attractant;
easy to apply;
effective against wasps and hornets;
unique attractant formula against yellow jacket species of Western Time Zones.

plastic in a disposable product.
3. Yellow Jacket Wasp Trap from Pic
Specifications:
Material: Plastic
Number of Pieces: 1
Item Weight: 0.45 Pounds
Item Dimensions LxWxH: 5.25 x 5.25 x 6.5 inches
Target Species: Wasps, Yellow Jackets, Hornets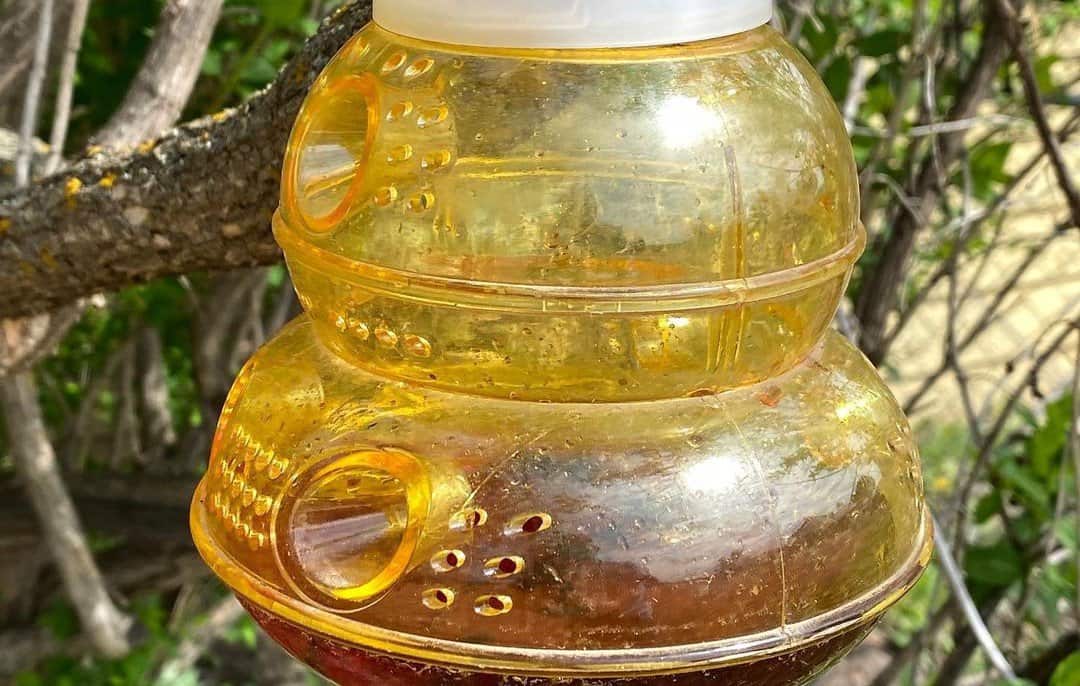 This reusable trap from Pic is effective in catching large amounts of yellow jackets thanks to its 6 one-way entries. Inside the bottle construction, there is water with an attractant that lures the pests at first and then kills them. The construction of the trap is durable and can serve for long in various weather conditions.
The attractant formula is safe for bees; therefore, you can use this yellow jacket trap bait near bee-gardens. Also, the trapped insects will release some substances as well to distress others. So, you will catch even more yellow jackets.
The drawback here is typical to the reusable solutions. The trap requires maintaining: refilling the attractant and cleaning the dead insects when the bottle is full.
Pros:
Cons:

6 entry funnels;

durable, reusable construction;

easy to use and maintain;

without toxic chemicals;

can work with homemade attractant mixtures.

it requires refilling and cleaning.
4. Cartridges for Trapping Yellow Jackets from RESCUE
Specifications:
Material: Plastic
Number of Pieces: 3
Item Weight: 0.8 ounces
Item Dimensions LxWxH: 1.75 x 4 x 6 inches
Target Species: Yellow Jackets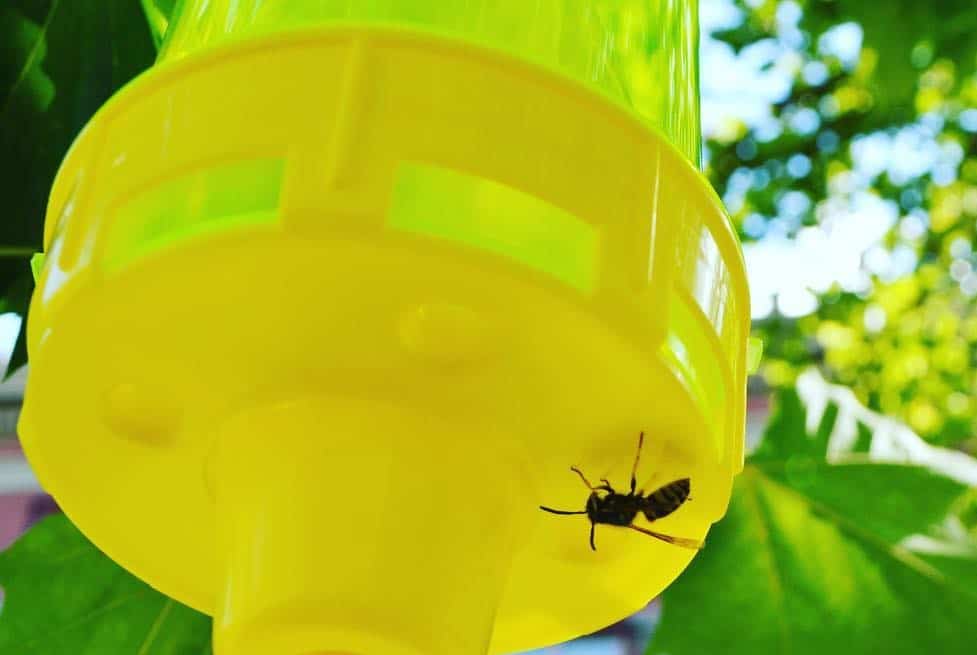 When you decide to apply the reusable traps, you should take care of the changeable cartridge supply. For the RESCUE trap, it is advisable to use the particular cartridges from this brand. In my expert view, this is the best yellow jacket cartridge with attractant.
The manufacturer knows how to attract yellow jackets without harming other useful insects. The non-toxic formula only lures the pests to the trap, without poisoning them.
The solution is effective against yellow jackets during spring, summer, and fall. With the proper maintenance, your yard or garden will be entirely protected from these nasty pests. The special cartridge construction makes it easy to change them without touching the attractant elements. According to the manufacturer, one cartridge can ensure up to 10 weeks of treatment.
Pros:
Cons:

easy to clean;
no mess afterward;
high level of customer satisfaction;
effective from spring to fall;
up to 10-week of work.

there are complaints that some cartridges are dried out.
5. Yellow Jacket Trap Bait for Outdoors from BioCare
Specifications:
Material: Plastic
Number of Pieces: 1
Item Weight: 4 Ounces
Item Dimensions LxWxH: 3.75 x 3.75 x 8.62 inches
Target Species: Yellow Jackets
This BioCare yellow jacket catcher is non-toxic food-based bait that does not contain any poisonous chemicals. The special design of the trap attracts the pests along with a mixture inside. Thanks to its reusable construction, the trap is a cost-effective solution for your garden. I recommend you to hang at least 4-6 catchers in your yard for better effect.
The bad news is that the manufacturer expects the customers to prepare the attractant mixture. You will need to mix water with sugar (or non-citrus juice), dish soap, and some fish or meat. Or you can use any other proven recipe. But still, it would be better to have the mixture in a kit.
Pros:
Cons:

without pesticides;

safe for bees;

food-based bait with yellow pigment attracts yellow jackets;

reusable.
Reusable and Disposable Trap Types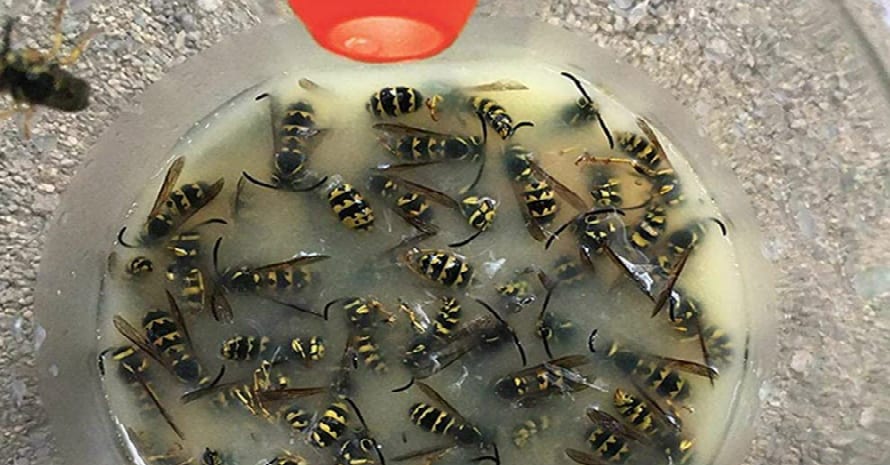 Most of the insect traps have the same construction of jars or bags with an attractant inside. Manufacturers offer a selection of products, which can be reusable or disposable. Both options have benefits and drawbacks. Let's take a closer look at them.
The main advantage of the reusable traps is their cost-effectiveness. You just need to buy changeable attractants from time to time. Also, some traps work properly with homemade mixtures. The bad thing is that you have to clean the dead insects and deal with cartridge changing.
At the same time, disposable traps for yellow jackets are more convenient as you just have to add some water to activate the attractant. When the trap is full of insects, you just need to throw it away. There is no need to change cartridges or clean the mess.
But this solution usually costs more compared to the reusable alternatives. Also, due to the disposable construction, these traps are less durable.
Related Post: How to Get Rid of Mud Dauber Wasps
Choosing the Best Trap for Yellow Jacket
It is not enough just to know how to catch yellow jackets. You also should know what solution will be suitable for your case of infestation. Here are some aspects you should consider before purchasing a trap:
What type is more convenient for you: reusable or disposable?

Does the trap use the chemicals for fighting pests?

Is the catcher safe for bees and animals around?

What do experts say about the particular product?

What is the level of customer satisfaction?
Effective Usage of the Yellow Jacket Wasp Trap
Most of the yellow jacket bottle trap products are designed for outdoor use, so the weather can be an issue. Some traps require covering from rains. Otherwise, you need to change them more often. Decent maintenance is the key to the trap effectiveness.
Insects are active during the warm seasons, so this is when you should apply traps. But if you use them in early spring, you can catch the queens and prevent the pests from building a nest. Hang traps near locations you want to disinfect but far from the areas of human and pet activity.



FAQ
There are many common questions about traps for yellow jackets. Below you will find the answers to the most frequent ones.
Where to Place Yellow Jacket Traps?
Place them outside in your yard or garden at least 20 feet away from the area you want to maintain pest-free. Hang the traps at the height of 3-6 feet above the ground. Make sure it is not covered with leaves or branches. Keep the trap away from the direct sunlight, as the heat affects its durability.
Do Yellow Jacket Traps Work for Wasps?
You might look for a universal yellow jacket wasp trap that will be effective against these pests. But most of the yellow jacket catchers do not control the entire wasp colonies. They can only prevent their gathering in treated areas.
How to Make a Yellow Jacket Trap?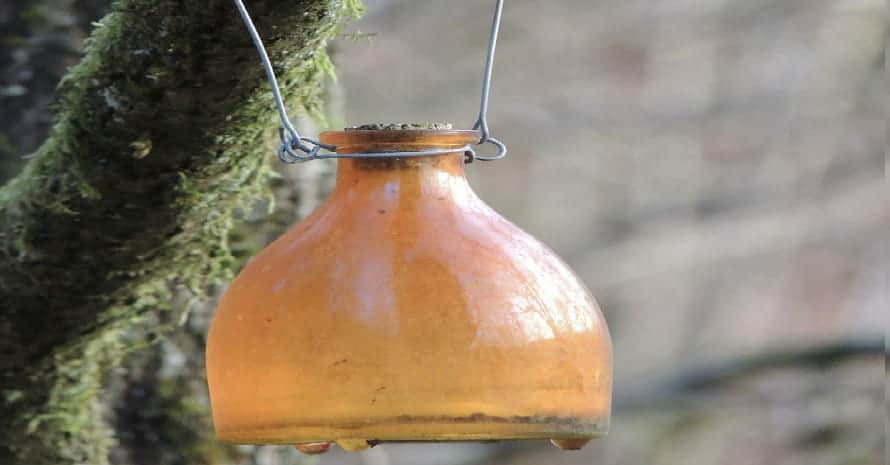 Take a large plastic bottle and cut a ¾-inch hole in the top half of it. Then prepare the mixture. You should blend 1 part of vinegar, 1 part of sugar, 4 parts of water, and some banana peels. Fill the bottle with this liquid and hang the trap away from your living zone.
Related Post: Best Wasp and Hornet Killer Sprays
Takeaways
As you can see, trapping yellow jackets can be effective if you use the available treatment methods right. No matter what you choose, reusable, disposable, or homemade traps, you should know the principles of their work for proper applying. Follow the instructions and precautions in order not to harm bees or other pets and animals. Maintain the traps and monitor the population of yellow jackets in your area.
Have you tried some of the reviewed products? Or maybe you have some experience in making DIY traps? What is your opinion about the selected method? I'll wait for your answers in the comments!
References:
Getting the Best Results with Yellowjacket Traps (Michael K Rust / Agriculture and Natural Resources, University of California):
https://ucanr.edu/blogs/blogcore/postdetail.cfm?postnum=14805
Controlling Wasps, Hornets, and Yellowjackets (University of Kentucky College of Agriculture):
https://entomology.ca.uky.edu/ef620
Why You Should Trust Pest Control Hacks?
We know that pests are nasty neighbors, and it can take months to eliminate them without the right approach. Our experts use their own experience to compile articles and guides that are introductory and informative. Our authors' opinions are independent and based on the results of practical testing of pest control tools. We do not notify manufacturers of testing of their products and do not receive payment from them for posting their items. Also, our texts are never submitted to company representatives for proofreading before placement. On the site, you will find exclusively objective ratings and reviews.