Probably everyone has experienced an unpleasant feeling of being stung by wasps or hornets. Since childhood, everyone remembers one common truth – it is better not to approach the striped buzzing insects.
However, to make sure you are safe and not afraid of aggressive insects, you better choose the best wasp and hornet spray to protect yourself and destroy wasp nests. In the summertime, it is significant to prevent any potentially harmful for health incidents that may occur to you, your family, or pets.
Pros
Kills any type of wasps and hornets.
Best Wasp and Hornet Spray
Pros
Kills any type of wasps and hornets.
Best Professional Wasp and Hornet Insecticide
On average, 1 person out of 20 people is immune to wasps venom and has tolerance to more than one sting without suffering from pain or any health issues. On the contrary, 3 out of 100 people are hypersensitive to the components of the poison. For them, one bite can be fatal.
Hornets, despite their large size (up to five centimeters), stings at about wasp level. The only difference is that this insect injects a larger amount of poison, and the tumor with hornets bites lasts longer.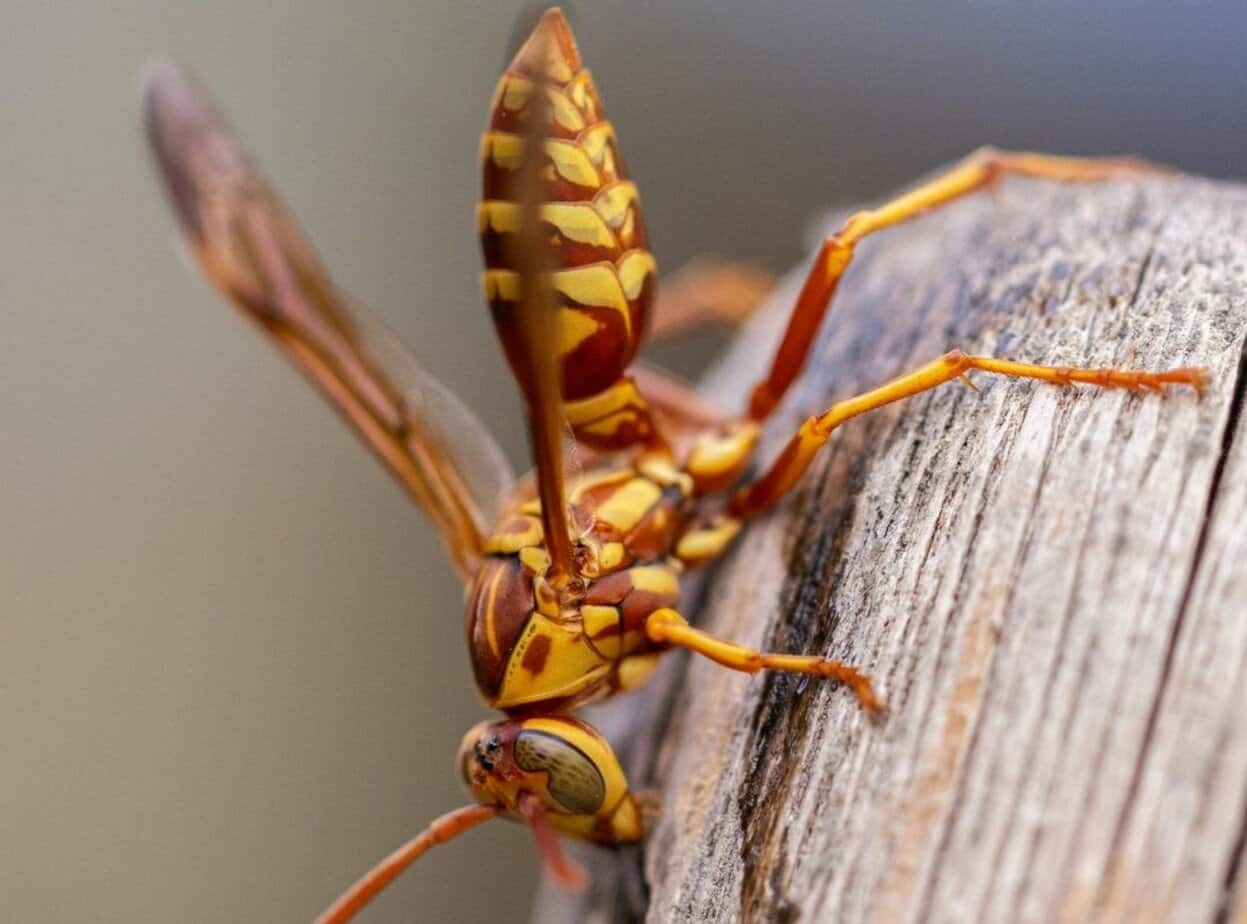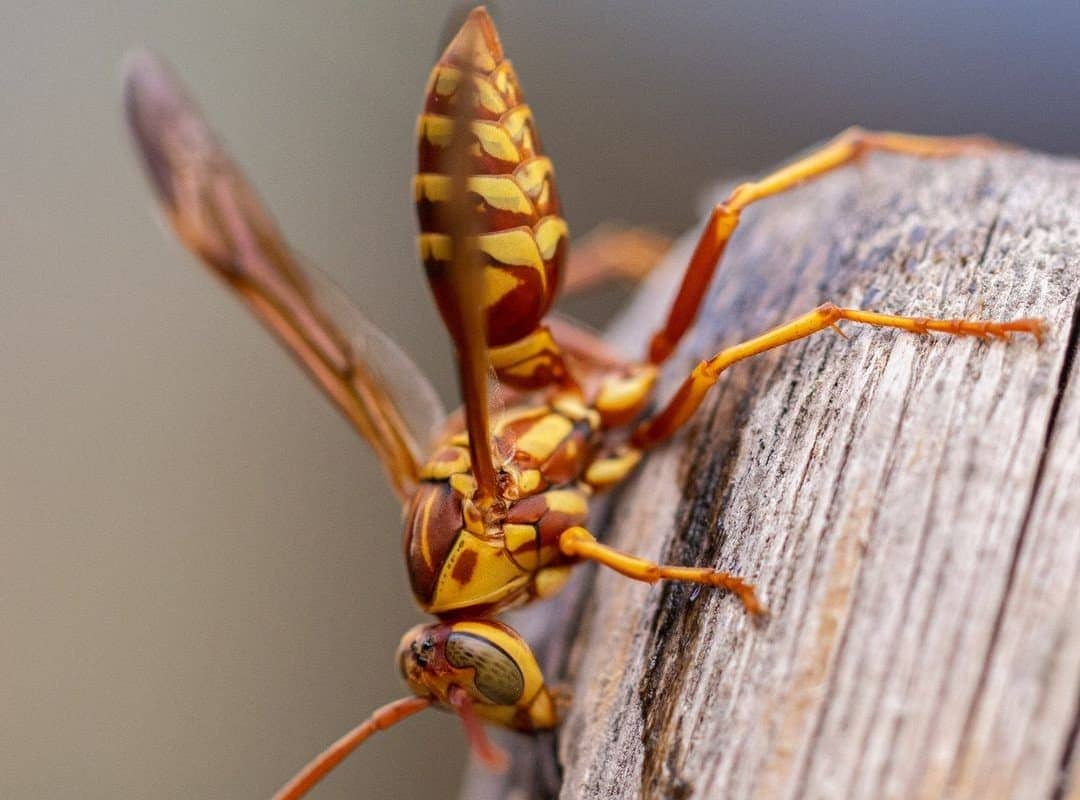 Everyone knows that it may get annoying when a lot of wasp nests and hornets are around your household. That's why I want to share with you 5 wasp spray reviews and help you to live a free life without insects. I will describe the functional systems, some technical features, and benefits of each wasp killer spray so you can choose what fits best for your personal needs.



Top 5 Best Wasp and Hornet Sprays: a Review in Details
I believe that the last thing you want to have in the backyard, or anywhere else in your household area, are wasps nests and hornets. Especially, when the danger from them may arise at any time. I want to assure you that these 5 wasp and hornet sprays are the best that I've ever tested. Hopefully, you'll find what's most suitable for you.
1. BASF – PT Wasp-Freeze II – the Best Wasp and Hornet Spray
Specifications:
Active Ingredient: Prallethrin 0.1%
Item Form: Aerosol
Item Weight: 1.09 Pounds
Item Dimensions LxWxH: 2.63 x 2.63 x 11 inches
Target Species: Wasps, Hornets, Yellow Jackets, Spiders
The BASF brand is popular among others for its insect killing products. The company produces pest chemistry solutions for general and specific pest control.
I want to recommend you one of their outstanding spray killers – the Wasp-Freeze. It is an invaluable tool to fight against the wasps and hornets in domestic areas and among the professional pest control agencies. Wasp-Freeze II is recommended to use outdoors only. The active chemicals in this spray are too concentrated for indoor use.
Besides, it affects wasps and hornets in a very intense way, and knockdowns the insects immediately. The spraying process takes about 5 seconds after which the insects freeze instantly. As a result, you are safe and don't need to waste hours to kill each wasp or hornet.
The Wasp-Freeze spray is powerful enough to kill both grubs and adult insects, including hornets and wasps. The main benefit of this spray is that you don't need to come close to the insects' nest to spray them because the course jet reaches the height up to 5 meters. It allows you to stay as safe as possible.
If a wasp nest is too high, and you cannot reach it, you may use the extension pole which is equipped with a rope discharge. You just need to fix the spray there.
The minimum allowed distance to spray is 2 meters from the nest location. Besides, the Wasp-Freeze BASF Spray can be applied to kill the ground wasps.
I believe this is the best wasp and hornet killer because it is safe in use, provides instant results in 5 seconds, and prevents wasps and hornets from returning to their previous nest location.
Pros:
Cons:

takes 5 seconds to kill the insects;
domestic and industrial usage;
kills any type of wasps and hornets;
course-jet up to 5 meters.

not intended for the indoor use.
2. Demon Max: the Best Professional Wasp and Hornet Insecticide
Specifications:
Active Ingredient: Cypermethrin 25.3%
Item Form: Liquid
Item Weight: 1 pounds
Item Dimensions LxWxH: 2.05 x 4.35 x 8 inches
Target Species: Ants, Ant Mounds, Asian Cockroaches, Bark Beetles, Bees, Borers, Boxelder Bugs, Carpenter Ants, Carpenter Bees, Centipedes, Chiggers, Chinch Bugs, Cockroaches, Crickets, Earwigs, Elm Leaf Beetles, Fire Ants, Firebrats, Fleas, Flies, Ground Beetles, Gypsy Moths, Millipedes, Mole Crickets, Mosquitoes, Pillbugs, Scorpions, Silverfish, Sowbugs, Spiders, Ticks, Wasps, Wood Infesting Beetles, and others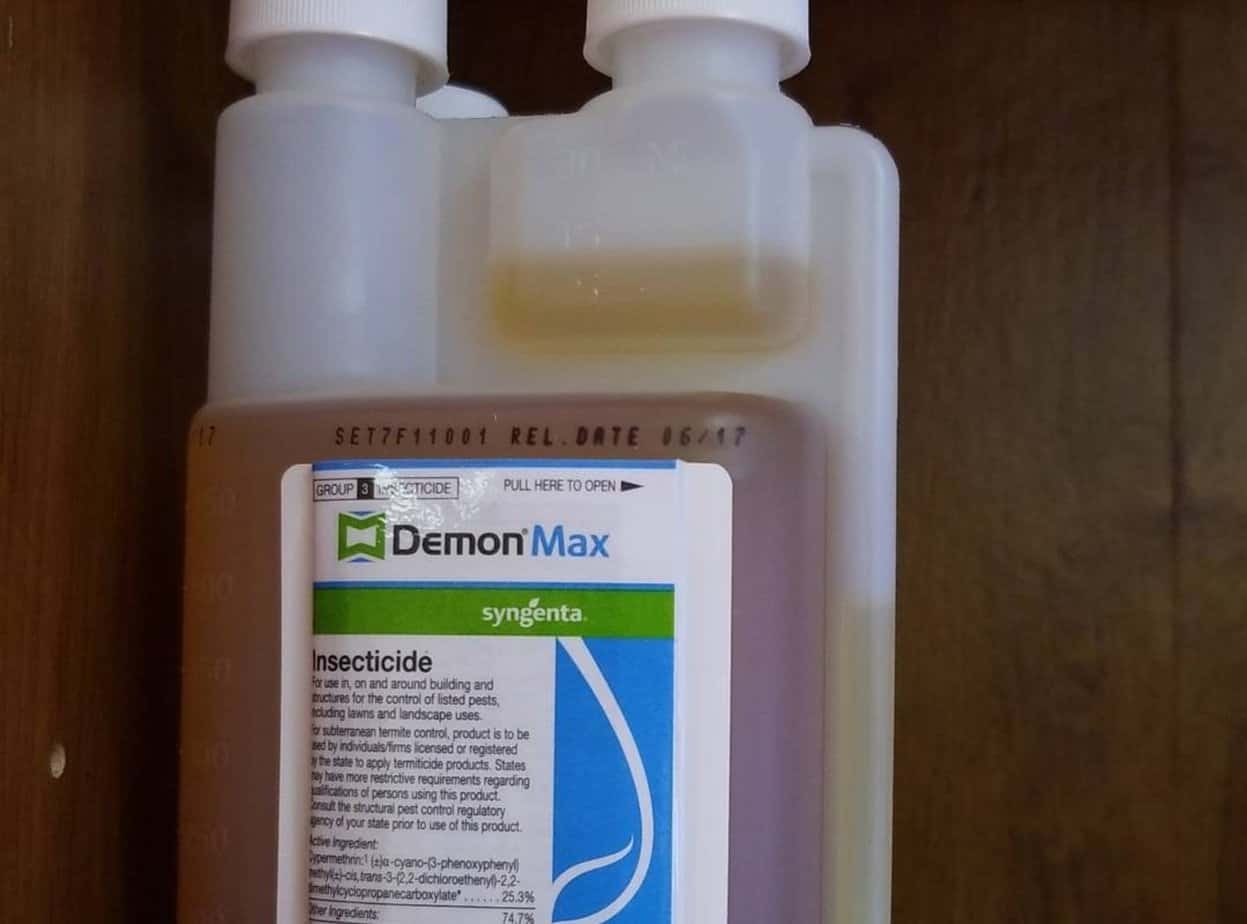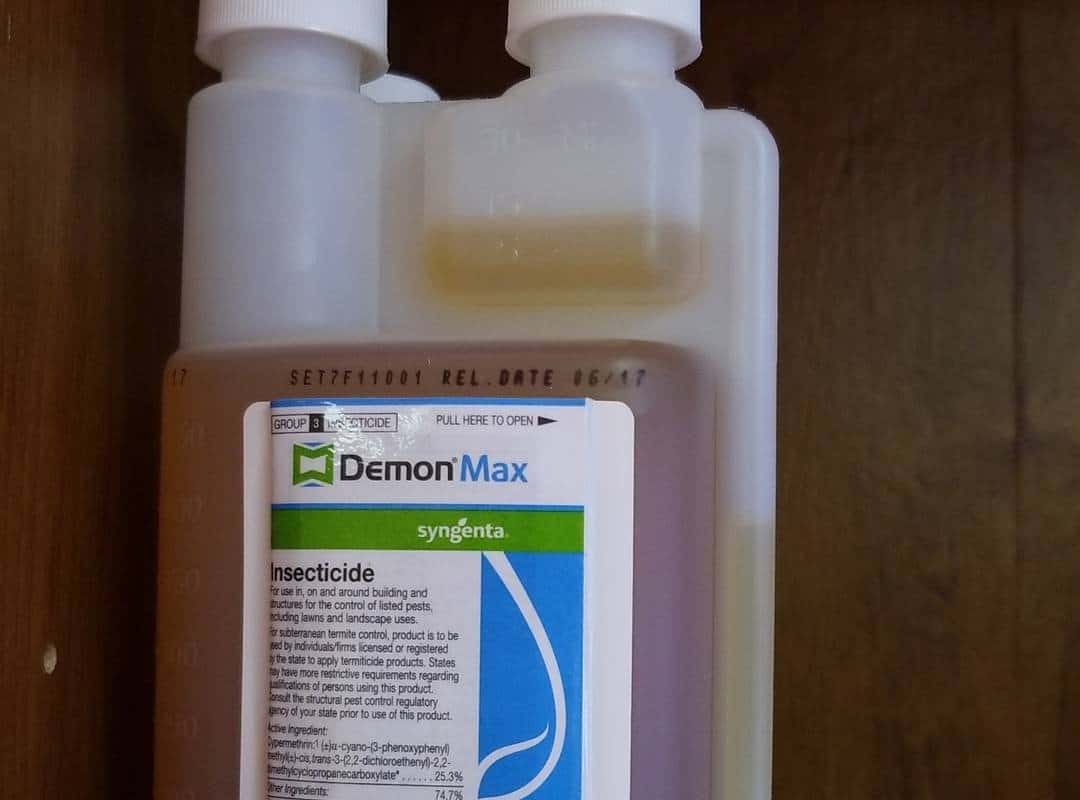 This spray has a high concentration of active ingredients which help to knock down the wasps and hornets as quickly as possible. The main benefit is its long-lasting residual effect. Demon Max controls hundreds of different insects, though it is one of the most efficient solutions for wasps and hornets nests. You are allowed to use it both indoors and outdoors which means its absolute safety for everyone who is around.
Before you start the spraying process, you should be equipped with special long cloth, safety masks-respirators, and chemical resistant gloves. In the beginning, you have to mix 1.3-5.0 fluid ounces per gallon of water. The measuring reservoir at the top of the Demon Max bottle will help you to get an exact right amount of the spray.
It is crucially important that you do not over apply the spray; otherwise, it may harm you too. With this mixture, you fill in the sprayer, shake it, and you are ready to use it.
Pros:
Cons:

indoor wasp spray;
easy to use;
has a measuring bottle;
an immediate knockdown.

not suitable for raw wood material.
3. SpectracidePRO Wasp and Hornet Killer: Kills the Entire Nest
No products found.
Specifications:
Active Ingredient: Tetramethrin 0.10%, Permethrin 0.25%, Piperonyl Butoxide 0.50%
Item Form: Aerosol
Item Weight: 2 Pounds
Item Dimensions LxWxH: 6 x 4 x 10 inches
Target Species: Wasps, Hornets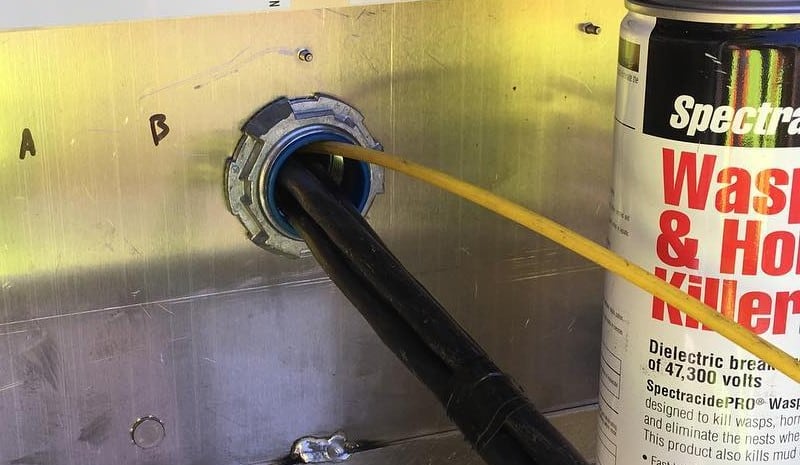 The brand SpectracidePro specializes on various sprays, aerosols, foams, and other wasps and hornet killers. However, this time, the company has made a huge progress and produced an aerosol to kill wasps nests if they are located near the electrical equipment. The spray is arranged for the dielectric breakdown voltage of 43.700 volts.
The jet spray is able to reach up to 20 ft. away which is very convenient to kill on contact. You may be sure that the spray will not spread to your skin or eyes. It is important to remember that you have to stand as far from the nest as the spray allows for your own safety. The essential residual effect will protect your household from the wasps` returning up to 4 weeks.
Pros:
Cons:

residual action up to 4 weeks;
jet spray up to 20 ft. away;
kills the whole nest instantly;
allowed to use near the electrical equipment.

for outdoor use only;
spray only with your gloves and glasses on.
4. SpectracidePro: the Aerosol to Kill on Contact Wasps and Hornets
No products found.
Spectracide Pro kills wasps nests and hornets in contact with the power of a 27-foot jet. Before using any of the sprays, you should acknowledge yourself with precautions to make sure you act according to the safety user instructions.
The manufacturer of the SpectracidePro recommends applying it for the wasp's nests in the evening or night time when insects prepare for the night rest and are not as aggressive during the day time. Before using it, wear your gloves on to make sure the chemicals don't spread to your skin.
When you are ready to start, just stand at a maximum safe location and spray the product straight in the nest. Avoid standing directly under the nest! After you applied it, wait for 24 hours till every wasp dies inside, and remove it.
Pros:
Cons:

kills on contact;
ready-made to apply – no need to prepare;
27-foot jet allows staying at a safe distance.

prohibited to use near the electrical equipment.
5. Raid: Will Make Sure to Kill Every Wasp and Hornet
Specifications:
Active Ingredients: Prallethrin 0.02%, Cypermethrin 0.05%
Item Form: Aerosol
Item Weight: 1.42 pounds
Item Dimensions LxWxH: 9.2 x 8 x 2.1 inches
Target Species: Wasps, Hornets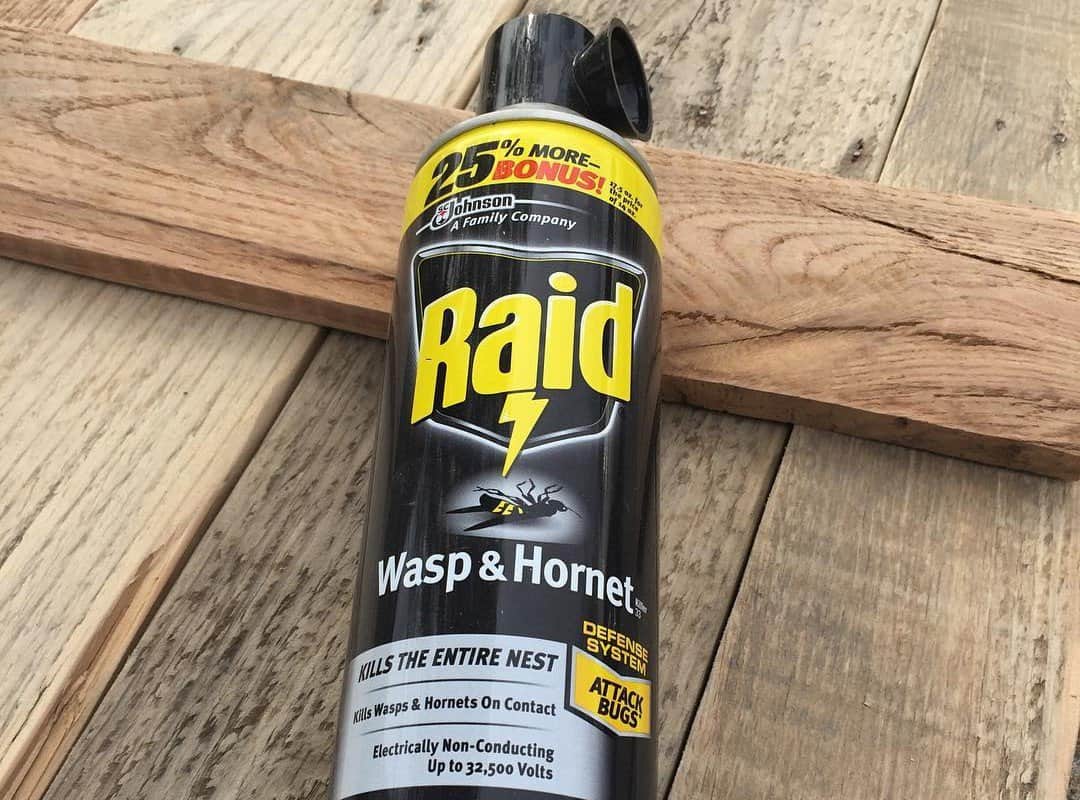 Raid Spray will allow you to enjoy your outdoor activities without running away from dangerous wasps and hornets. The 22-course jet makes it easier for you to use the insects' killer. The residual action prevents hornets and wasps from coming back to old places someday.
This is a significant feature for you to consider. In case you don't want to have a fight with these insects every spring and summer, you better choose products with residual effects. Besides, if some wasps are not inside the nest when you spray it, as soon as they return, each of them will die as well thankfully to the residual action.
Once you are ready, hold the spray upright in the nest. Please, make sure the wind is at your back to prevent an occasion that Raid spray may spread in the air and get into your eyes or skin. You should spray till the nest is saturated to kill the insects all at once. After you are done, remove the nest, and burn it.
Pros:
Cons:

kill the wasps nests and hornets immediately;
residual effect;
22-course jet makes the process safe.

use only with your gloves on.
A Buyer's Guide

How Does Wasp Spray Work?
The use of wasp and hornet spray implies a careful selection of the appropriate remedy. The instructions for the usage of any spray are almost the same but may have different factors to consider, such as course jet, indoor or outdoor purpose, various active ingredients, and so on.
What you should do is to shake the spray bottle, spray it straight to the nest cover or entrance if you see it at a distance of at least 20-30 cm. Wasps are extremely sensitive to such remedies, so the smallest amount of them causes their death.
Most of the wasp sprays include ingredients from the pyrethroid group. The way they get into the wasp is through the intestinal tract. Soon after the infection, paralysis occurs, and the insect dies due to the stoppage of organs.
If you have chosen this method of getting rid of wasps nests, make sure to follow the safety instructions to avoid pesticide poisoning. First of all, protect your eyes and respiratory system with a respirator and special cloth. You should carefully use any wasp insecticide spray to prevent accidental poisoning.
In any case, you should be aware that it is allowed to use only the sprays that are approved for use in residential areas. The information about this aspect is usually claimed in the instructions.
Related Post: Best Wasp Powders: Effective Insecticides
How to Choose the Best Wasp and Hornet Spray
To choose the most effective wasp spray, you need to know the following tips:
Each insecticide product must have a certificate of state registration, the number of which should be indicated on the label, or you can ask the seller.
All information about the purpose of the product, its method of application, precautions for use, manufacturer, etc. is outlined on the label of the product which is developed during its state registration.
The duration of the effect of a wasp spray depends on many factors: the time effectiveness of the spray itself, the aggressiveness of insects, the weather conditions, and so on.
The first step on the path to the destruction of wasp and hornet nests is to find where they are located. The nest itself looks like an egg-shaped cardboard structure. Before you start to look for the insects' nests location, you need to dress accordingly:
Cover all areas of the skin with tight clothes;
Put on a hood or anything that covers the neck and head completely;
Cover your face and eyes.
Inspect the facade of the house, non-residential buildings, balconies, tree trunks, poles, the attic. You can also listen to their sonorous hum and find a nest. Nevertheless, if it is not possible to find the nest, but the insects continue to prevail, then most likely the nest is located on the neighboring site.
FAQ

When Is the Best Time to Spray a Wasp Nest?
The most common places for wasps' nests and hornets are attic rooms, cornices of apartment buildings, balcony structures, in openings in the ground, holes in the surface of walls, at the locations of ventilation and sewer pipes.
The first thing you should think about when controlling wasps and hornets around your home is the right season. The best time to eliminate the wasps' nests or hornets is in spring. It is the time when insects awake from hibernation and begin to build a hive.
In the middle and end of summer, the pests become much more active and protect their home, making maximum efforts for its defense. Another important point is the choice of the time of the day. You definitely should spray a wasp nest when the insects go to sleep in the afternoon and become almost inactive.
What Kills Wasps Instantly?
A wasp killer spray and control with insecticides are the simplest and the most efficient ways that will allow you to cope with pests forever. Standard traps with a wide spectrum of action will be useless in such situations.
The spraying procedure should be carried out repeatedly, and make sure that the main blow is directed to the entrance of the nest. The range between the procedures is at least 24 hours. When all pests are dead, you can burn them with the nest too.
The main benefit of the long-range wasp spray is its durable action. That is, sprays not only kill wasps immediately but also prevent their appearance soon, at least for the further 8 months. The foaming wasp spray will help you to get rid of the wasp's nest on contact and will kill the entire nest instantly.
Related Post: How to Get Rid of Yellow Jackets
Are Wasps and Hornets Dangerous?
The reasons to control wasps and hornets are that they can be crucially harmful to your health. The poison of stinging insects such as wasps and hornets contains certain active pheromones that affect the blood vessels directly. Most people may suffer from the local reaction when an insect bites.
It is associated with painful swelling, local redness of the skin, and itching around the site of the bite. Sometimes, the tumor appears, especially on the delicate skin, such as the eyelids. Usually, the local reaction disappears in about 20-60 minutes, but in some cases, it can persist for a couple of days. A bite into the mouth or throat can be dangerous, as it causes a risk of suffocation.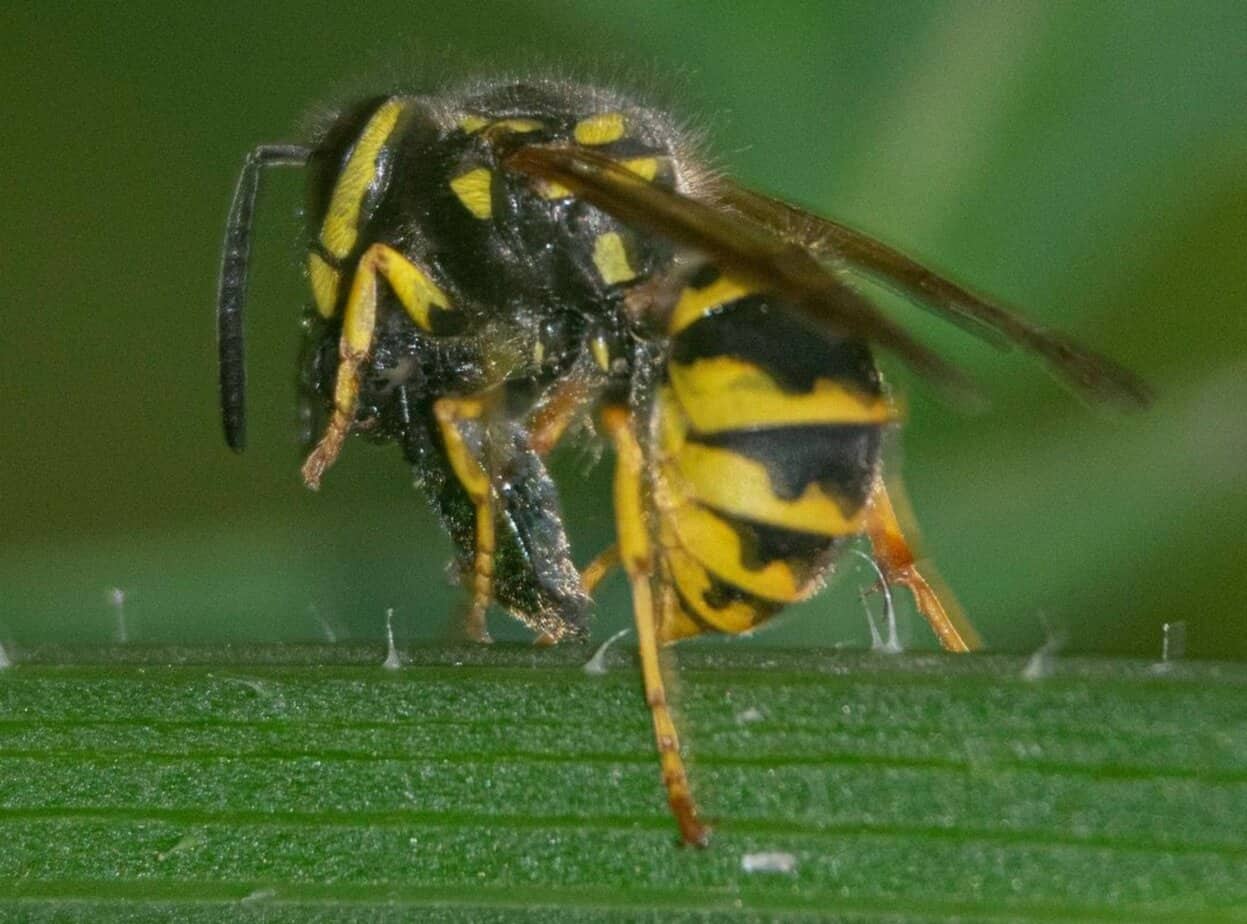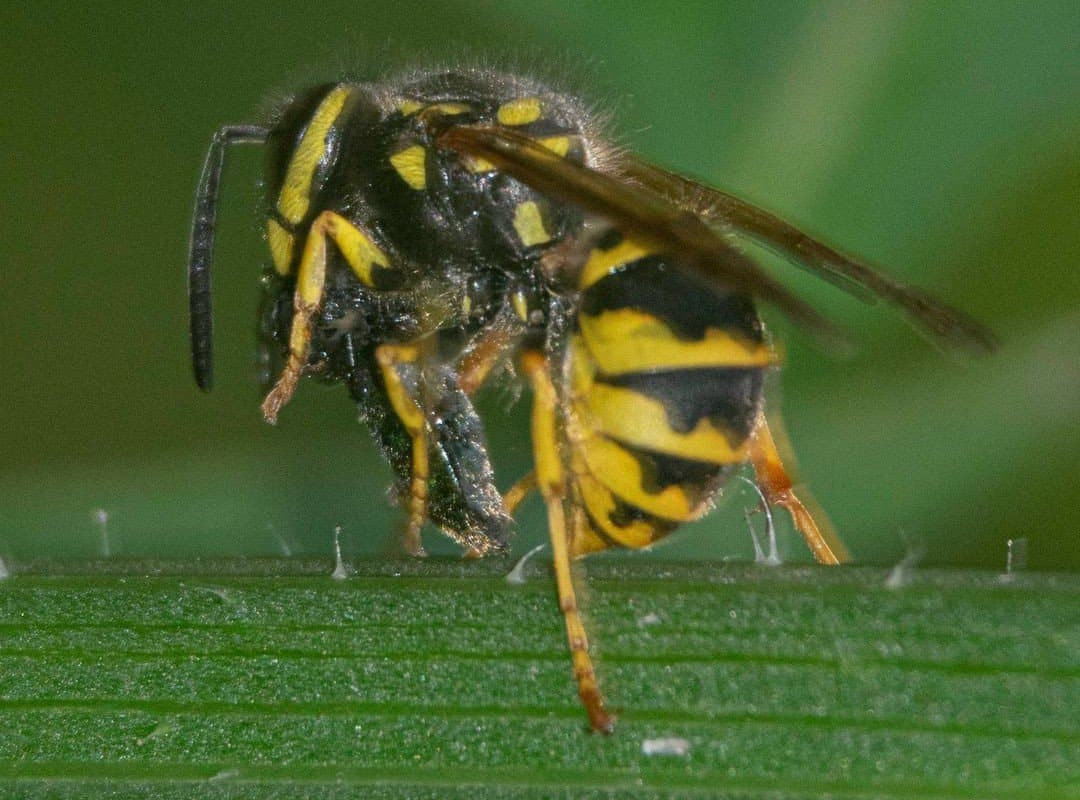 The likelihood of an allergic reaction to the first bite is usually extremely low since antibodies are absent until the first bite. Local reactions that are stronger than usual, in some cases, may precede the main allergic reaction. The main allergic reaction (anaphylaxis) is often not manifested and is characterized by the appearance of symptoms.
These symptoms manifest in the form of:
urticaria and itching, swelling of the face and neck
there is a possibility of the unexpected digestive disorders-vomiting, diarrhea, dizziness, profuse sweating, and cold tremors.
the respiratory system may also suffer; throat irritation is felt along with coughing or tightness in the chest and throat, resulting in difficulty to breathe.
in especially serious cases, the poison affects the cardiovascular system: a drop in blood pressure, loss of consciousness, and even anaphylactic shock is possible.
the main reaction appears within 30 minutes after the bite. Allergic reactions tend to become more dangerous with repeated bites.
Is Wasp and Hornet Spray Safe for Humans?
A chemical-based wasp nest spray can have a variety of active chemical ingredients, and you need to read the complexion of it carefully. Some substances can cause an allergic reaction if you use the product in the wrong way.
Natural-based wasp repellents are safe for both adults and children. Pregnant and lactating women should avoid chemical-based products and choose natural ones.
The most popular and effective active ingredient in natural remedies are:
Citronella. The citronella oil is available for purchase in stores and effectively applies against various mosquitoes and pests, including wasps and hornets. However, initially, it must be diluted in a base oil, for example, in olive or peach, in the proportion about one to six.
Clove, lavender, and peppermint oils are also used to repel and kill mosquitoes. The result depends on the concentration of the solution.
Various plants and trees contain substances that are poisonous for wasps and hornets. In spray killers, the concentration of these substances is very high; therefore, they work better.
Natural best wasp spray usually consists of extracts of tropical plants.
Related Post: Best Yellow Jacket Traps Reviewed



What Is Your Decision About Wasps and Hornets Sprays for Now?
Now you are aware of the dangers that wasps and hornets can cause, and I doubt that you still may want to let them live on your house territory. These insects may seem safe but you don't know which of the swarms may be aggressive and harm people around and pets.
Even if you think that the process of spraying wasps and hornets is long and unsafe, I would assure you that this is easier than you may think. After you win the battle with these insects, you can live a calm life without the fear of being attacked by them.
I have come across a similar problem with wasps and hornets many times, and I understand how difficult it is to get rid of them. So try the 5 top rated wasp and hornet spray killers that I offered you, and I'm sure that they will help you. The reason is you are unlikely to find anything more effective than these.
If you are interested in more information about wasps and hornets, let me know in the comments! Which of the wasps' killers have you already used? I would be grateful to know about their effectiveness.
References:
Wasps, Hornets, Yellowjackets, and Spiders (Michael F. Potter and G. Mark Beavers Kentucky Pesticide Safety Education Program):
https://www.uky.edu/Ag/Entomology/PSEP/cat8wasps.html
Controlling Wasps, Bees and Hornets Around Your Home [fact sheet] (University of New Hampshire Cooperative Extension):
https://extension.unh.edu/resource/controlling-wasps-bees-and-hornets-around-your-home-fact-sheet-0
16 First aid procedures for pesticide poisoning (Australian Government Department of Health):
https://www1.health.gov.au/internet/publications/publishing.nsf/Content/ohp-enhealth-manual-atsi-cnt-l~ohp-enhealth-manual-atsi-cnt-l-ch5~ohp-enhealth-manual-atsi-cnt-l-ch5.16
Why You Should Trust Pest Control Hacks?
We know that pests are nasty neighbors, and it can take months to eliminate them without the right approach. Our experts use their own experience to compile articles and guides that are introductory and informative. Our authors' opinions are independent and based on the results of practical testing of pest control tools. We do not notify manufacturers of testing of their products and do not receive payment from them for posting their items. Also, our texts are never submitted to company representatives for proofreading before placement. On the site, you will find exclusively objective ratings and reviews.