It is always a pleasure to meet a tiny, fluffy squirrel while walking in a park or forest. But it would be a disaster if this rodent decided to be your cohabitant. Problems with squirrels remind me of troubles with noisy neighbors.
The biggest difference is that they are more dangerous than any Bill over the fence. These nutlovers can easily damage your home. Here is a list of the most common misdoings:
Stealing food. I suppose you don't mind sharing a fruit with a living being. But now imagine a squirrel breaking into your greenhouse and making a family diner there. Sounds unappetizing, doesn't it?
Chewing on wires might provoke a spark. It definitely won't kill a rodent, but it causes power outage and provokes a fire!
Making holes and nests might turn your home into a ruin. Insulation is squirrels` favorite material for nests. They chew out chips of insulation and build a place to settle from it. If these pests settle down on your attic, be ready to see your roof or ceiling dripping.
Spreading infections and parasites. The urine and droppings might provoke mold and other pathogens that are dangerous for human health. Moreover, fleas, ticks, and tapeworms are the faithful companions of squirrels — they will invade your home altogether.
Top 5 Best Squirrel Traps



Sometimes, it's hard to believe that such cute animals could be uncontrollable pests. I hope the above-mentioned list has convinced you that squirrels are dangerous. The most effective way to get rid of them is to use traps. So I made a compilation of the top 5 best squirrel traps that I used and checked in different surroundings.
1. My Favorite Live Squirrel Trap – Havahart 1077 Small Professional Style One-Door Animal Trap
Specifications:
Material: Alloy Steel

Special Features: Maximum resistance to rust and corrosion

Item Weight: 4 pounds
Item Dimensions LxWxH: 17 x 7 x 7 inches
Target Species: Weasel, Rabbit, Squirrel, Mink, Skunk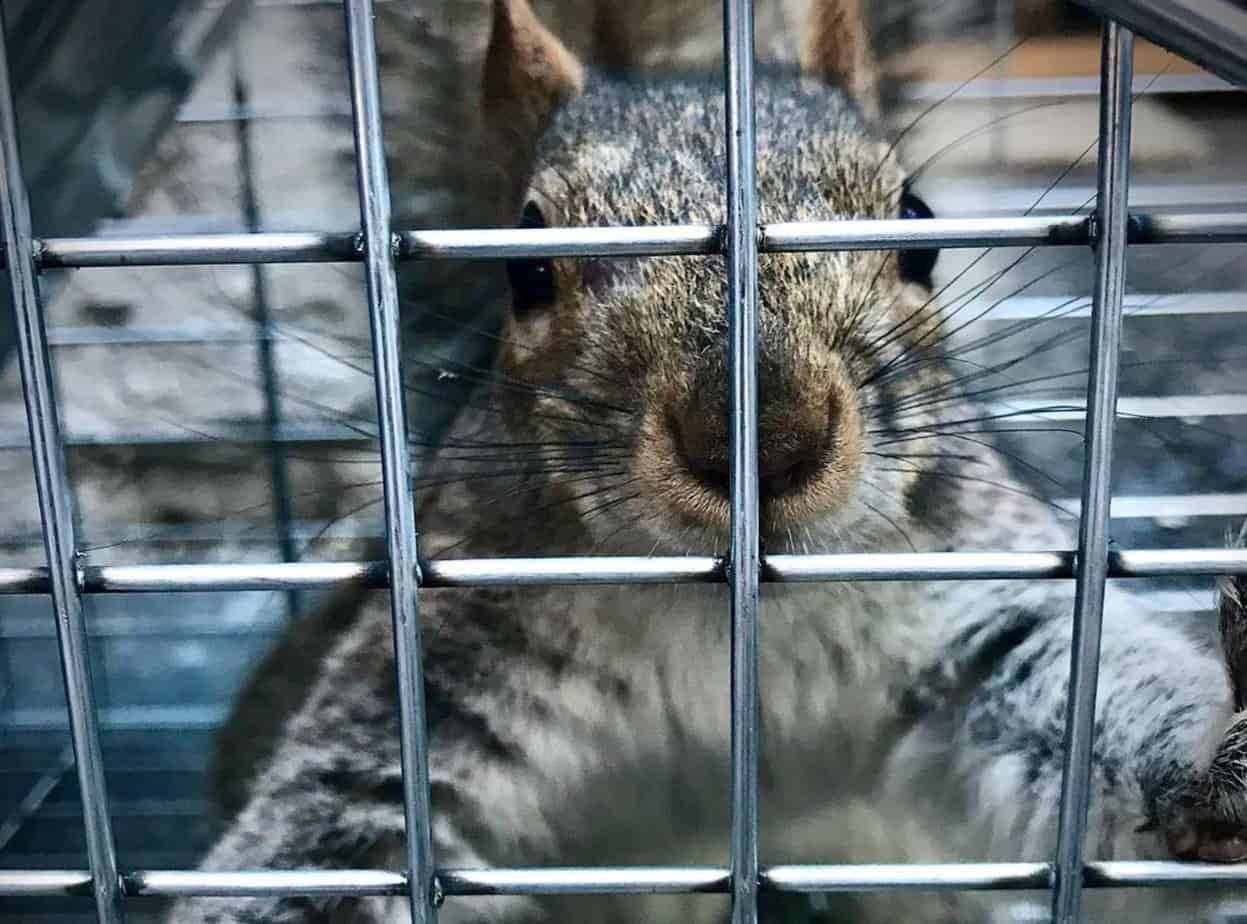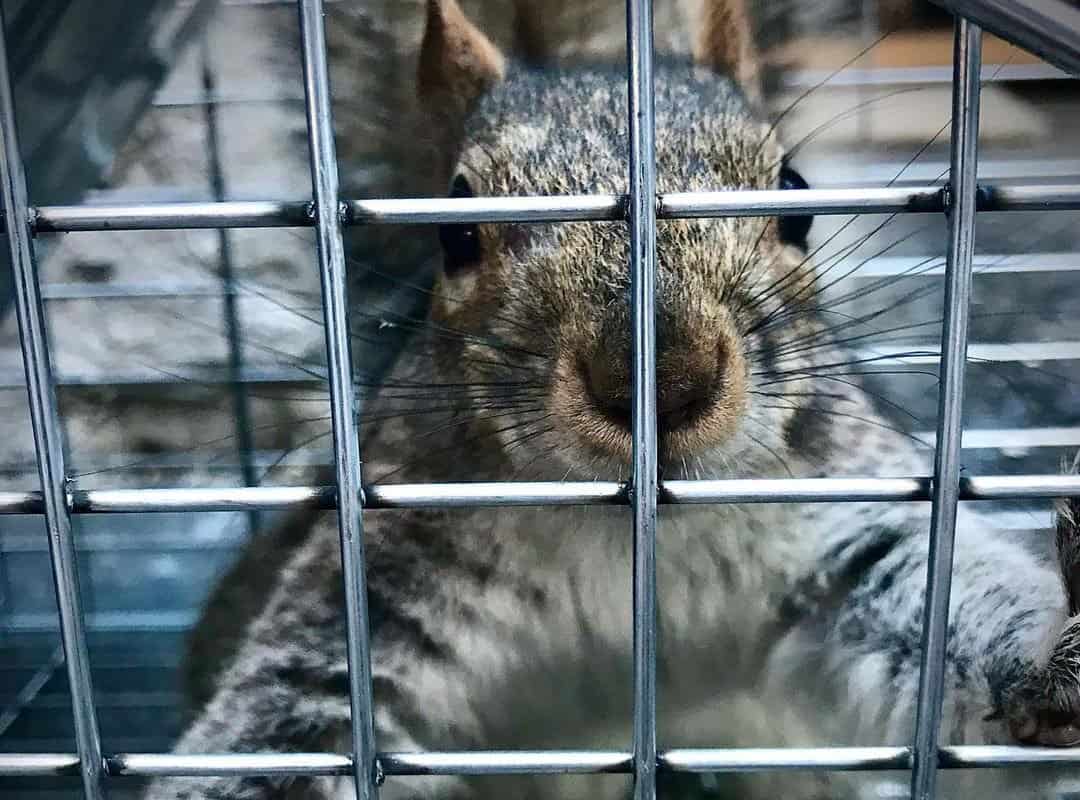 Havahart is one of the oldest brands in pest control. They are concerned about the quality and usability of their products. I recommend their traps because all of them are galvanized for maximum resistance to corrosion and rust. You can't be sure whether you will need a trap again in 1, 5, or 10 years. Havahart company says that it specializes in the long-lasting mechanism, so their products may be used again for ages.
According to my experience with these products, the Easy Set Trap is the best squirrel trap on the list. I prefer to use it outdoors. Its simple, but smart mechanism makes squirrel tapping easy even for children. All you need is to put a bait and pull back on the Easy Set lever.
Adults can set it with a single hand. This high-tensile steel cage with a solid door and a trigger plate is the best live squirrel trap. Even when the squirrel is trapped, you don't need to worry about your safety. The carry handle is protected from contacts with a rodent, so it won't bite or scratch you.
However, if it doesn't work, I advise you to put a trap bait on the outside of the cage and a little at the back of it, so squirrels will have to step on the trigger plate, and you'll see the result.
Pros:
Cons:

suitable for small, big squirrels, and even rabbits;
keeps animals alive;
safe for pets;
easy to reset.
2. Humane Squirrel Trap: Rugged Ranch Products 100063928 Squirrelinator Trap
Specifications:
Holds Up To 25 Animals
Material: Metal
Item Weight: 6.4 Pounds
Item Dimensions LxWxH: 24.25 x 24.25 x 5 inches
Target Species: Squirrel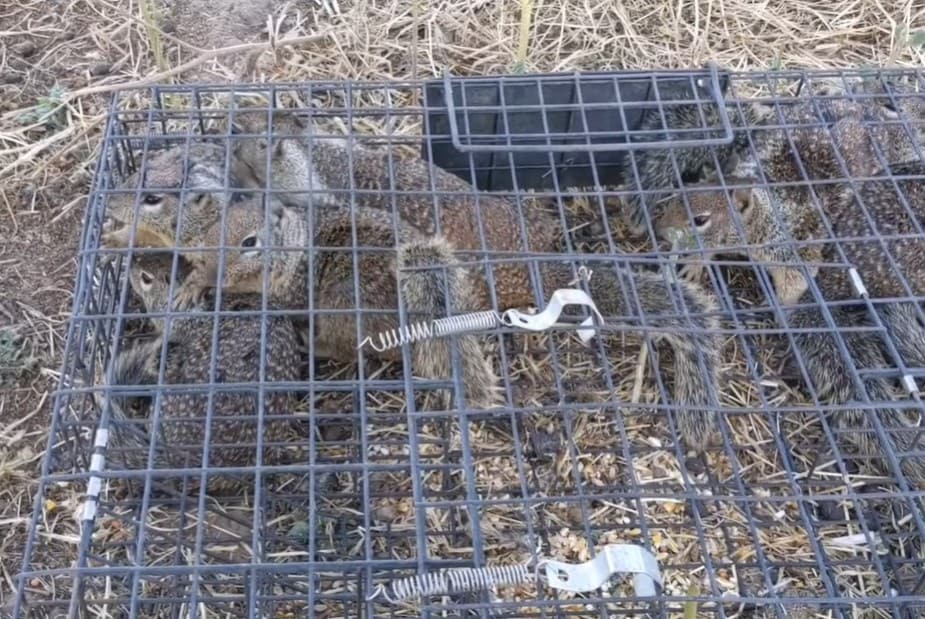 The Rugged Ranch makes products for gardens and farms. Thus, they do know the importance of a good trap that will not harm other animals or the environment. The Squirrelinator is big enough to catch 25 squirrels at once. The construction reminds of a maze.
So when a squirrel gets in it, it loses a sight of a way out in its race to the food, that is in the middle of a trap. Nevertheless, don't wait till Squirrelinator will be full of animals: check it every day and get rid of the trapped pests at once.
This trap is rather big: it measures 23.25 x 23.25 x 4 inches. Squirrels get inside through a one-way swinging door straight to maze-like corridors. But if the smartest one pulls over the swinging door, that animal can break it or make a gap to escape.
Also, it is better to reinforce the lockers on a back door, e.g. to put extra strings or springs with hooks on it. If it fits tightly with walls, the pests won't climb out through gaps. Despite such defects, Squirrelinator is still the best multi-catcher.
Pros:
Cons:

a multi-catch trap;
simple to use;
keeps animals alive;
you can order a special basin for transportation, or drowning.

pests can learn how to open the doors from the inside;
expensive.
3. Single Squirrel Eliminator Trap: Havahart 1025 Small 2-Door Live Animal Trap
No products found.
Specifications:
Material: Galvanized Steel; One-Piece 12-Gage Wire Mesh

Special Features: Maximum resistance to rust and corrosion

Number of Pieces: 2
Item Weight: 3.45 Pounds
Item Dimensions LxWxH: 19.37 x 11.81 x 7.17 inches
Target Species: Chipmunks, Rats, Squirrels, Weasels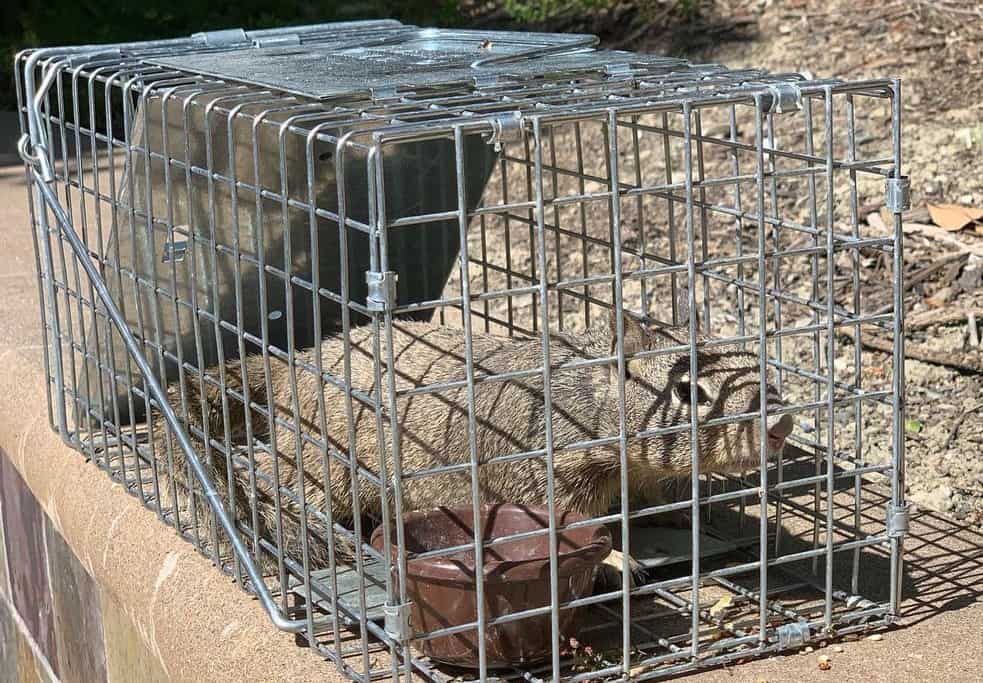 This Havahart product is perfect not only for a continuous outdoor use, but also for the indoor purposes. If you have an unwelcome guest in your attic and want to remove it to the forest, use this 2-Door Live Trap. Some specialists say that it's useless to put a trap in an attic. Squirrels don't walk in it. As for me, it's better to try to catch the invader in the attic, in ventilation pipes, and somewhere in the garden.
The setting process takes 3 minutes. Turn the door locks to the open position. Open the doors by pushing down the offset loop on the loop trigger rod. Then connect the hooked end of the offset loop with the hooked end of the bait plate trigger. It will open the doors. Don't forget to turn the door locks over on the doors; otherwise, a pest will escape.
It is possible to make a "tunnel" trap by opening both doors or make a "one-way" — by closing one of the doors. The trap works when an animal steps on a trigger plate. When a squirrel walks along the "tunnel", it steps on the plate. But sometimes, a rodent is too light for the trigger. If you see that "tunnel" trap doesn't work, try to close one of the doors and put baits near it. In this case, a squirrel will have to step on the plate to reach the food.
I've also noticed that doors are lightweight. This makes setting the trap easier, but pests can escape through it. A big or strong animal may break the door or make a gap. So before buying this trap, try to figure out the size of the invader.
Pros:
Cons:

rather cheap;
keeps rodents alive;
small in size.

suits only small pests;
strong animals may escape from the trap.
4. Iconic Lethal Squirrel Trap: made2catch Pack of 4 Classic Metal Rat Traps
Specifications:
Material: Metal

Special Features: Long Lasting Fully Galvanized Metal

Item Weight: 4.3 Ounces
Item Dimensions LxWxH: 6.6 x 3.5 x 0.9 inches
Target Species: Rat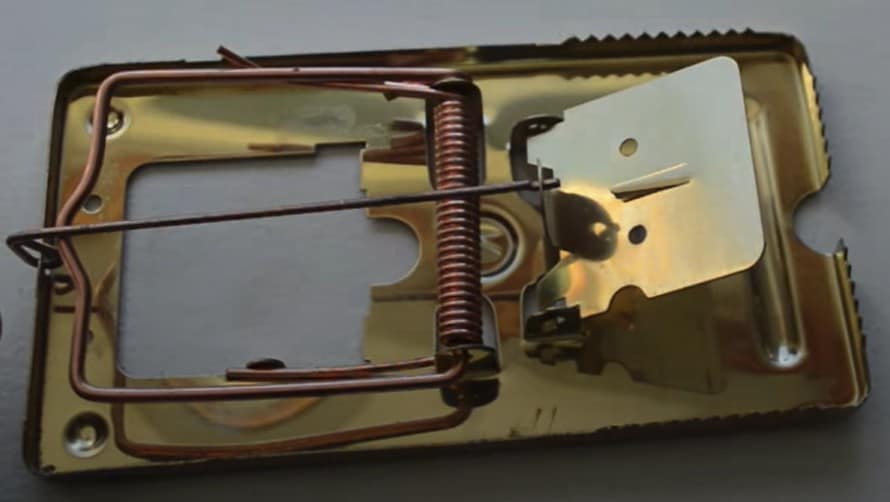 Yes, these classic rat traps are perfect for squirrels. They are bigger than mouse traps: 6.60 x 3.50 x 0.90 inches. So be careful with a mechanism. These traps can easily hurt you. If you have never used a classical mice trap, the setting of a rat trap may take some time and efforts. It's better to practice without any bait on it.
The material is highly tight: a strong spring on a kill bar helps to get rid of the pests immediately. The trap literally cracks a rodent in half. It is messy, may be bloody, but it is a momentary death.
I recommend made2catch Pack because you can choose the material of the trap depending on the area of usage. For indoor usage, pick the brass coated trap, which is not only stylish, but also doesn't scratch the flooring. Fully galvanized and fully burnished traps are highly resistant to corrosion. The differences between them are in color and service (burnished traps need to be oiled occasionally).
Pros:
Cons:

4 traps in a pack;
kills the pests immediately;
classical technology that has been used for centuries.

it is easy to harm yourself during the setting;
a dead rodent might be shocking for sentimental persons.
5. Indoor Squirrel Killing Trap: PestZilla Electronic Rodent Zapper Trap
Specifications:
Color: Black
Material: Plastic
Is Electric: Yes
Item Weight: 1.85 pounds
Item Dimensions LxWxH: 10 x 12 x 27 inches
Target Species: Mouse, Rat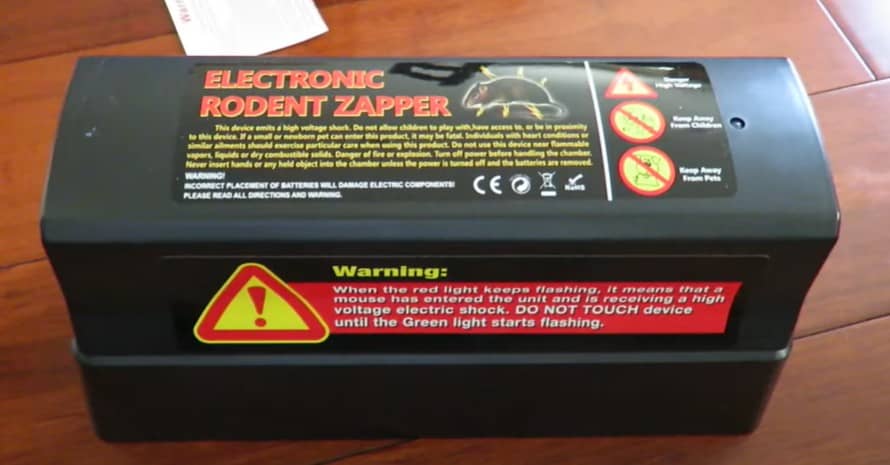 This device prevents your home from extra mess. The PestZilla brand specializes in quick and painless killing technologies without any blood spots. You don't need to look inside or touch a body to be 100% sure that a trapped squirrel is killed. This electronic trap informs when a pest is killed by a light and sound indicators. Mind that the indicator will beep every time when an animal is in the trap. Therefore, be ready for endless beeping.
The privilege of this item is a shape of a tube — simple and stylish. Also, it is easy to clean — slide a dead body into the trash bin, and it's ready for work again. Some experts recommend to clean the PestZilla with a soap water. But I am really not sure that usage of water and electricity simultaneously is a good idea.
To turn the Electronic Trap on, you need to plug it in with a prominent adapter. But if you are concerned that squirrels may damage wires, put 4 'D' batteries. The batteries charge will be enough for more than 30 disposals.
Pros:
Cons:

works for small rodents;
anti-escaping technology;
a special indicator shows whether there are any trapped rodents in;
7000V electric shock kills painlessly.

needs electricity,or batteries;
not eco-friendly;
loud beeping sound when a pest is cached.
A Buyer's Guide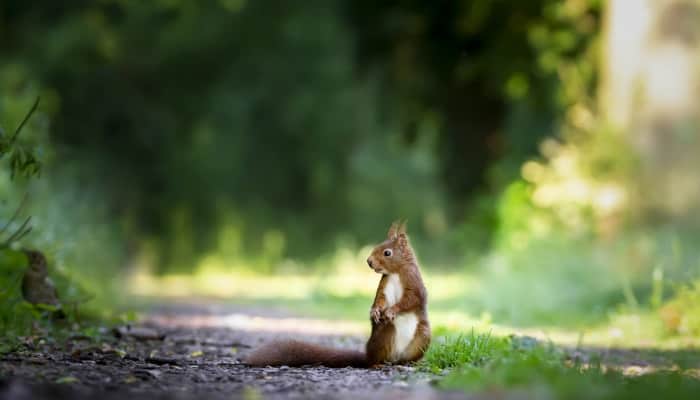 How to Choose a Perfect Trap?
Squirrels, especially tree squirrels, differ in size and areas of settling. To choose a perfect trap, start with making a list of signs of invasions, e.g. bitten fruits and nuts, excrements, holes in a wall or a roof, acorns in an attic or acorns hidden in a tree's root etc.
Pay attention to where you have found the signs of their activity. These signs may help you to define where their nest is and how many species live there.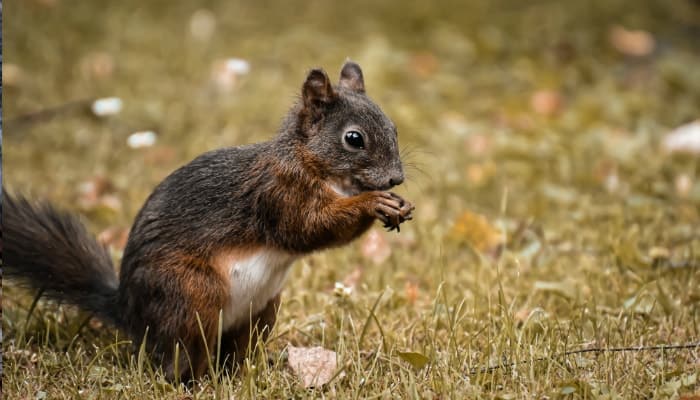 Then, taking into consideration the information, choose what type of trap you need: indoor or outdoor, single or multi-catch, live or killing, mechanical or electronic.
For example:
You hear a strange noise in your walls and in the chimney, find droppings and acorns in the attic, see chips of insulation under the walls — a squirrel lives in your house! The fastest way to get rid of it is to choose an indoor electronic killing trap.
Someone steals strawberries from your greenhouse, squeaks every morning, throws twigs — a family of squirrels decided to be your neighbors. Therefore, an outdoor live trap may solve the problem. Later you can release ex-neighbors far far away.
How to Trap a Squirrel?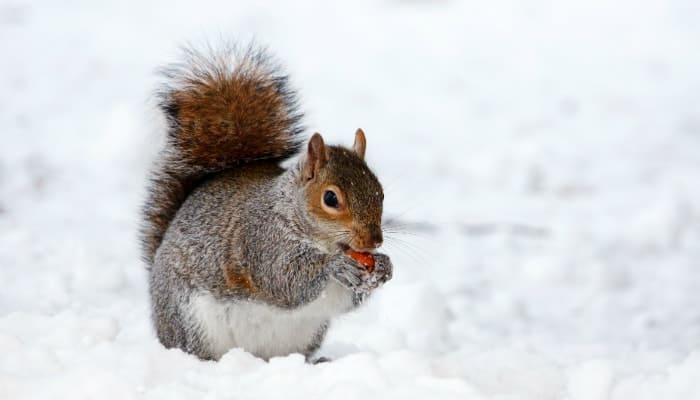 Here is checklist with some tricks on how to use a squirrel trap. It is not necessary to follow it strictly, but it rises the percentage of effective catching. Use these pieces of advice for any type of trap.
Check your local catch-and-release laws before trapping.
Start squirrel trapping in late spring or early winter to prevent squirrels from breeding in your home. Don't wait till the "best time" if you have a problem right now.
Put the trap near a squirrel's nest or in the areas where the animal used to steal food. Try to remove all other food sources.
Camouflage the trap by placing twigs and leaves on the top or leave the trap unset, so animals will get used to it.
Put the baits and set the trap in gloves. It will save you not only from microbes, but also the trap from human scent.
Check the trap once a day. Don't forget to check the walls and doors for the signs of damage.
Experiment with different baits to find out what attracts squirrels most. If a squirrel is stealing your birdseed, use some of the same type of seed as a bait.
Disinfect your trap after each use. Mix 1 part of bleach with 9 parts of water, apply the solution, and wait for 20 minutes before wiping down the trap.
FAQ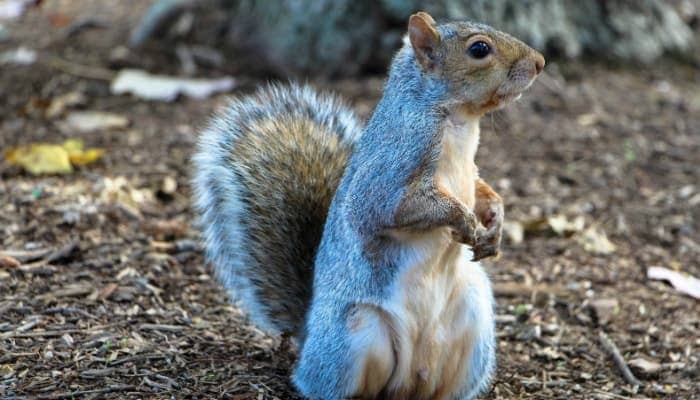 Will a Rat Trap Kill a Squirrel?
If you put a proper bait in a rat trap, it will kill a squirrel. As I have already mentioned, squirrels can have different sizes:an adult squirrel might be larger than a mature rat. Any rat trap causes the same damage to a squirrel as to its target-animal.
What to Put in a Squirrel Trap?
The best bait to catch a squirrel is a combination of peanuts and peanut butter. As you may know, these pests are omnivores: that can eat anything. But they are extremely attracted to specific products. I recommend you to put in a trap:
nuts;
sunflower seeds;
popcorn;
cereal grains;
apple slices;
almond extract on bread;
anise oil on bread (1-2 drops).
Also, don't forget to change the squirrel trap bait type if it doesn't work from the first time.



How to Set a Squirrel Trap?
Put on gloves to avoid transferring of human scent on a trap. Take an instruction. If there isn`t one, here are some tricks for setting a squirrel trap:
Figure out where is a door for a rodent.
Study the mechanism for trapping: there might be a bait plate, a trigger, springs, a lock down cover.
Choose a place for a trap.
Put a bait in the middle of the trap, so it will be impossible to get it from outside.
Set a mechanism: an entrance door must be open and springs must be pulled to a trigger.
Watch your fingers.
How to Release a Squirrel from a Live Trap?
Cover a trap with a fabric when an animal is inside. This protects the imprisoned squirrel from extra stress and a squirrel catcher from bites and scratches.
Take the trap with the animal at least 2 miles away. Check the local catch-and-release laws and bring the invader as far as you can.
Put the trap on the ground.
Stand near a back wall and lean over the trap.
Remove the fabric,open the door quickly, and step back.
It may take 3-5 minutes for the pest to get out.
Disinfect the trap to prevent the spreading of potential diseases.
How Can I Prevent Squirrels in the Future?
Trim back tree branches, shrubs, and bushes away from the exterior of your house.
Inspect your exterior walls and foundation. Repair if needed.
Repair holes along your roofline.
Keep your garden clean.
From Annoyed to Enjoyed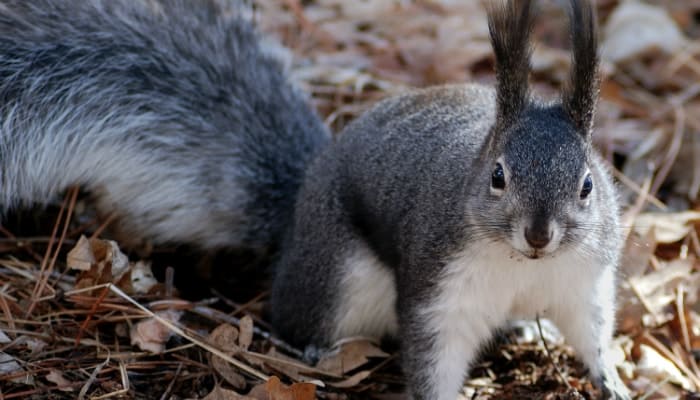 I want to remind you once again — squirrels are not pretty pets, they are wild pests. Be wise and cautious if they are frequent guests in your garden. Don't let them settle down on your property. If they choose your home as their nest — don't panic.
Make a research, get information, and choose the trap suitable for you. Pay attention where to put a trap and make a set of different baits. Decide whether to kill a rodent or release it somewhere else. Consider your budget. Only after answering these questions, you will be able to find your best trap that will save you from annoying pests and help to enjoy your home, garden, and calm life overall.
Recently, I have heard a squirrel fighting with a pigeon for seeds. Their noise woke all neighborhood up at 5 a.m. I thought about the need to apply some pests control measures immediately. What bothers you the most about squirrels? What troubles did squirrels cause you?
References:
Squirrel causes power outage (City of Morganton, NC Local Government):
https://www.morgantonnc.gov/index.php/government/city-manager/public-information-office/news-releases/1123-squirrel-causes-power-outage
Tree Squirrels (Kansas State University Research and Extension):
https://www.wildlife.k-state.edu/species/tree-squirrels/index.html
Squirrel Nuisance Problems (Connecticut's Official State Website):
https://portal.ct.gov/DEEP/Wildlife/Nuisance-Wildlife/Problems-with-Squirrels
Why You Should Trust Pest Control Hacks?
We know that pests are nasty neighbors, and it can take months to eliminate them without the right approach. Our experts use their own experience to compile articles and guides that are introductory and informative. Our authors' opinions are independent and based on the results of practical testing of pest control tools. We do not notify manufacturers of testing of their products and do not receive payment from them for posting their items. Also, our texts are never submitted to company representatives for proofreading before placement. On the site, you will find exclusively objective ratings and reviews.