If you're desperate to tackle pesky squirrels that have wreaked havoc on your home, you're in luck. Today, I'm going to provide you with the best solutions to protect your property with the aid of squirrel poison.
This post will not only cover the types of poison you need, but will also address all your questions such as where to put it for the most effective result, how to get the squirrels to actually eat it, and more. Let's get started and see what miracles a bit of the right type of poison can do!
Essentially, I am going to share a lot of tricks to keep squirrels away. You know how troublesome squirrels can be, so carry on reading if you would like to discover more about eliminating them from your premises.
Top 5 Best Squirrel Poisons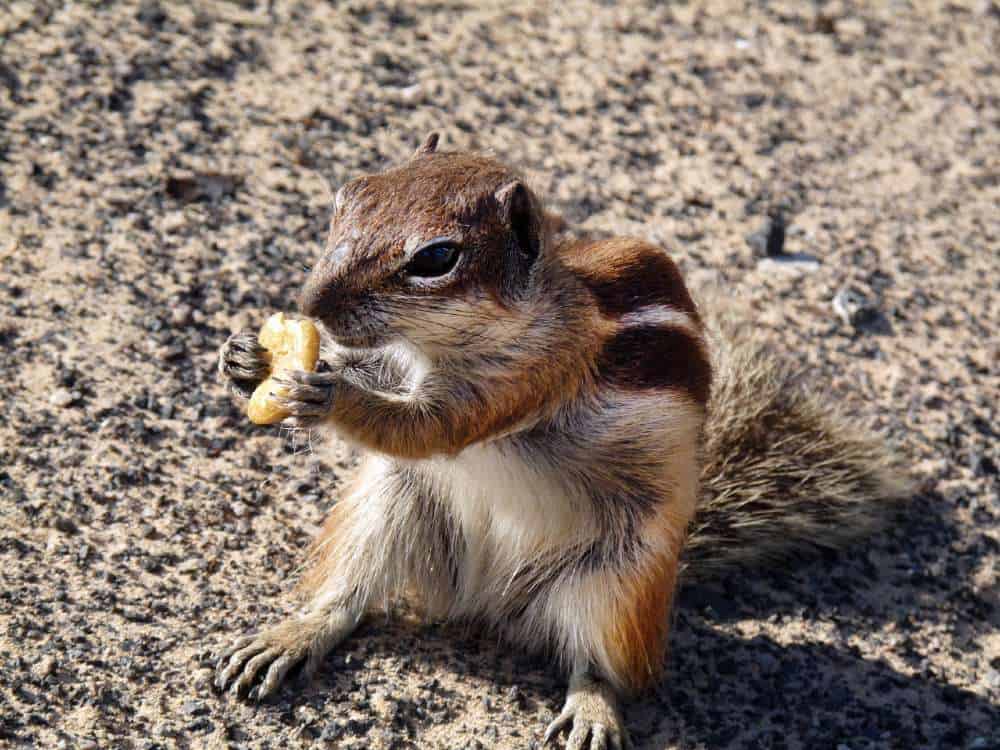 Although squirrels may be sweet and cuddly in appearance, they can be quite destructive in a home. To prevent them from choosing your property as their new home, it is important to take the necessary steps to banish them.
Here is a list of 5 great squirrel poisons, which are notable for all of their major characteristics. Research each one, and decide which one is right for you and your situation.
1. JT Eaton Blocks: Excellent Squirrel Bait Poison – Top Pick
Specifications:
Active Ingredient: Diphacinone 0.005%
Number of Items: 144
Item Weight: 1 ounces
Item Dimensions LxWxH: 11 x 11 x 10 inches
Target Species: Rats and Mice
This bucket of rodenticide weighs 9 lbs and has nutty-flavored chunks that squirrels and other critters can't resist snacking on. You may not see the results right away, it may even take a few weeks, just be patient.
Your invading squirrels will keep returning multiple times to gobble up more of the poison which will ultimately be fatal.


The JT Eaton blocks – a bright green solution to pesky rodent infestations! Not only will the vibrant color prevent accidental confusion with food, but it also contains a specially formulated poison that is potent enough to effectively eliminate squirrels and other rodents.
While state regulations ensure that the poison is not overly hazardous, it is still important to keep the blocks out of reach of children and domestic animals for their safety.
When your supply runs low, remember to restock for continued protection against unwanted critters. Say goodbye to squirrel problems and hello to a rodent-free home with JT Eaton blocks.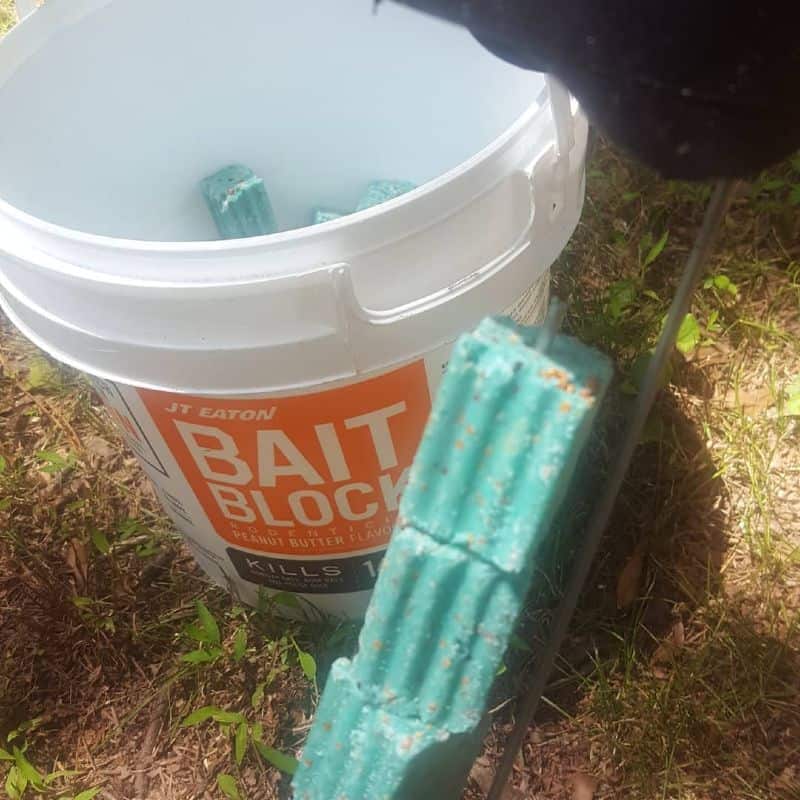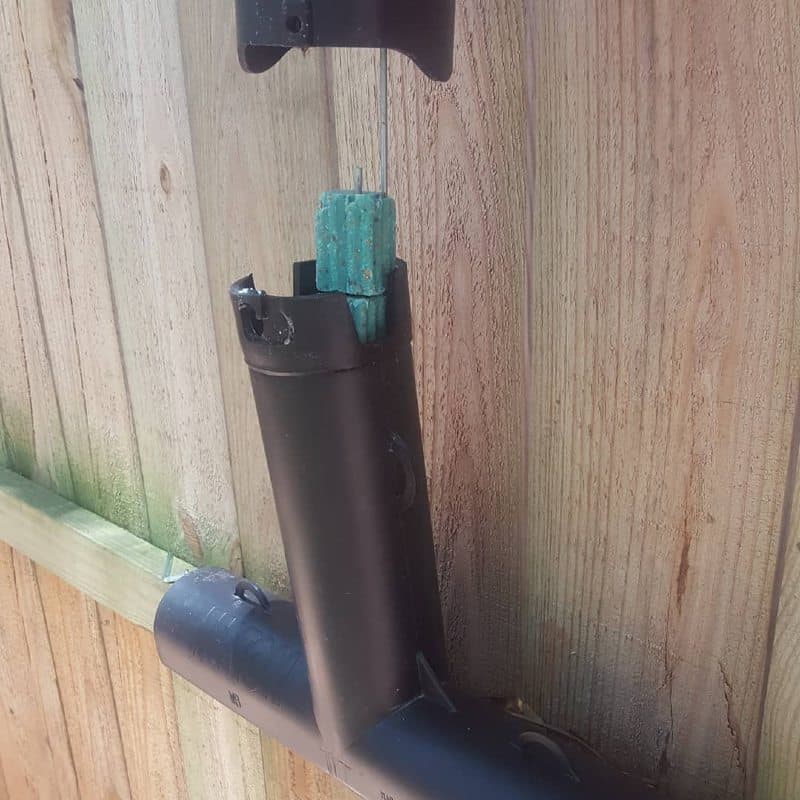 Pros:
Cons:

proven efficiency;
easy application;
kills squirrels, along with rats, mice, and chipmunks;
this poison isn't as strong as in previously mentioned products;
it's quite affordable.

should be kept out of reach of pets and children;
the container is rather small.
2. Contrac Blox Rodent Control: Professional Squirrel Killer
Specifications:
Active Ingredient: Bromadiolone 0.005%
Number of pieces: 288 x 1 oz blocks
Item Weight: 18 pounds
Item Dimensions LxWxH: 12.35 x 13.5 x 11.35 inches
Target Species: Rats and Mice
Tired of pesky squirrels wreaking havoc in your yard or garden? Look no further than Contrac Blox rodenticide. Endorsed by local exterminators, this powerful solution effectively targets squirrels, mice, and rats, ensuring a squirrel-free space in no time.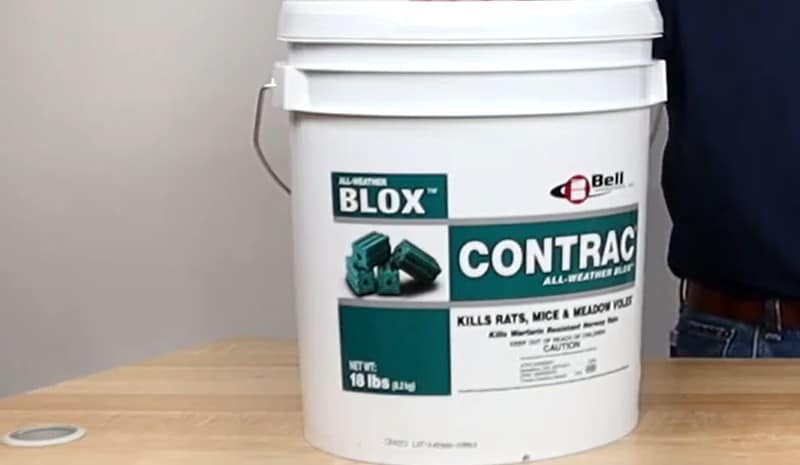 Contrac Blox – the ultimate solution for your rodent control needs. Not only is it easy to handle, but it's also highly effective in eliminating squirrels and other pests. But be warned, it's not just the rodents you need to protect yourself from – Contrac Blox is also dangerous for pets and children. That's why we recommend using locking bait stations to keep your loved ones safe. And don't forget to wear your work gloves when handling the solution to protect your skin.
If you're looking for reliable and effective squirrel bait, Contrac Blox is the way to go. With an 18-lb bucket, it's perfect for larger areas like farms, ranches, and warehouses. But even if you're a homeowner, it's still worth giving it a try. With Contrac Blox, you can say goodbye to pesky rodents and enjoy a pest-free home for good.
Pros:
Cons:

this rodenticide works when all other methods fail;
application is a breeze;
long-lasting effect;
works on mice and rats, too;
works inside and outside your home.

a bit on the expensive side, but worth every dime;
isn't good for your pets and kids.
3. Tomcat All-Weather Bait Chunx – Great Value
Specifications:
Active Ingredient: Diphacinone
Item Weight: 5 pounds
Liquid Volume: 64 Fluid Ounces
Item Dimensions LxWxH: 8.75 x 8.25 x 6 inches
Item Form: Tablets
Say goodbye to pesky squirrels in your yard with the powerful Tomcat All-Weather Bait Chunx. This anticoagulant rodenticide not only effectively eliminates squirrels, but also takes care of other unwanted visitors such as chipmunks and mice. Get your property back with the reliable and efficient Tomcat All-Weather Bait Chunx.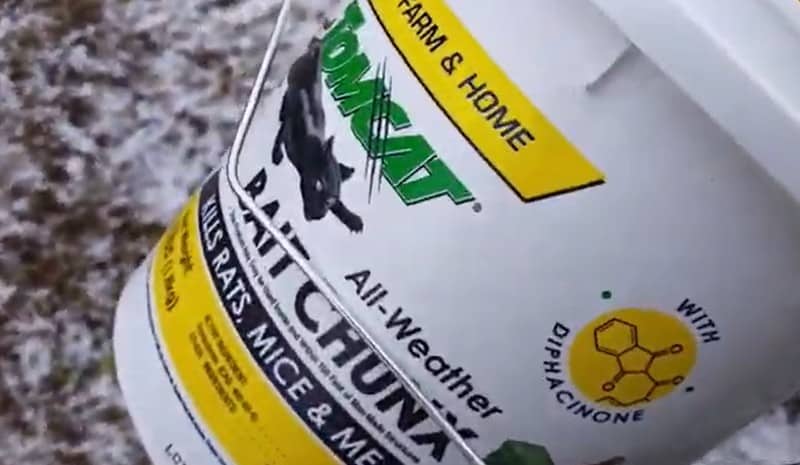 Bothersome squirrels making a mess in your garden and attic with the strong and weather-proof Tomcat toxin. Whether it's inside or outside your property, this bucket is the solution to your squirrel control needs. Don't wait any longer to take matters into your own hands and give Tomcat a try for guaranteed results against squirrels and other rodents.
Pros:
Cons:

works like a champ;
easy to handle;
takes 'just one bite' to work;
weather-resistant;
long-lasting effect.

be careful around kids and pets.
4. Final Blox: Squirrels Be Gone
Specifications:
Active Ingredient: Brodifacoum 0.005%
Item Weight: 19.85 pounds
Yield: Each 18 lb. Bucket has approx. 400 (20 gram) blox
Item Dimensions LxWxH: 12.15 x 12.15 x 12.76 inches
Target Species: Rats and Mice
Just like the previous two rodenticides, this squirrel bait killer also takes one bite to work. It has proven to work effectively both inside and outside your property, in private homes and industrial environments. Since this squirrel poison comes in an 18-lb bucket, you can use lots of it on your property (with some sense of measure in mind, of course).
I recommend using this poison with bait boxes only. Make sure you study its label prior to using the Final Blox Squirrel bait. Each state in the U.S. has different rules in terms of rodenticide usage. You should be aware of them in order to follow them.
All in all, a lot of licensed exterminators use Final Blox professionally. And it takes a very small amount to do the job, so this stuff is a keeper.
Pros:
Cons:

very effective and works immediately;
application is as easy as ABC;
weather-resistant;
one-bite-only option;
long-lasting effect.

poisonous for kids and pets.
5. Neogen Rodenticide Ramik Nuggets: Save Your Home From Ground Squirrels
Specifications:
Active Ingredient: Diphacinone (.005%)
Effective Results: within 4-5 days
Item Weight: 20 pounds
Item Dimensions LxWxH: 13.8 x 13.8 x 14.88 inches
Target Species: Rats, Mice, and Meadow Voles
Primarily, Neogen Rodenticide Ramik Nuggets are designed as rat poison. However, these exceptionally versatile rodent poison pellets have proven to work on squirrels brilliantly as well. Even though with this poison, killing squirrels takes some time, it eliminates them in a very reliable manner, without any need for more traps or poisons.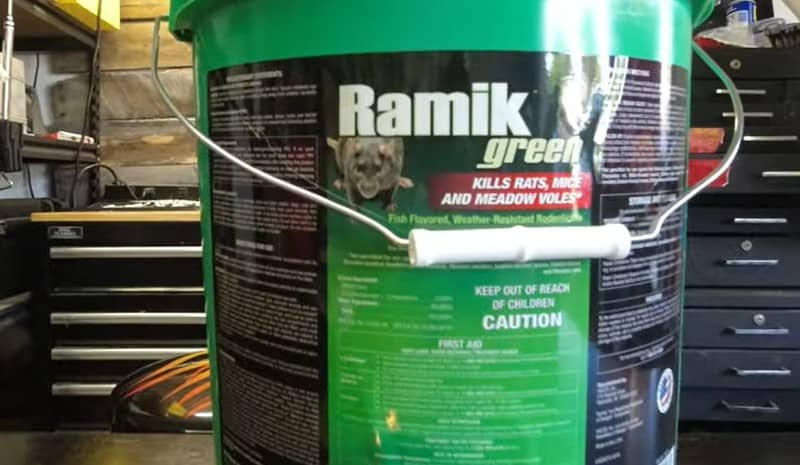 These pellets are water-proof, which means they won't dissolve in the rain like most other squirrel baits. Keep in mind that Neogen Rodenticide Ramik Nuggets are dangerous to use around children and domestic animals.
So make sure you approach this issue wisely when you purchase this highly effective mice, rat, and squirrel killer. Overall, these pellets are powerful enough to help you get rid of squirrels long-term.
Pros:
Cons:

effective and versatile;
suitable for both indoor and outdoor use;
exceptionally easy to handle;
damp-proof and overall weather-resistant;
don't require any extra rodent traps and/or baits.

don't work immediately, but the results are worth the wait;
not safe in the proximity of kids and pets.
Buyer's Guide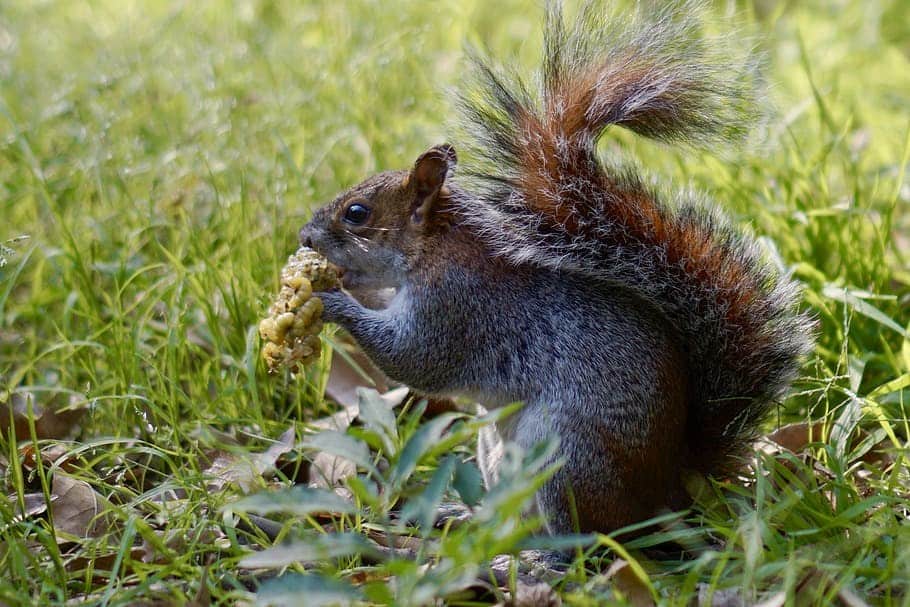 How to Poison Squirrels in the Most Effective Way?
Choosing the best poison is the key to eradicating your squirrel problem. If squirrels have invaded your garden, make sure you opt for the baits and poison options that are water-resistant. Otherwise, they may dissolve in the rain without delivering the desired effect.
Once you stick with the right product for your needs, don't forget that all squirrel poisons contain chemicals that are dangerous to use around your cats, dogs, and little family members.


How to Use Squirrel Poison and Baits?
Always wear your work gloves when handling squirrel poisons and baits. Apply poison products only where you've noticed squirrel activity. If you're using a one-bite bait, then poisoning squirrels in your yard or your attic will only take a few days.
With weaker poisons, you're going to wait longer. In either case, always study the product label prior to using any squirrel poison solution. The label covers such issues as application methods, storage specifics, and disposal instructions.
And don't forget to walk on the safe side in terms of how the state where you live regulates poisoning squirrels, for each state has its own ground squirrel management guidelines.
What Are the Main Squirrel Poison Types?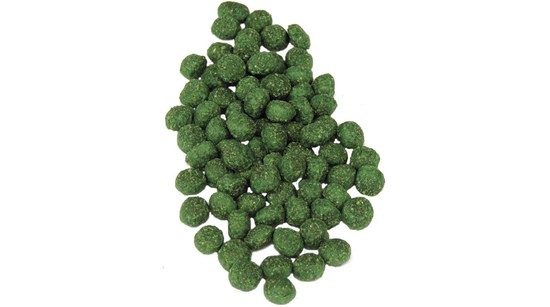 There are two main squirrel poison types: single (one-bite) feed and multiple feed. Just like their names suggest, they refer to a certain number of times a pesky fluffy animal has to munch on the poisonous 'dessert' for it to work.
The single feed poison baits require only a few bites to deliver great results, while the multiple feed poison baits mean it's going to take more than just one feeding for the pesky invaders to leave this world (and, most importantly, leave your home alone!) due to the poison effects.
What About the Safety Measures?
Squirrels spread health hazards, contaminate food, and damage your home. Therefore, effective squirrel control is paramount. However, you should always remember that rodenticides are toxic and understand the risks of using these poisons around kids and pets.
The best way to reduce the risks of getting your loved ones poisoned is by following each individual poison product label. The label has all the necessary details on product application and use. Some squirrel poisons, for example, can be used with bait stations — handy devices that prevent domestic animals and your little family members from accessing the poison.
Cutting to the Chase: Effective Squirrel Control
There's a boatload of squirrel poisons on the market. But based on years of personal experience and industry testing results, I've managed to boil this wide selection down to five excellent squirrel poison products that are sure to help you eradicate the problem completely. Don't forget to share your opinion on the products I've reviewed once you test-drive them.
Perhaps, you've already found the perfect squirrel pesticide for you? Then you're welcome to share your review on it in the comments section below. I'm always glad to receive any kind of feedback from my readers. In case you have questions about rodent control or want to know more about the best ways to get rid of squirrels in the attic, bookmark my blog and stay tuned for updates!
References:
Pesticides (National Institute of Environmental Health Sciences):
https://www.niehs.nih.gov/health/topics/agents/pesticides/index.cfm
Rodenticides (National Pesticide Information Center):
http://npic.orst.edu/factsheets/rodenticides.html
Why You Should Trust Pest Control Hacks?
We know that pests are nasty neighbors, and it can take months to eliminate them without the right approach. Our experts use their own experience to compile articles and guides that are introductory and informative. Our authors' opinions are independent and based on the results of practical testing of pest control tools. We do not notify manufacturers of testing of their products and do not receive payment from them for posting their items. Also, our texts are never submitted to company representatives for proofreading before placement. On the site, you will find exclusively objective ratings and reviews.