Everyone wants to sit in the rocking-chair and listen to the babblement of birds, relaxing after the long working day. Today I want to tell you about the squirrel free bird feeders and how to attract birds.
Birds feeding helps you to get closer to nature. But there is an animal that can bring a lot of damage, and we all know its name. Squirrels – are small pests whose population has increased recently. Now, they are not afraid to get close to people and destroy their belongings.




You may ask: "What damage these beautiful creatures can bring?" Actually, a lot of harm. And we don't talk only about the stolen seed from the feeder or broken birdhouse.
When the squirrel finds the food source, the animal wants to build a nest near it. And usually, they occupy your attic. They can easily climb the walls or jump from the trees. Squirrels are dangerous because they carry some viral infections, and they like to crunch the wires in your house.
Best Spinning Squirrel Proof Bird Feeder
Best Large Squirrel Proof Bird Feeder
Best Window Squirrel Proof Bird Feeder
Believe me, you don't need such guests. But, if your feeder is closed to them, they will go and search for another food source. That's why it's highly important to choose the best bird feeder.
Top 7 Best Squirrel Proof Bird Feeders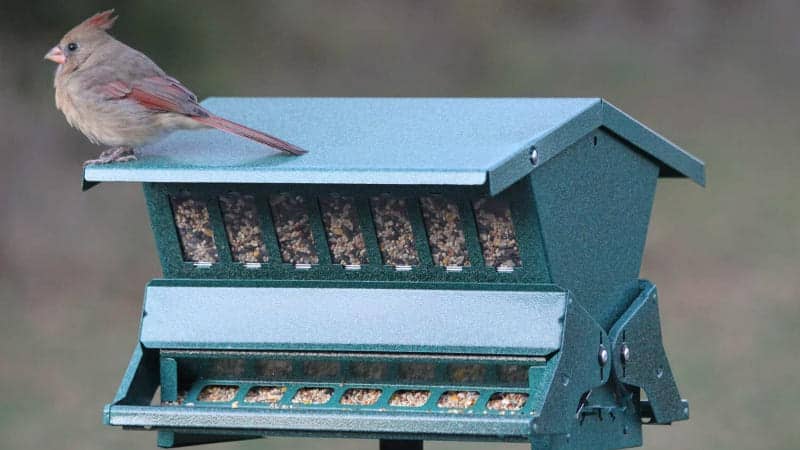 A bird feeder reminds me of good childhood times. Nowadays, the design has improved a bit, but you can still find traditional feeders.
Besides, there are many panoramic and window tools. You can enjoy the bird songs right in front of your house! So don't wait, let's choose the best bird feeder together.
1. Squirrel Buster Plus – Best Spinning Squirrel Proof Bird Feeder
Specifications:
Color: Green
Material: Plastic, Metal
Item Weight: 7.4 pounds
Item Dimensions LxWxH: 6.5 x 6.5 x 22 inches
Target Species: Cardinal, Squirrel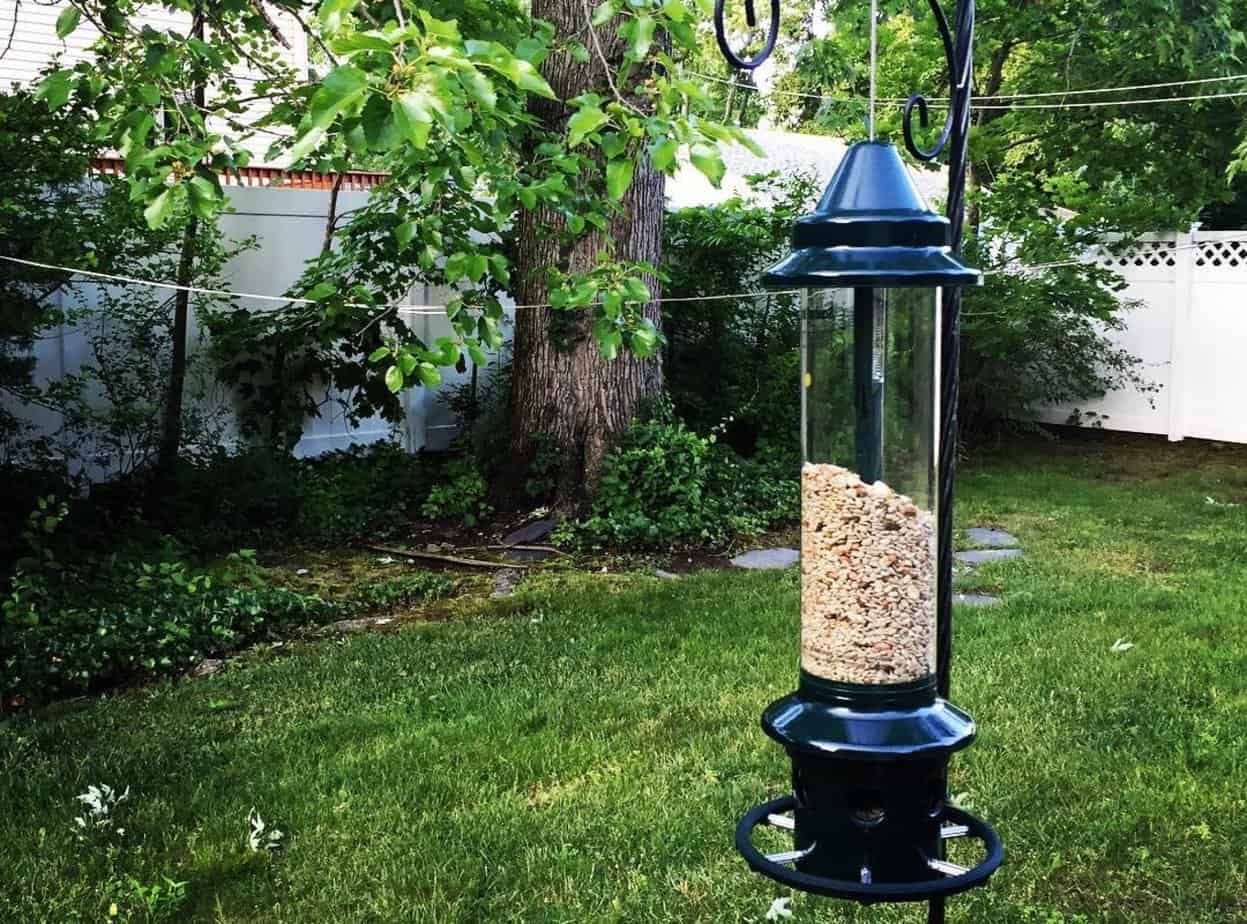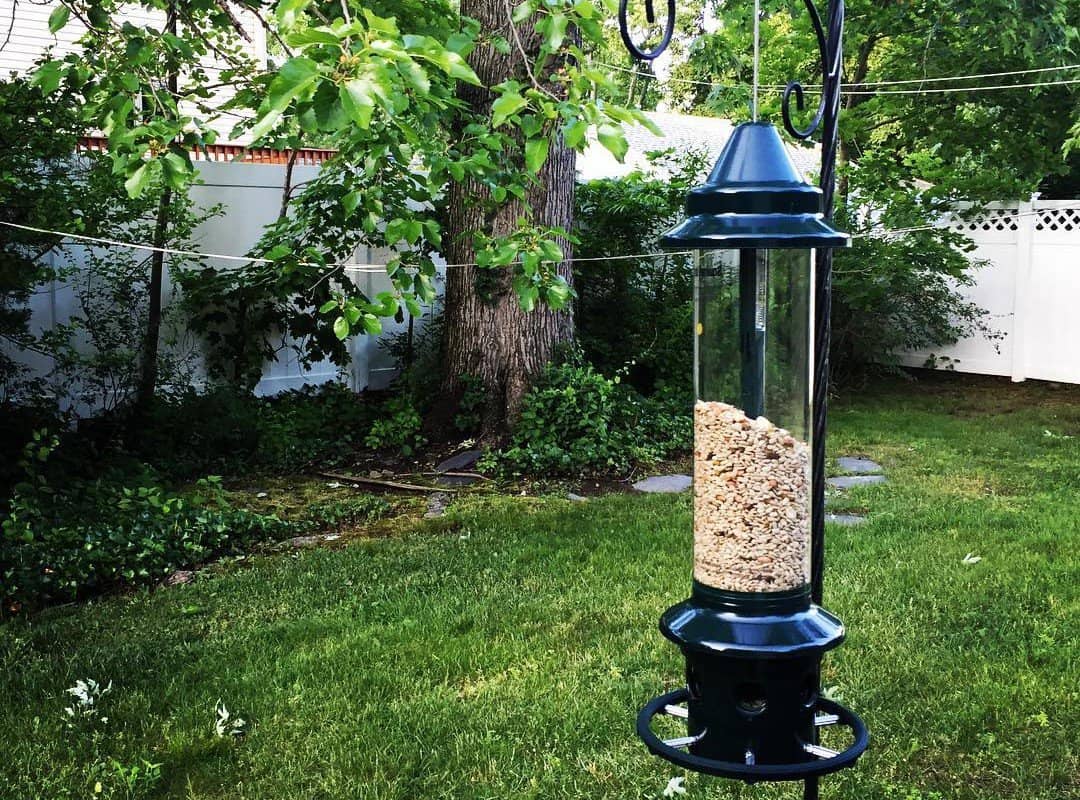 Providing products that are easy-to-use and everyone can repair them – is the goal of the Brome Bird Care company. Their service is one of the best. They not only offer you the spare parts for the products but also give you advice on how to repair the tool. Not all companies have such a policy.
Brome is one of the leaders in providing the best bird feeders to keep squirrels out that don't harm animals and the environment. The materials are recyclable and lead-free. If you care about our planet, Brome products are for you.
The mechanism of the Brome product that protects the seed from squirrels is simple. When the pest tries to get to the food, its weight forces the shroud down and closes the seed ports. So, the animal can't get to the feeder anymore. Besides this, the tool is made of chew-proof material that won't get harmed by squirrels.
You can control the size of the birds that will be able to eat from your feeder, and you don't need any additional tools to set this. The product is easy-to-use, and you can locate it anywhere. But remember to place the product high enough: if the squirrel can reach it without climbing, the protection system won't work properly. If you choose the Brome tool, you get a free cardinal ring that will attract the Northern Cardinals, which are wonderful birds.
Pros:
Cons:

Weight adjustable;
Easy-to-use;
Free cardinal ring;
Chew proof.
2. Woodlink Absolute II – Best Large Bird Feeder Squirrel Proof
Specifications:
Material: Alloy Steel, Polycarbonate
Mounting Type: Hanging Mount
Item Weight: 1 pounds
Item Dimensions LxWxH: 13.5 x 16 x 11.25 inches
Target Species: Squirrel
The Woodlink experts have designed hundreds of bird feeders. You may choose the one you like from the plastic, cedar, glass, and metal birdhouses. They also have a recycled product line with plastic-free products that have become very popular.
Besides bird feeders and houses, they also offer accessories. After the years of hard work, the company has developed an ideal design that protects seed from squirrels and looks like a beautiful addition to your garden.
The feeder should be strong enough to cope with windy and rainy weather. The Woodlink product base is made of steel. So, the tool will serve you for long, and the squirrels won't be able to damage it. The double-sided construction attracts more birds at the same time.
And also, you won't waste the seed because there is a seed saver baffle, and the food won't fall apart on the land. It's great because the birds are not very careful. Besides these features, you can also choose the weight of the birds you want to feed. You don't need to refill the tool often because it is large and can store two seed gallons.
Pros:
Cons:

Big capacity;
Strong base;
Has a seed saver baffle;
Double-sided construction.
3. Squirrel Buster Classic – Best Metal Squirrel Proof Bird Feeder
Specifications:
Color: Green
Material: Metal
Mounting Type: Hanging Mount
Item Weight: 5.4 pounds
Item Dimensions LxWxH: 11.5 x 5.88 x 21.63 inches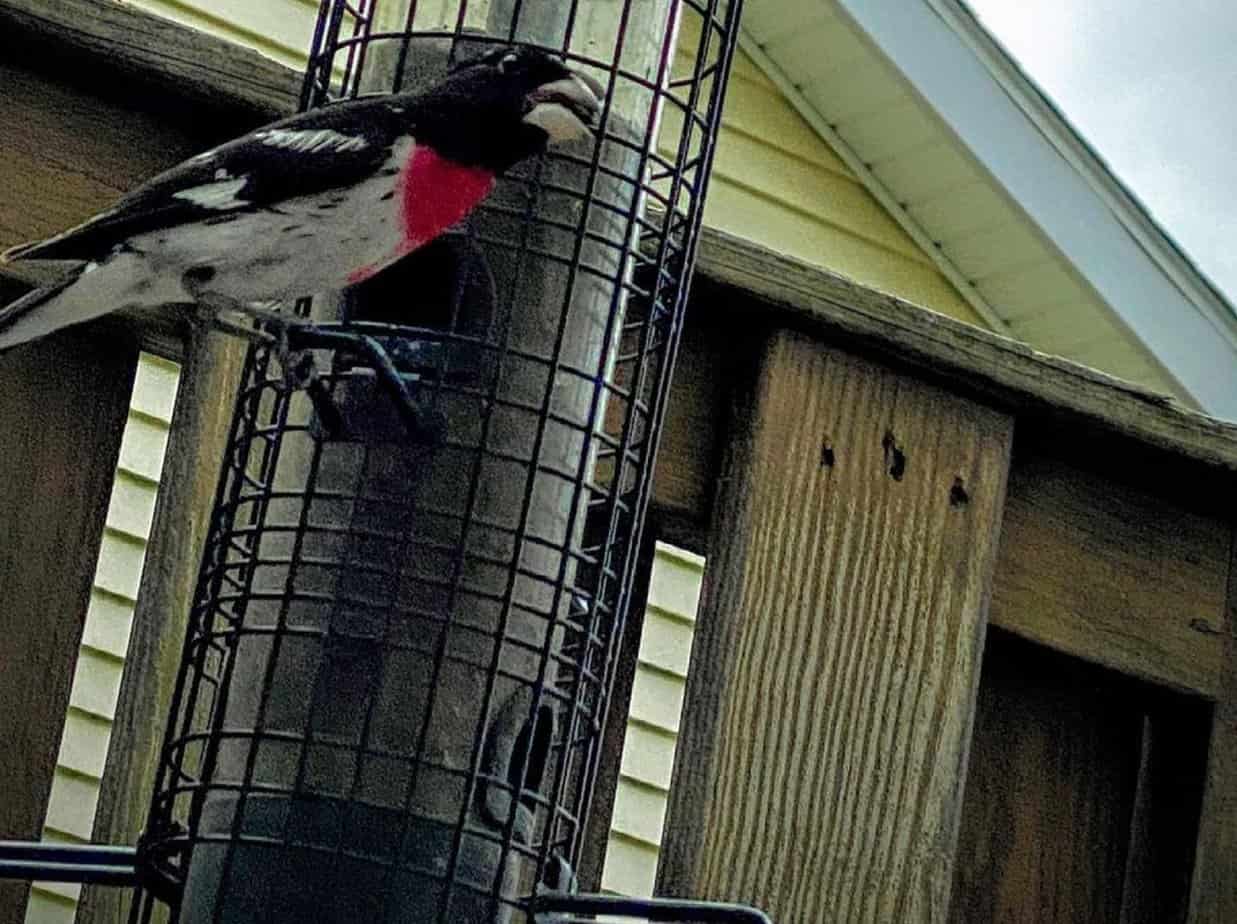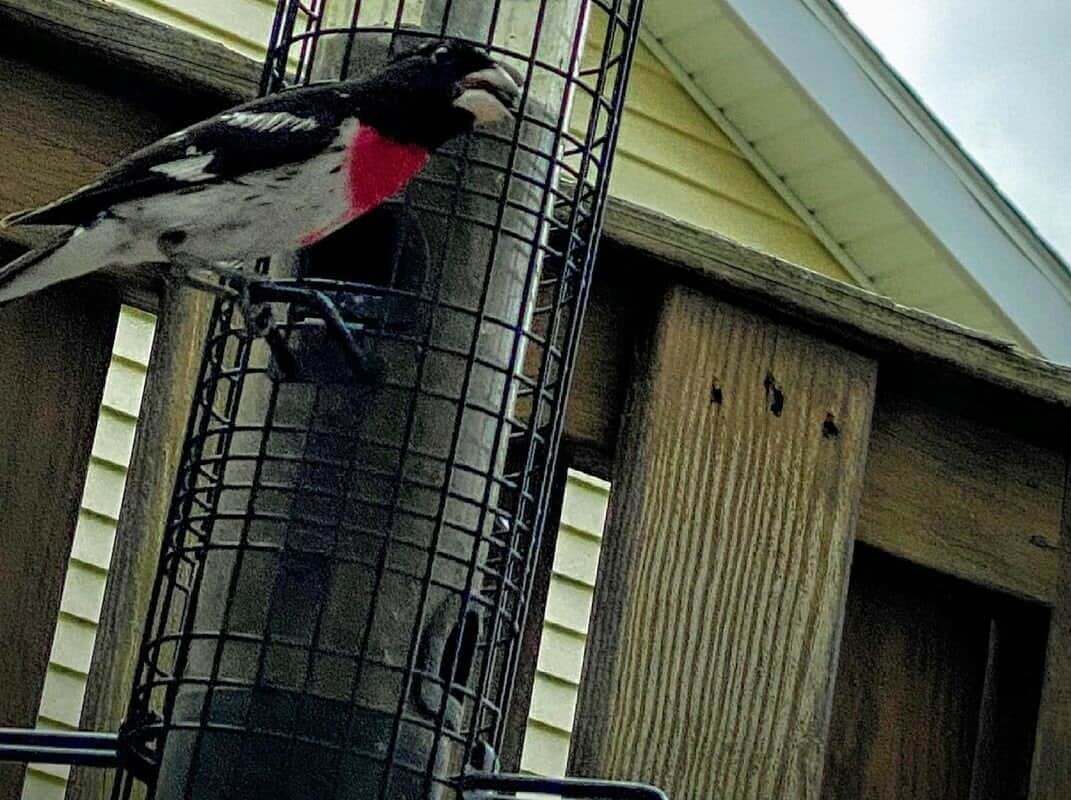 The construction of this bird feeder is not comfortable for squirrels to get on it. Even if the animal was able to reach the tool, the shroud would close automatically because of the big weight. The next plus is the ventilation system. What makes this product unique is how you can keep the seed fresh for the longest time and attract more birds.
The mechanism is so simple that a child can add seed to this Brome feeder. It doesn't require any additional instruments and allows you to open it smoothly. By the way, the material is chew-proof. That means no creature can damage the feeder, even a big dog. But, I think it's better to set the feeder high enough for the proper work. A little effort, and you can enjoy the beauty of birds.
Pros:
Cons:

Has a ventilation system;
Chew-proof;
Doesn't need additional tools;
Lifetime care.
4. Window Bird Feeder – Best Window Squirrel Proof Bird Feeder
Specifications:
Color: Clear
Material: Acrylic
Mounting Type: Hanging Mount
Item Weight: 1 Pounds
Item Dimensions LxWxH: 12 x 4 x 5 inches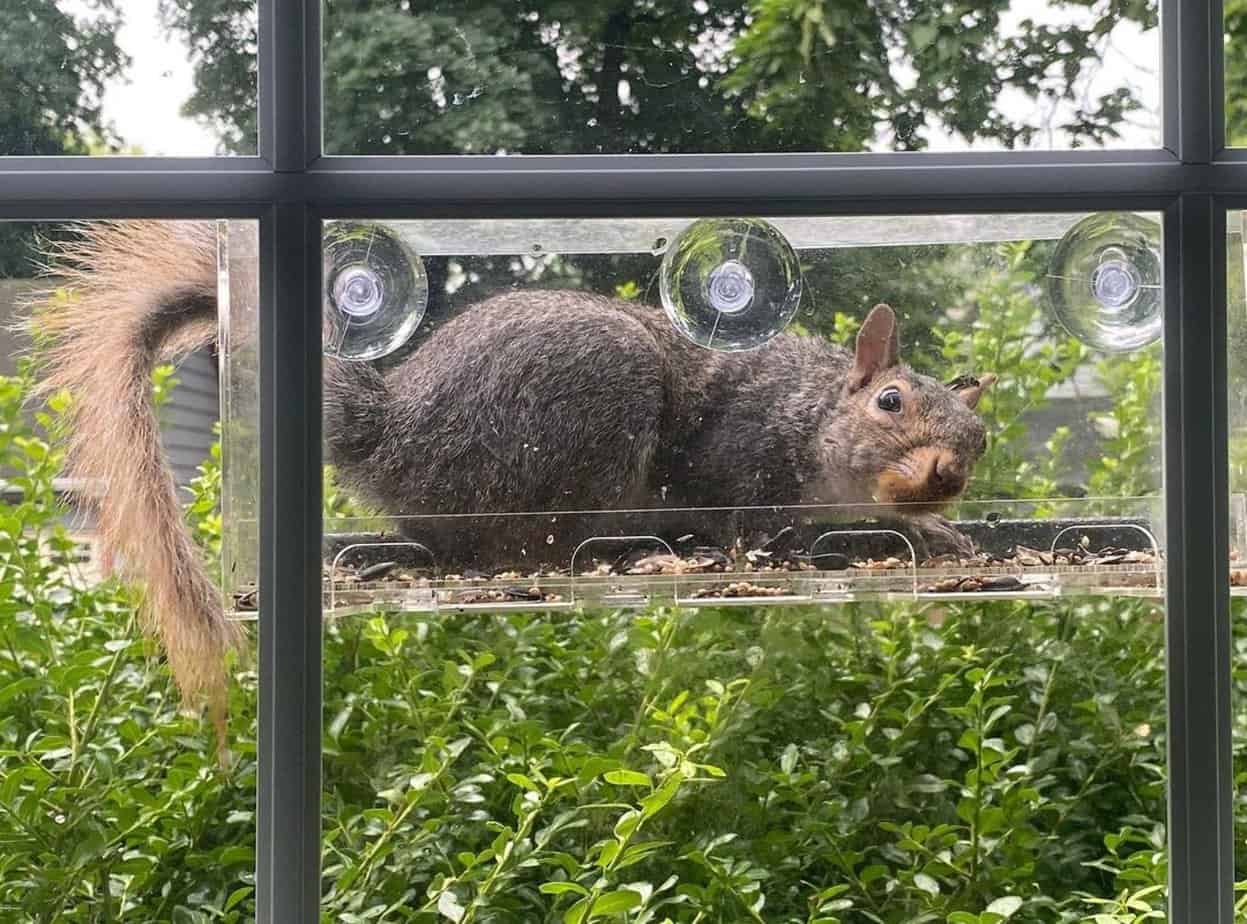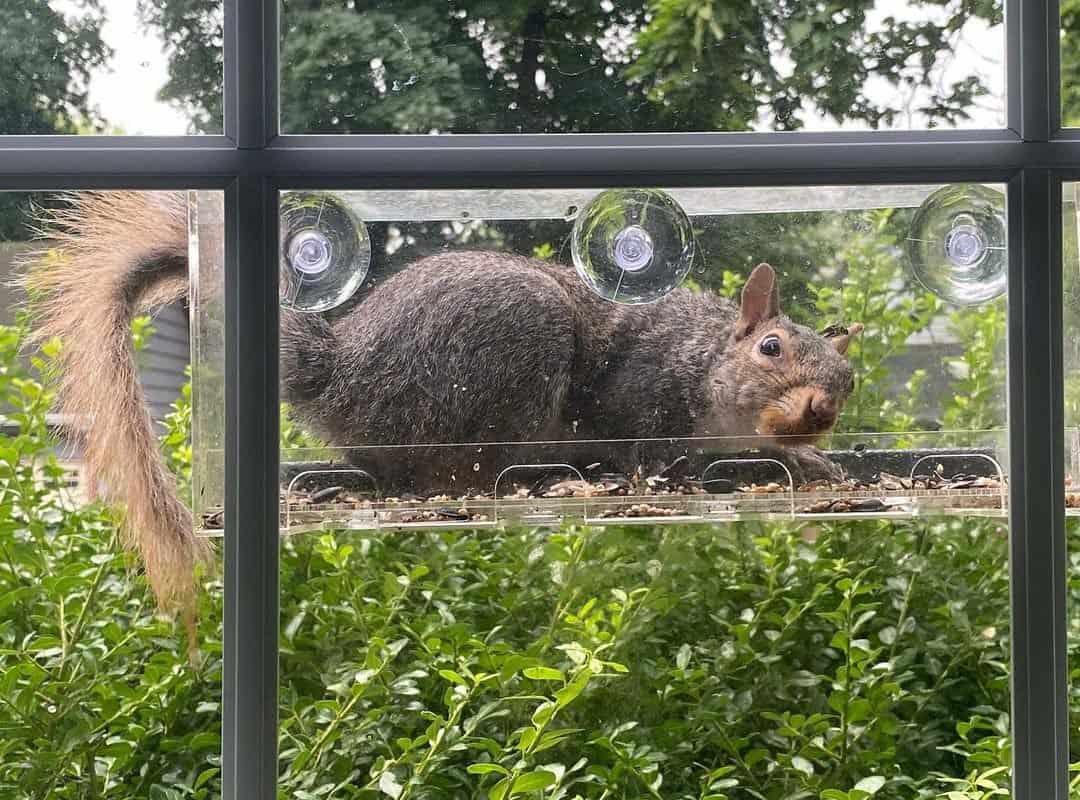 When two people who love adventures come together, they can create something unique and useful. Something like Nature's Hangout company. Founders believe that hiking and camping are great activities, but sometimes they want to stay at home with their families, lay on the hammock, and listen to the bird songs.
They provide various products for the gardens. Their goal is to offer you high-quality tools that are 100 % safe for nature and have an affordable price. I think they are doing great.
Imagine you wake up in the morning, look through the window, and see the beautiful birds. Your dream will come true with Nature's Hangout feeder. It's unique because you can set it on the window and watch over the birds as much as you want. When the tool is empty, it takes a few minutes to clean it. And the feed will stay fresh for a long time thanks to the drain holes. It's a great choice if you have children, cats, or you just like to relax watching out of the window.
Pros:
Cons:

You can set the feeder on the window;
See-through material;
Easy to clean;
Seed stay fresh.
5. Homestead Stop-a-Squirrel Bird Seed Feeder – Best Anti Squirrel Bird Feeder
Specifications:
Color: Green
Material: Steel
Rust Resistant
Item Weight: 7.4 pounds
Item Dimensions LxWxH: 10 x 11.5 x 12.75 inches
Hold up to 11 pounds of seed
A friendly Homestead team wants to help you feed the birds! They create beautifully crafted products that are durable and innovative. Homestead is a small company but with big ambitions. Their products provide the best squirrel protection on the market.
Thanks to high-tech manufacturing technologies, they offer low prices and excellent service. Also, the products will suit every garden or home, because they have a perfect design that will satisfy your expectations.
This feeder is simple in construction but effectively protects seed from the tree squirrels. As most products work, this one also closes the shroud when the animal gets on it. The material is very strong. And it also has a no-drip mechanism that doesn't allow the seed to fall apart. You can fill the feeder once, and enjoy watching over the birds for weeks. It holds up to 11 lbs.
Pros:
Cons:

Strong material;
No-drip construction;
Large capacity.
6. Perky-Pet Bird Feeder – Best Panoramic Bird Feeder
Specifications:
Color: Copper
Material: Copper
Item Weight: 2.2 pounds
Item Dimensions LxWxH: 8 x 8 x 16.5 inches
Target Species: Squirrel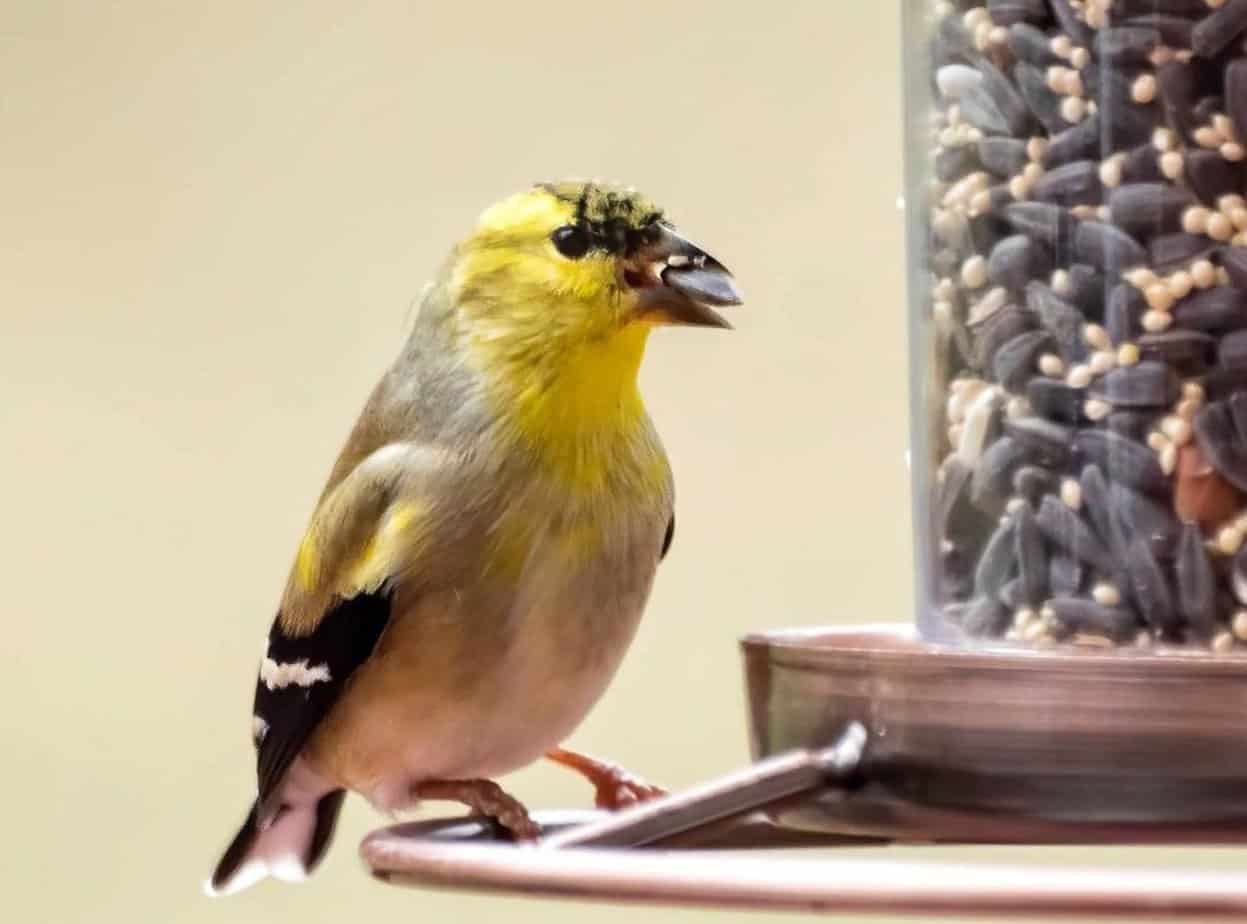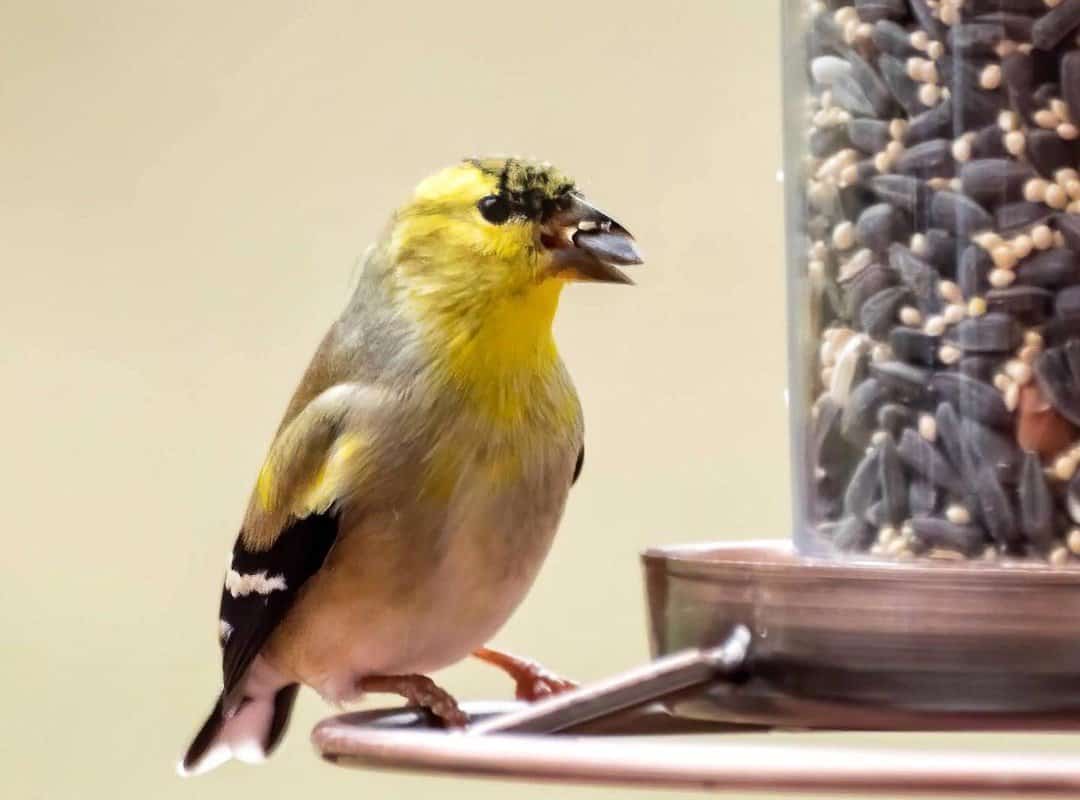 I believe that building memories that will last a lifetime is not only the Perky-pet company goal, but everyone strives to do this. Bird feeding is the company's passion. That's why they also want to help you interact with nature. The moment when the beautiful bird chooses your feeder among all others is unforgettable.
Perky-pet has a long history of excellence about their first successful bird feeder and quick innovations development. Now they strive to provide a stylish and effective product's design. If you want to discover new information about birds, Perky-pet is excited to help you.
The panoramic round squirrel proof bird feeder is a great idea, I guess. The animals can eat the seed from all the sides, and you can easily observe them. No squirrel will disturb you! The unique Sure-Lock cap keeps the tool closed from both sides: on the top and on the bottom. The material is visually striking for birds. Also, it is rust-resistant, so you can use the feeder for more than one season. The tool holds up to 4.5 lbs.
Pros:
Cons:

Panoramis construction;
Sure-Lock cap;
Rust-resistant.
7. Droll Yankees Bird Feeder – Best Squirrel Proof Hanging Bird Feeder
Specifications:
Material: Metal, Polycarbonate
Mounting Type: Hanging Mount
Item Weight: 4.09 pounds
Item Dimensions LxWxH: 8.75 x 8.75 x 29.5 inches
Target Species: Squirrel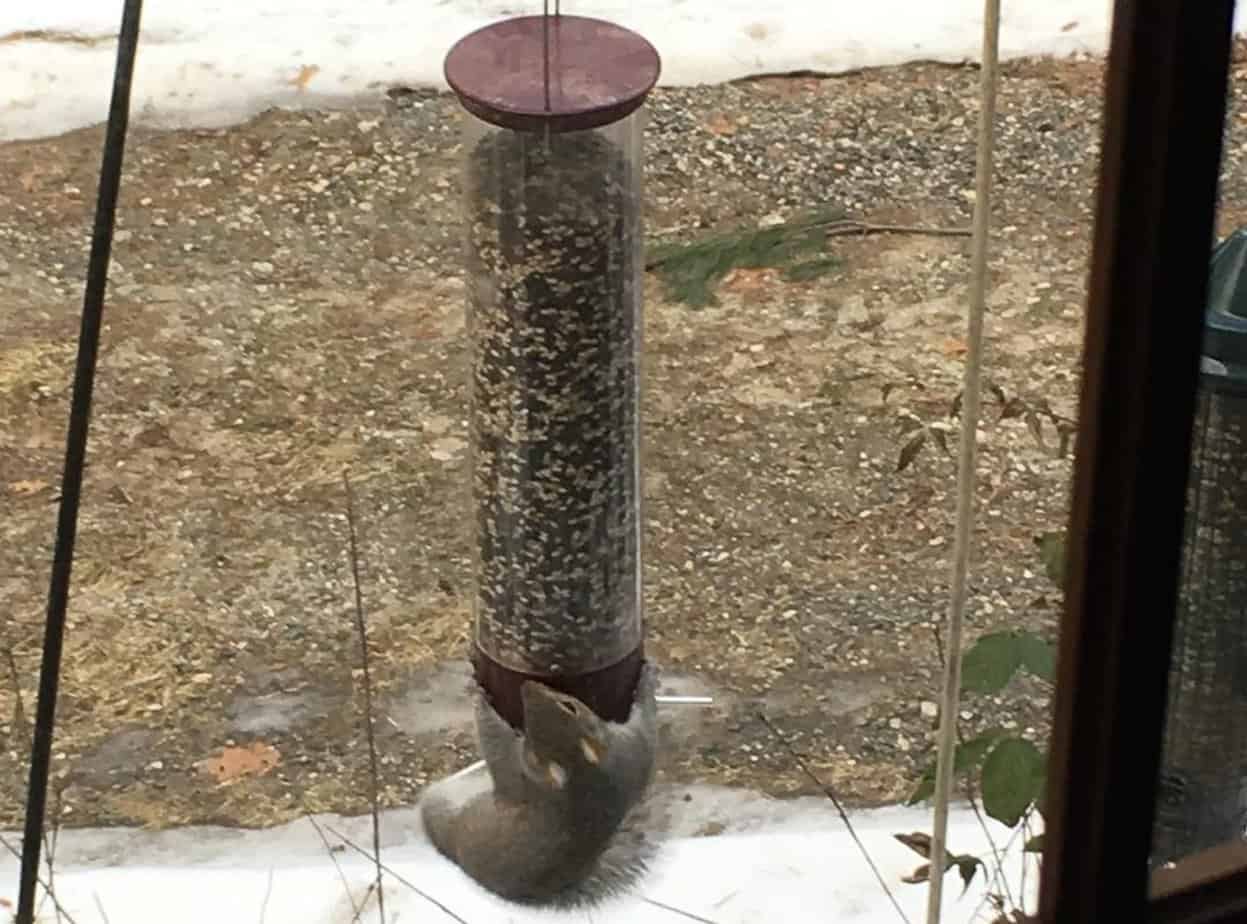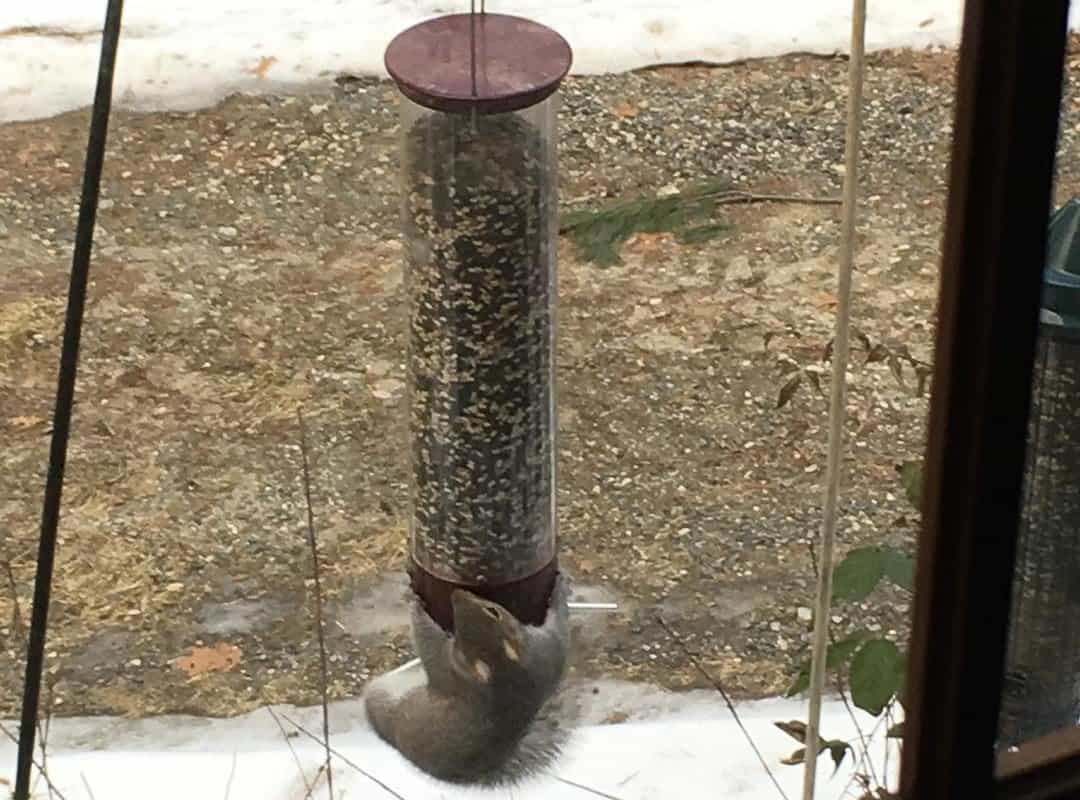 Did you know that the one person that feeds birds can restore the natural balance? Droll Yankees founder believes that we can make a world of difference even with a small everyday tool, especially when the product is high-quality. The Droll Yankees technologies are created to satisfy both: birds and backyard birders.
Products have a lifetime warranty, which means you can repair your tool free of charge at any time. Some of the Droll Yankees' customers use the bird feeders for more than 30 years! That is suggestive.
The strong metal squirrel proof bird feeder – is a good feeder. Droll Yankees tool has a metal base and cap, and a UV-stabilized seed tube that won't fade. That's what makes the feeder durable. The internal baffle is another innovative feature. It keeps the seed flowing smoothly and allows birds to eat from any angle.
The birds will be fed up, and the squirrels won't. Feeder collapses when the big animal gets on it and closes the access to the food. Droll Yankees' product can hold up to five pounds.
Pros:
Cons:

Strong material;
Durable;
The seed flows freely.
How to choose a squirrel proof bird feeder?
So many feeders, the head is swimming! That was the first thing I thought about when I started to search for the best squirrel proof bird feeder. Turned out that it is simpler than I thought it might be.
You just should know what you need and what features are sometimes unnecessary. Luckily, I will tell you about the squirrels and bird feeders, how to use a tool, and will answer your questions. Let's hit the road!
There are several materials that are used in feeder production. It's hard to say which one is better and more durable. If you want to buy a window feeder, it's better to choose the see-through lightweight material. In this case, the tool won't fall off the window, and also you will see the birds through it.
The wood or metal is not good for this. But if you want to hang the feeder up on the tree branch, the material should be strong. It's because the squirrel will more likely attack the feeder on the tree, not those that are on the window. A simple way to protect the seed.
The difference between wood, metal, or glass feeders is not very big. A choice depends on your preferences. If you choose a metal tool, it is important for it to be rust-resistant. The feeder will be outside, where it can get wet because of the rain. So, the rust-resistant one will be more durable.
In case you want to buy a glass or wood product, there should be drained holes. This will protect the seed from getting wet. When it comes to metal construction, it's not that important because the metal is waterproof.
My recommendation is not to choose the large feeders. It's because when you put a lot of seed, it can go bad before the birds eat it. Of course, you can put a small amount of seed, but then a question appears: why did you buy a big feeder and don't use all the volume? However, it's my own opinion, maybe you just want a big beautiful feeder to suit your home design. It's a great thing!
How does squirrel proof feeder work?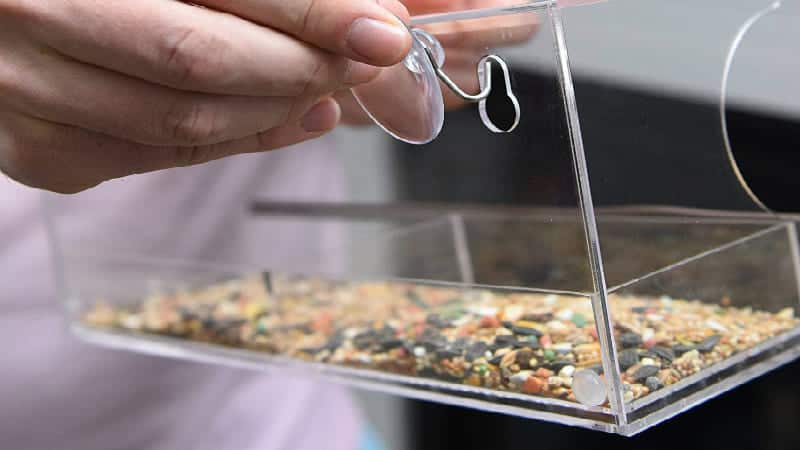 It may seem like there are a lot of different squirrel resistant bird feeders. However, they are quite similar. The way they protect the seed from squirrels is standard: when the squirrel gets on the tool, the shroud closes automatically. It's a simple but reliable mechanism. Other tools may have a special cage.
It's not the best variant because the squirrel can hurt itself. The mechanism that is used in safe feeders is effective. As you see, many manufacturers use it, and I can also assure you that your feeder will be 100% protected.
Besides this protection, most of the products are chew-proof. The tool basement is made of the material that is like rubber, and the squirrels can't bite it. So, the feeder has double protection. And also, you don't need additional instruments to place the seed into the tool. You should open it, put the food, and close tightly.
Three steps and nothing more – the feeder will do all the other work. My recommendation is to change the seed at least one time per two weeks. Of course, if the birds eat it quicker, you don't need to wait for two weeks. But sometimes they won't eat your seed because it's old and you won't be able to observe these beautiful creatures.
Related Post: Best Squirrel Baffles to Protect Your Feeders
Types of squirrel proof feeders
Squirrel-proof feeders differ in size and material. They also can have different protection systems. With nowadays innovations, there are hundreds of feeder models. But there are traditional feeders that are made of plastic or wood. Now they are not very popular because the plastic one is not eco-friendly, while the wood isn't waterproof, which is not good for seed stores.
You can find the large feeders that look like small homes. They also lose their popularity, because they are usually one or two-sided, while the panoramic feeder allows birds to eat from any angle. The glass feeders are smaller than traditional ones. They are weatherproof and keep the seed fresh thanks to the drain holes.
There are also window feeders. They are quite popular because everyone loves to watch over the birds while sitting in the chair at home. If you have children or pets, the window feeder is a great choice for you. Believe me or not, not only your child will be happy to see when the bird comes to eat from your feeder, but you will also be satisfied. Don't worry, these creatures are brave, and they will come close to your window for sure.
The window feeders are made of the see-through material, usually plastic or acrylic. These materials aren't very strong, but they are waterproof and durable. Also, the window tools don't require the hooks or brackets. It takes a few minutes to clean them. If you are looking for a budget no squirrel bird feeder, the window product will be the best thing for you.
Factors to consider when buying a squirrel proof bird feeder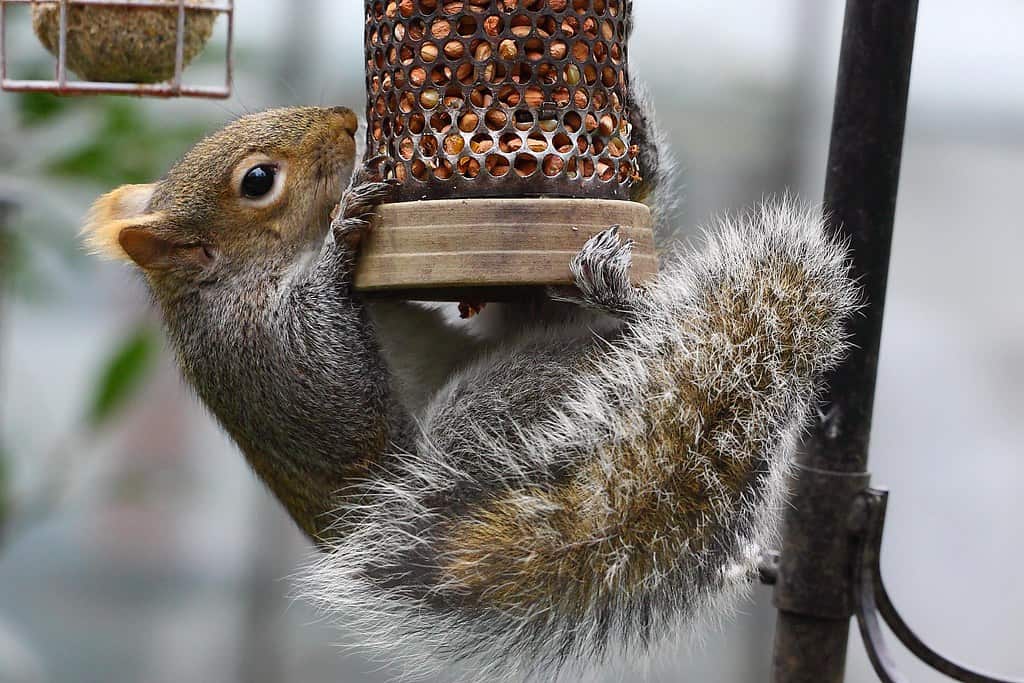 The most important thing to consider when you choose a bird feeder that spins squirrels off is the protection system. As I noted before, the feeders with cages are dangerous. Besides, there is no big need to use them. Choose from the products I have described – they are 100% safe for the environment.
Another factor is the capacity. I recommend choosing the medium-sized feeder. In this case, you don't need to change the seed frequently, as the small tools require. Also, the seed won't go bad with time, as it can happen with the large products. But it depends on your preferences.
Sometimes the small panoramic feeders allow better birds observing. The large tools may look aesthetic and remind you about childhood. As I said, you just need to think about which one is better for you and how much time you are ready to spend on maintaining it.
Don't forget to consider the material type. For the window feeder, the best variant is plastic. But if you search for an eco-friendly product, transparent acrylic is also a good choice. If you want a wood feeder, choose carefully. Many beautiful products can have bad squirrel protection. I don't think you need the unreliable feeder, am I right? If you want a feeder that will suit your home design perfectly, there are plenty of metal tools that look great and are highly durable. A good replacement, as for me.
What are other ways to keep squirrels away from bird feeders?
If the squirrels attack you frequently and you're tired of them, there is a variant to use squirrel traps, which still can be dangerous not only for squirrels but also for your pets or birds. The mechanism with the squirrel's weight works perfectly. But, if you do not feel protected, you can make a homemade smell repellent. The squirrels are afraid of strong odors like garlic or lemon. You can place them near the feeder or on the land.
The birds are usually not afraid of the strong smells, but sometimes it can also scare them away. So, it's your choice to use the repellent or not. Of course, if the squirrels really disturb you, there are many professional squirrel repellents on the market that will easily protect you from them. It can be a smell or sound repellent.
FAQ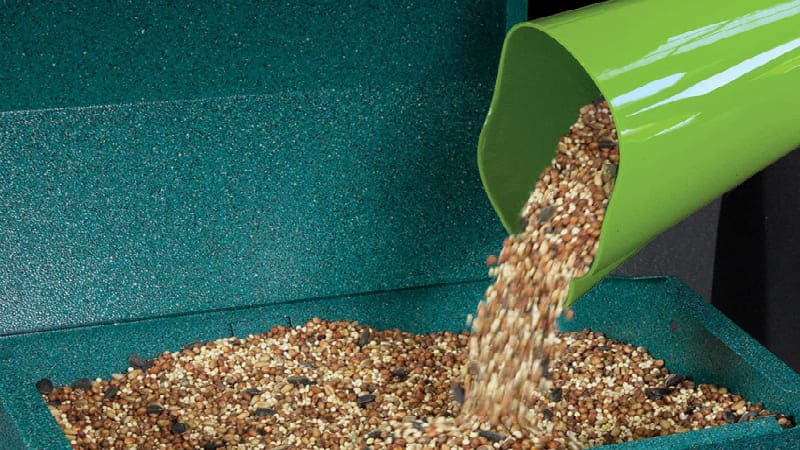 I have many friends that have heeded my advice and found a good squirrel proof bird feeder. It took some time to discuss what tool is the best. That's why I have prepared replies to the most common question to make the path easy for you.
Does squirrel proof bird feeder work?
The mechanism of squirrel protection is very simple and will work properly for sure. When the squirrel gets on the feeder, the food access closes automatically. The squirrel won't be able to steal the seed. However, when the feeder is placed near the land or the tree branch, the squirrel can reach the seed without climbing the feeder. So you should consider this fact.
Related Post: Best Squirrel Poisons Reviewed
How to position a squirrel proof bird feeder?
Actually, you can place a squirrel proof feeder anywhere you want. The only thing you should consider, as I've noted before, is the possibility that squirrels can steal a portion of food if the feeder is set too low. It's better to keep the tool 18 inches above the land.
And what is also important, if you want to hang up the feeder on the tree branch, it's better to use brackets or hooks. And my recommendation is to place the feeder where you can observe the birds.
How to make a squirrel proof bird feeder?
There are many possibilities to make a feeder by yourself. People usually use a soda bottle that is placed between two trees. It's not a bad idea, but I think it's easier to buy a ready squirrel proof tool. Firstly, it is made of stronger material, and secondly, the protection mechanism is more reliable.
If you don't want to spend a lot of money, there are many good budget variants. Or if you want a designed feeder that will look beautiful in your garden, you can find those too.
How to squirrel proof my bird feeder?
First of all, try to place it where the squirrel won't get it. It's hard to do because these animals are not only good jumpers but also good tree climbers. Sometimes, if you place a feeder near your window, it will be more protected because the squirrels may be afraid of the people.
But it doesn't always work. So it's better to buy a tool that has an innovative protection system. It will keep the seed safe.
What squirrel proof bird feeders are dangerous for a squirrel?
All the products I have described are not dangerous for squirrels. They just don't allow them to reach the food. And after one or two times, the squirrel will understand that it's impossible to get seed from there. But not all the tools are safe. The feeders with a cage can be very dangerous for the animals.
When the squirrel gets in a cage, it tries to get out and can hurt itself. I think there is no need to catch a squirrel, especially when there are safe tools available on the market.
Related Post: How to Get Rid of Ground Squirrels
What squirrel proof feeders are better to avoid?
As for me, it's better not to buy the traditional wood or plastic feeders. They can have a bad squirrel protection system. If you can buy the innovative feeder at the same price, why not do this? Also, there is a better choice among metal or glass feeders. You will definitely find what you need.



Let's Sum Up
That's all I wanted to tell you today, thank you for your interest. I hope my squirrel proof bird feeder reviews will help you to find a reliable tool and get the satisfaction from listening to the beautiful bird song or just watching over them. I like these creatures because they remind me how beautiful our nature is and how many incredible miracles it has. The fact that some living beings can fly amazes me!
I believe that everyone who's reading this can understand me and will also be happy to find the best squirrel proof bird feeder. Do you like to watch over the birds? Maybe you have some pictures of them? It will be great to see them in the comments section below!
References:
Northern Cardinal (Keith A. Arnold Dept. of Wildlife and Fisheries Sciences Texas A&M University): https://txtbba.tamu.edu/species-accounts/northern-cardinal/
Tree Squirrels (Margaret C. Brittingham, PH.D. PennState Extension):
https://extension.psu.edu/tree-squirrels
Squirrels and Bird Feeders (Margaret C. Brittingham, PH.D. PennState Extension):
https://extension.psu.edu/squirrels-and-bird-feeders
Why You Should Trust Pest Control Hacks?
We know that pests are nasty neighbors, and it can take months to eliminate them without the right approach. Our experts use their own experience to compile articles and guides that are introductory and informative. Our authors' opinions are independent and based on the results of practical testing of pest control tools. We do not notify manufacturers of testing of their products and do not receive payment from them for posting their items. Also, our texts are never submitted to company representatives for proofreading before placement. On the site, you will find exclusively objective ratings and reviews.