Living with cockroaches is not much of a pleasure. We know you know about gel traps, chemicals, pest control, and stuff. But, first, it will take time for these measures to take effect. Second, it may not be your place where you have to spend a night or several with these creatures. There's a more specific problem: how to keep cockroaches away at night.
And there are some tricks that will prevent them from crawling on your skin. No matter if it's your place where you're free to act, or you're renting it and thus have limited possibilities. Now, let's take a closer look at distracting them from your bed and (as a maximum) getting rid of them completely.
How to Keep Cockroaches Away at Night?
You can keep cockroaches away at night by taking some simple precautions:
Most importantly, don't leave food or water out overnight. Make sure that your food is properly sealed and stored away.
Keep your counters and floors clean.
Take out the trash regularly.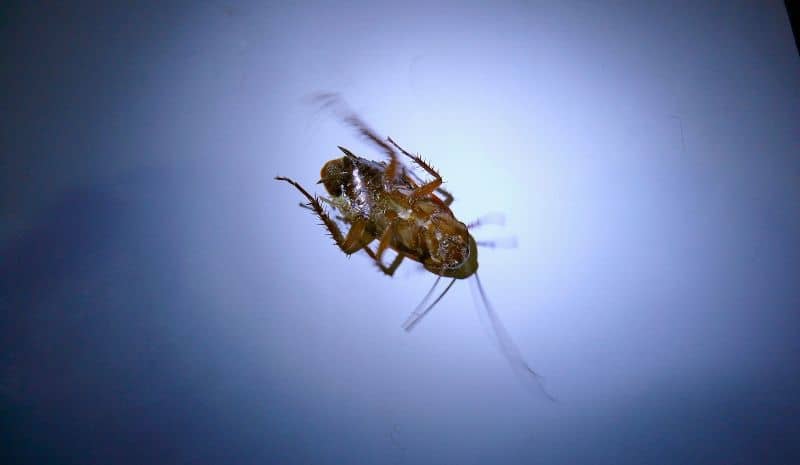 Guide on the Nights Without Roaches
The problem of how to prevent cockroaches in bedroom is a part of a larger problem, but if it's the bedroom that you're concerned with, there are two ways of solving the problem:
Exterminating the roaches that are already there;
Repelling those that may enter.
There are methods for both stages, and while we assume the rest of the house remains infested, it impacts what we should do to let no cockroach on the bed wake you up.
Why roaches come to your house?
Usually, roaches are attracted by three things: food, water, and safety (the latter means darkness and places where humans rarely look). All three can be found mostly in kitchens and closets, but bedrooms also have a lot to offer. Did you know, for example, that cockroaches can consume dead skin cells that are abundant in bedrooms and in beds?
As for safety, they can easily hide in linen piles and in wardrobes. Let alone cracks in the floor or in the walls.
Chances are even higher if you have a habit of nighttime snacks. If it's hot and you're sweating, it's the humidity roaches adore too. And if you (or the building owners) rarely vacuum your bedroom, the chances grow even higher. It also depends on the climate: in hot latitudes, roaches are likelier to find what they want in the bedroom.
So, now we focus on the bedroom. We assume that it's either your household that's already getting the overall treatment (at least, it's scheduled), or you're renting it and have neither possibility nor intention to de-roach the entire property. Otherwise, the problem would cover the entire household, won't it? But if now you only want a roach-free bedroom, let's focus on it.
Signs that you probably have a roach problem
There are several signs that cockroaches are around. The most obvious are the following:
You see roaches. Or feel them if it happens in the dark of the night;
You feel the roach smell. Once you've felt it, you'll never forget it;
You observe roach feces or smear marks;
You find roach oothecas – egg capsules. Once you see it, you know it;
You find shed roach skin.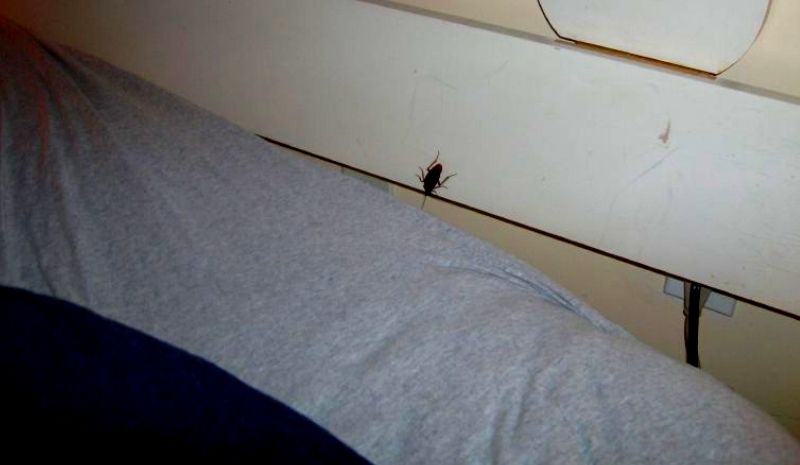 Any of these signs is enough to take the danger of roaches seriously. In your household, you probably spot these signs in your kitchen first, so you are prepared to meet them in other places, like a bedroom. But if it's a rented place, it may really take you by surprise.
How to sleep in a room with cockroaches
So, the bedroom with roaches is now a given. Regardless of how you got there, it's an immediate problem to solve. So, focus on getting roaches away from this room.
Find their nests in the room and remove them. Not only do cockroaches sleep in wardrobes and drawers: they can be under the bed or the wardrobe, in the cracks in walls, in window frames. Their traces will tell you where to search for the nearest colony. As you find it, use the most efficient way to kill it. Poisons, household products like borax and baking soda, or gel traps are great. But you can also physically kill as many of them as you reach.
Use gel traps or sugar with borax/soda, even after you've destroyed the nests. These traps, in addition, will distract them from a bed where your body might otherwise attract them. If you're going to a place where the chance of meeting roaches is above zero, you may place a tube or two of specialized gel in your luggage.
Fix all the cracks in the floor and the walls. You may need permission from the host if it's not your property.
Keep the doors and the windows shut tightly as you sleep. Of course, it's not always possible, especially in hot, humid areas.
Remove food and water from your room. Even if you often enjoy a snack in the nighttime, you better leave your room and go to the kitchen or even outside for this ritual.
Use repelling scents. Again, if they are very aggressive, you better consult the host; otherwise, your tourist rating may suffer.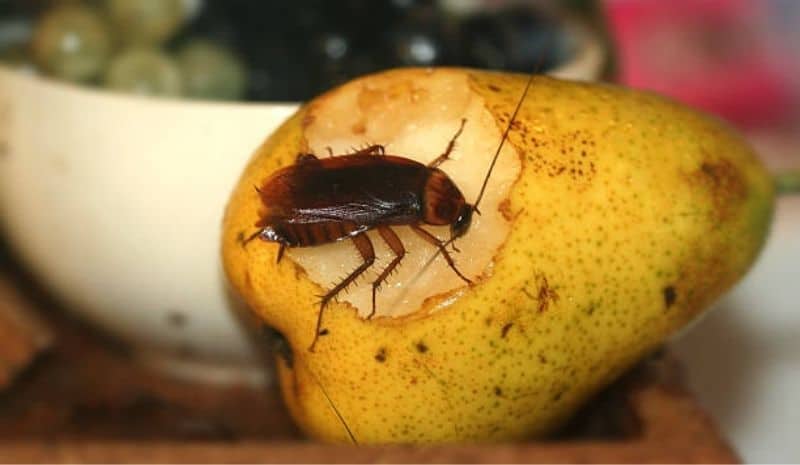 When it comes to scents, it's recommended to use those well-tried. For example, mint and citrus fruit scents are well-known for their ability to keep roaches away. The concentration, though, should not be too high for you to sleep normally.
How to avoid cockroaches while sleeping
You may want to add an extra protection layer to your bed. It makes sense because luring roaches away or poisoning them takes time, and you want some good sleep as soon as possible. For this, you may do the following:
Raise it as high above the floor as possible. Though roaches are capable of climbing up vertical surfaces, the legs of the bed are often too smooth for them.
Place traps under the legs of the bed. This is the point where they can enter, so catch them there.
Move the bed from the wall, so roaches cannot use the wall to climb up to you. Keep it at least one foot away from the nearest wall or further if possible. Again, if you're not at home, you better ask for permission to do so. It's also a good idea to set some traps between the bed and the nearest wall.
Sleep with lights on. It depends on how prepared you are for this. It won't always help: roaches can get accustomed to it either. But it might be worth a shot.
Spray some strong smell around before you go to sleep. It may require a special carrier if you don't want this scent to remain there after the roaches are exorcised (or after you check out). A wooden plank or a small log will do.
If you like it exotic, get yourself a gecko. I'm not serious, but nevertheless.
With your bed protected like this, roaches won't bother you in your sleep, even if they do crawl around on the floor all night long. Knowing how to keep roaches away from the bed will save you miles of nerves if you spend a night or two someplace where you're not going to return and not going to bother about any permanent solution.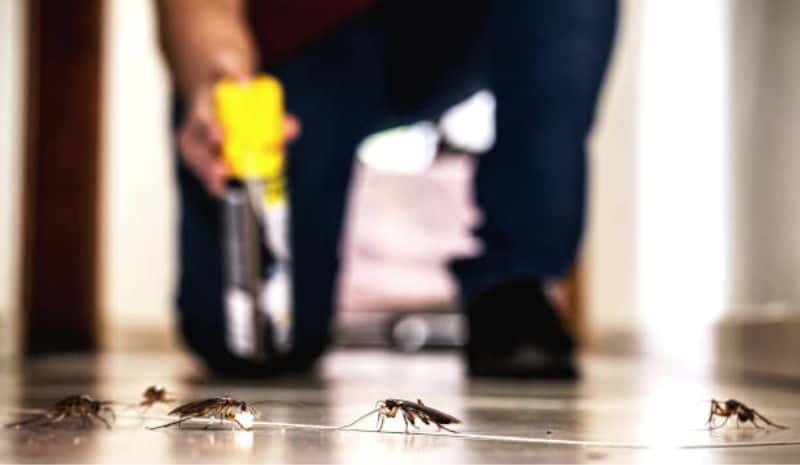 Last but not least: don't be too shy to complain. If you have found the property via Airbnb or Booking, or any other site, you have a legal right to write about these roaches in your review. Maybe when the owner reads this, it will motivate them to do this job for the next guests and save them some unpleasant moments.
No matter how friendly they try to appear: no approach justifies a roach in the bedroom. If you're lucky, you can even get a refund for this.
FAQ
All you need to know to react fast as you see even one roach. Or even assume there might be some.
Will cockroaches crawl on me at night?
Yes, a roach in bed can crawl on you. Some even have a disgusting habit of biting living humans. Most, though, just explore a big warm and potentially tasty object. Sounds great, doesn't it? Especially if it ends up in your ear or mouth. That's why you should prevent these interventions if you have a reason to think cucarachas are around.
Will keeping lights on keep cockroaches away?
With cockroaches' nocturnal way of life, most of them are indeed afraid of light. But not all. When the place is overpopulated, some of them will necessarily venture out, like crusaders or conquistadors. So the light won't stop them, like the light of Christianity didn't save Constantinople from them.
What causes the sudden appearance of cockroaches?
It's sudden only for us humans. In fact, it's logical that roaches settle everywhere they find food, water, and safety. In our case, though, the reason why they appear suddenly is that nobody has mentioned them on Airbnb or Booking.com. Then you'll have to be the first.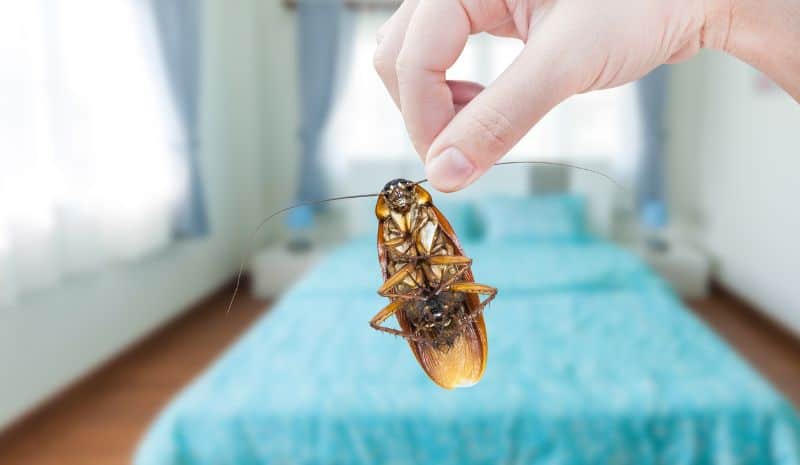 If I see one cockroach, are there more?
Yes, for each one you see, there are dozens or even thousands of those you don't (unless it's a single one, but let's be realists). So take the most serious measures even if you only see one or two of them.
Roach-a-Bye Baby!
What I wish to you all is always sleep like a baby. No matter if roaches crawl to your property or you travel some places where they come as a free bonus to bed and breakfast. Knowing how to keep roaches away from your bed can be an easier and simpler solution if your problem is temporary.
The same applies if you have already started getting rid of roaches in your household but don't want to tolerate them in your bedroom in the meantime.
What about your experience? Have you tried any of these methods, or maybe some other? How did they work? I'd like you to leave a comment down here and share what worked for you!
Also read:
References
Ootheca (Wikipedia):
https://en.wikipedia.org/wiki/Ootheca
A gecko (Reptile Follower – Wayne):
https://reptilefollower.com/do-geckos-eat-roaches/
Get a refund (By Brooke Rolfe for Daily Mail Australia):
https://www.dailymail.co.uk/news/article-5239097/British-Airbnb-guests-outrage-host-roach-complaints.html
Why You Should Trust Pest Control Hacks?
We know that pests are nasty neighbors, and it can take months to eliminate them without the right approach. Our experts use their own experience to compile articles and guides that are introductory and informative. Our authors' opinions are independent and based on the results of practical testing of pest control tools. We do not notify manufacturers of testing of their products and do not receive payment from them for posting their items. Also, our texts are never submitted to company representatives for proofreading before placement. On the site, you will find exclusively objective ratings and reviews.