The awful smell that remains on your hand and clothes… If you know what I'm talking about, you are probably aware of what it is like to squish a stink bug. When summer comes, and the plants are growing, these insects are getting ready to raid your garden.
To be prepared for their invasion, you should find the best stink bug spray. Apart from the smell, these insects annually cause serious damage, eating commercially produced and domestic fruit. I studied the available solutions for this problem and prepared reviews for 5 products and some recommendations for fighting those pests.
Pros
Works indoors and outdoors.
Organic Stink Bug Killer
Pros
Works indoors and outdoors.
Top 5 Best Stink Bug Spray
I'll try to help you in choosing the solution for your stink bug problem. Below you can read reviews of the top 5 insecticides according to my experience. Check their description and my recommendations to make your choice.



1. Talstar P Professional Insecticide – Best Stink Bug Killer
No products found.
This product is called a professional one for a reason. Talstar P is a water-based treatment against stink bugs. It has the widest spectrum and can kill up to 75 types of pests. Its active component is Bifenthrin (7.9%). With this spray, you might not need any other solution. Talstar is a well-known brand that made a name producing the best insecticide for stink bugs.
Talstar comes in a concentrate, and out of one bottle, you will get 32 gallons of spray. This mixture is not harmful to humans, pets, and plants as it contains no solvents that can cause this reaction. Also, the spray does not have any smell or residue.
Among other advantages, it can be used in-house as well as outdoors. However, it is not recommended to use it on or near fruits, vegetables, or herbs.
Pros:
Cons:

safe for pets when dry;
effective against 75 types of pests;
a trusted brand;
allowed for indoor usage.

cannot be used near edible plants.
2. Magma Home Pest Control Spray – Plant-Based Solution
No products found.
MDXconcepts, the producer of this solution, has as a goal to replace synthetic pesticides and eliminate the damage caused by them. Magma Home Pest Control Spray is fully natural and does not contain any synthetic or toxic components.
Its main components are oils of peppermint, spearmint, and rosemary – natural stink bug repellents. This spray has fast action and a long-lasting effect. At the same time, it does not leave any stains. It comes ready for use, and you just have to shake it before applying.
This is the best spray for stink bugs for those who are looking for a safe method fighting pests at home. It can be applied in the food storage areas, inside the closets, in the garden, or for cracks and holes disinfestation. Keep in mind that the spray has the odor that can be irritating for allergic people.
Pros:
Cons:

plant-based;
safe for pets and humans;
non-toxic ready-to-use formula;
long-lasting effect.
3. Platonix Neem Bliss Oil – Natural Stink Bug Control
Specifications:
Active ingredient: Azadirachtin
Item Form: Oil
Item Weight: 1 Pounds
Product Dimensions: 5.91 x 4.13 x 1.85 inches
Target pests: Stink Bugs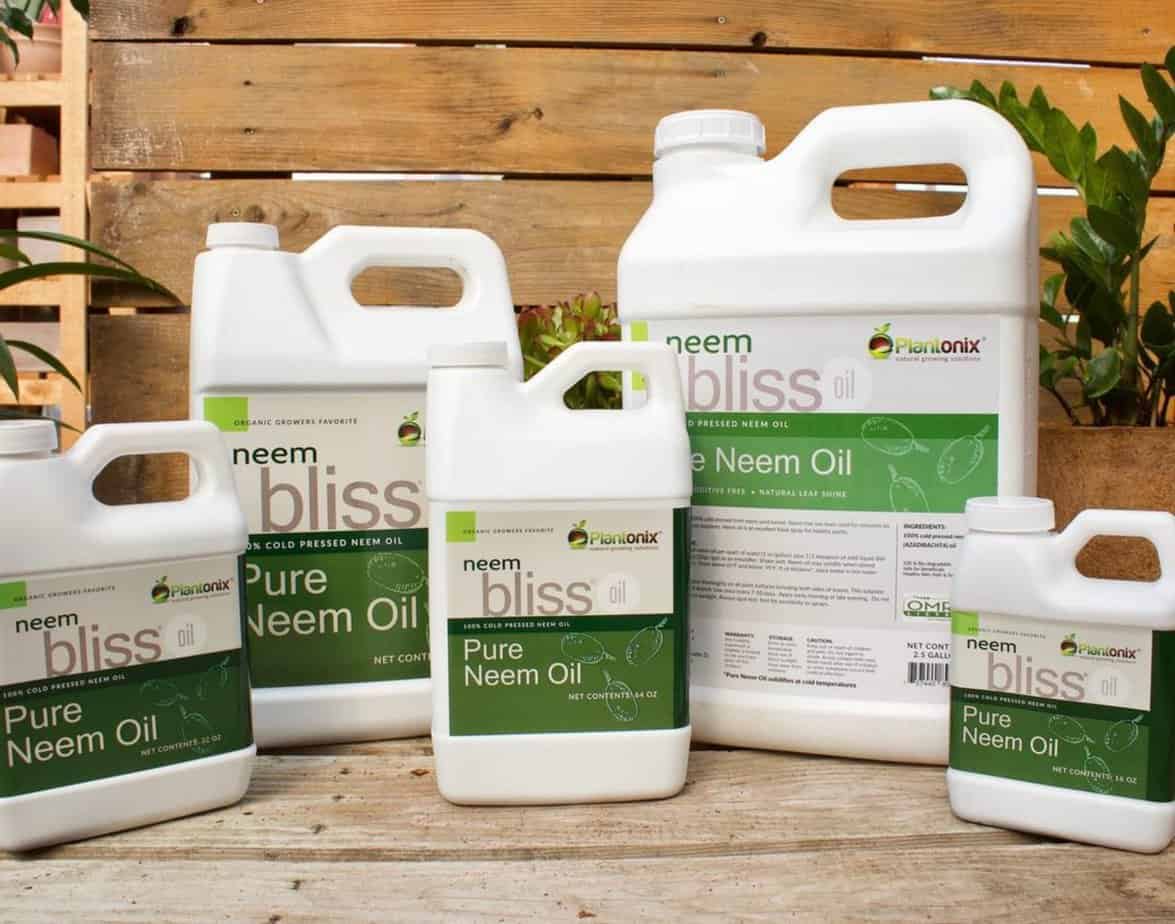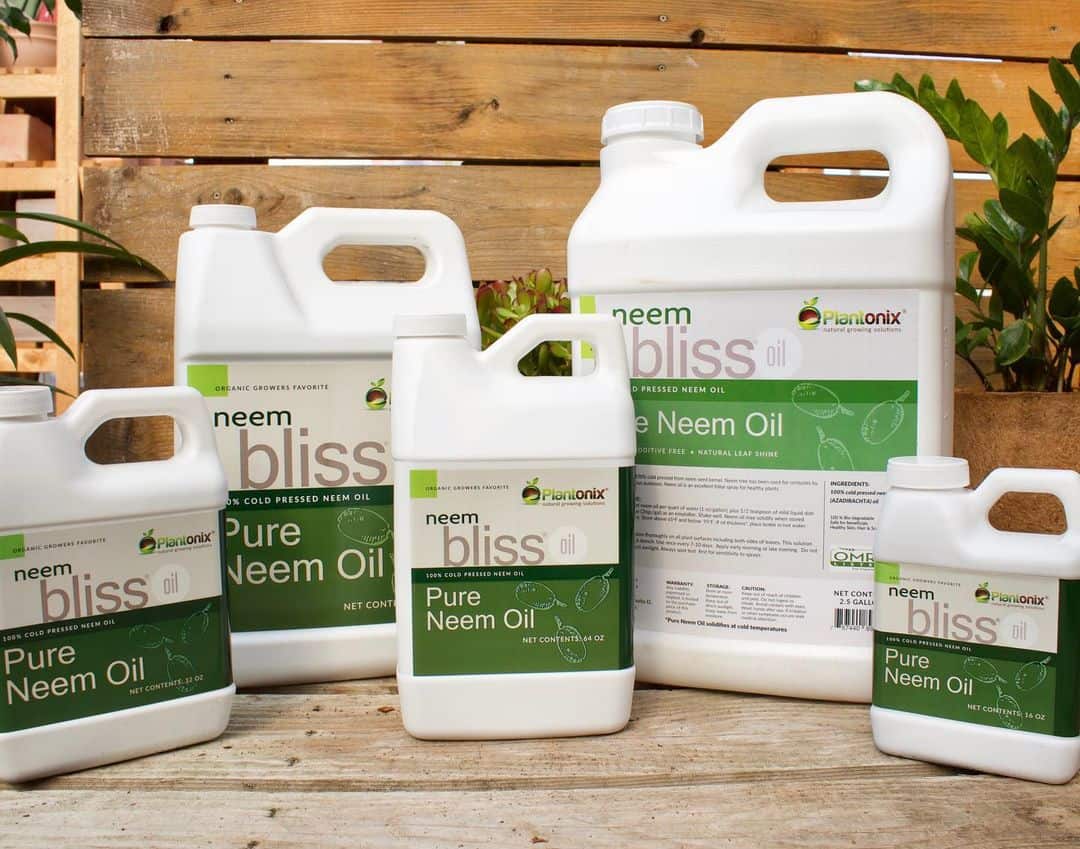 This product by Platonix is an organic stink bug killer that has only one ingredient – 100% neem oil. The main active component of this natural insecticide is Azadirachtin, which is an effective stink bug fighter approved by EPA.
Thanks to its biodegradability, it is not harmful to the environment and can be a good alternative to synthetic chemicals. The manufacturer recommends applying Neem Bliss Oil regularly to protect your plants during the entire growing period.
One of the drawbacks of this treatment method is that you have to dilute this oil with water before use. You will require a container with a spray nozzle for this. Also, it is claimed to be safe for kids and pets. However, it is better to keep the mixture away from the skin and eyes.
But the main advantage is that this is an organic stink bug spray, so this product is suitable for you if you want to maintain the yard and home pest-free without harming the environment.
Pros:
Cons:

100% Neem Oil;
Works indoors and outdoors;
Environmentally friendly.

garlicky odor;
has to be diluted before use.
4. Bifen XTS – Good Spray to Kill Stink Bugs
No products found.
Bifen is a manufacturer that offers working solutions for pest treatment and is cheaper compared to other similar options. Their XTS Bifenthrin concentrate has 25.1% of this active component. This proportion allows fighting stink bugs colonies and disrupting their life cycle. It is also effective against more than 50 other types of insects that can disturb the garden.
To apply the spray, you need to mix the concentrate with water. This might be less convenient as you will need a spraying nozzle and a bottle for a prepared mixture. But, when diluted, the spray does not have any smell and leaves no stains on leaves and soil.
The treated area is safe for pets and humans as soon as the spray is completely dry. Remember that this is a pesticide, and it cannot be sprayed around the edible plants or in the areas from which the rain can bring the product to them. Also, Bifen XTS is designed for outdoors use only. This is an affordable and effective stink bug treatment.
Pros:
Cons:

high Bifenthrin concentration;;
effective against 50+ types of pests;
has no smell or residue.

comes without sprayer;
cannot be used indoors.
5. Harris Stink Bug Killer – Ready-to-Use Solution
Specifications:
Scent: Unscented
Item Form: Liquid, Spray
Item Weight: 9 pounds
Product Dimensions: 7.1 x 4.3 x 11.7 inches
Target pests: Stink Bugs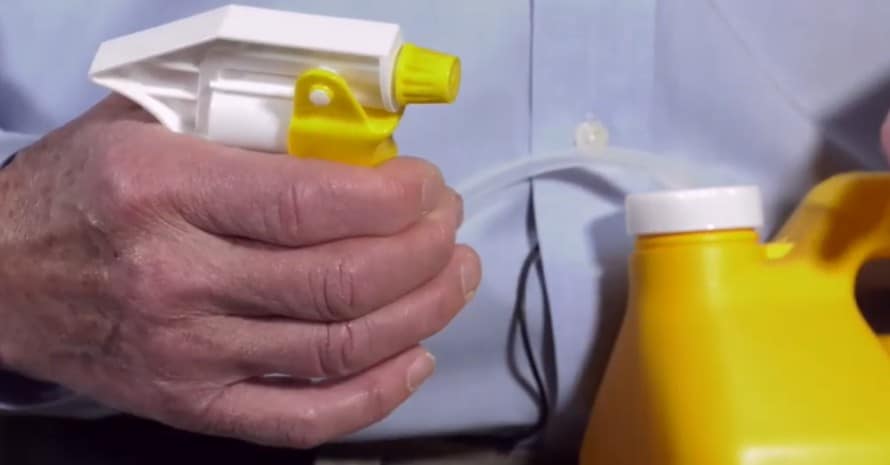 Stink Bug Killer by Harris is created for a garden, yard, and home treatment. It is working against stink bugs, but also other household insects like mosquitoes or flies. The killing action continues long after applying this treatment. This spray can be used right away, which is handy. People admit the absence of its smell and stains, but you have to test this before using it on the disclosed surfaces. Also, this spray is approved by EPA.
There are some complaints that the spray nozzle is of poor quality and can break down, so consider the alternative solution if you want to use this spray to kill stink bugs in your house.
Pros:
Cons:

covers large areas;
long-lasting effect;
no smell or stains;
ready-to-use formula.

not safe for pets;
spray nozzle breaks.
Stink Bug Spray Common Active Ingredients
Fighting stink bugs is a challenge as they are tolerant of numerous insecticides. Moreover, they often migrate from the neighboring territories, which levels up the danger of the reinfestation, even if your yard is previously treated. However, we have a list of chemicals used for pesticide control against stink bugs:
Acetamiprid – can be applied on ornamental trees and bushes, and even vegetables;
ß-cyfluthrin and Deltamethrin – suitable for treating exteriors and garden non-edible plants;
Bifenthrin, A-cyhalothrin, and Cyfluthrin – they work for outdoor pest control and safe for trees and bushes, but before applying around vegetables, read the instruction;
Dinotefuran – not recommended for exterior use, but safe for ornamental trees, bushes and selected vegetables;
Fenpropathrin – cannot be used around garden trees, bushes, edible crops, and is not recommended to be used for treating exteriors, but can be applied in other areas.
Most of the insecticides, excepting Pyrethrin, cannot be used for killing stink bugs in house because of their toxic nature. Moreover, dead bugs can attract other pests. It is better to use pesticides outside the building creating a chemical barrier for all insects.
Also, you can make a DIY solution from natural plant-based ingredients like garlic, neem oil, or essential oil. Just mix one of these components with water and apply this mixture around the required areas. This approach will fit people who do not want to use chemical solutions due to environmental issues.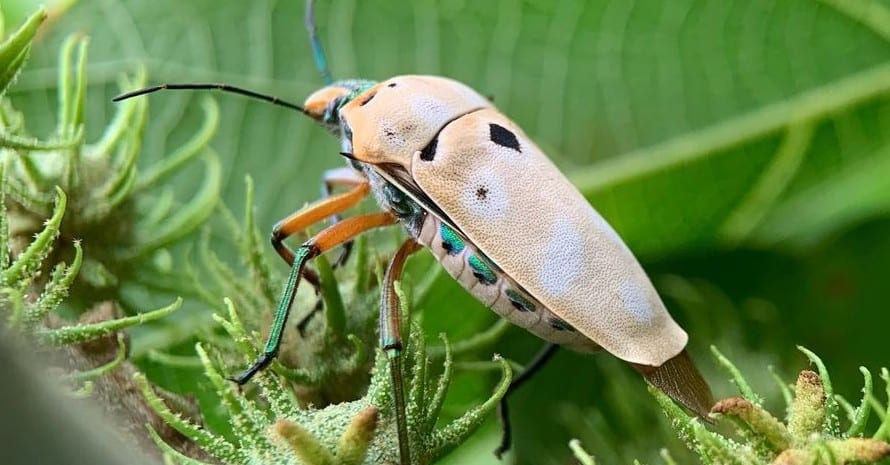 Choosing the Best Stink Bug Spray
If you decide to use spray against stink bugs, you have to know their types. As I said, some products have synthetic chemicals as active components, but there are also organic sprays with natural ingredients.
Chemical solutions. Such pesticides like Bifenthrin, Cypermethrin, Deltamethrin, and other mentioned ingredients of the bug sprays are very common in professional insect control for treating commercial crops. They have a wide spectrum and can work against numerous pests.
Such treatment is safe only if you take some precautions. These chemicals can be toxic to some animals and fish. Also, they can provoke an allergy and cannot be sprayed around pregnant women or children. The treated area is considered safe for kids and pets only when the pesticide has dried on.
Organic solutions. If you want to find the best stink bug killer, without toxic properties or a harmful effect on the environment, you can look for plant-based sprays. Even without harsh chemicals, you can treat your yard and house and get rid of bugs.
Organic sprays have proven their effectiveness against a wide range of pests. Their active components are essential oils or natural ingredients like citronella, neem, cedar, peppermint, rosemary, or garlic. They break down faster and are safe for kids and pests.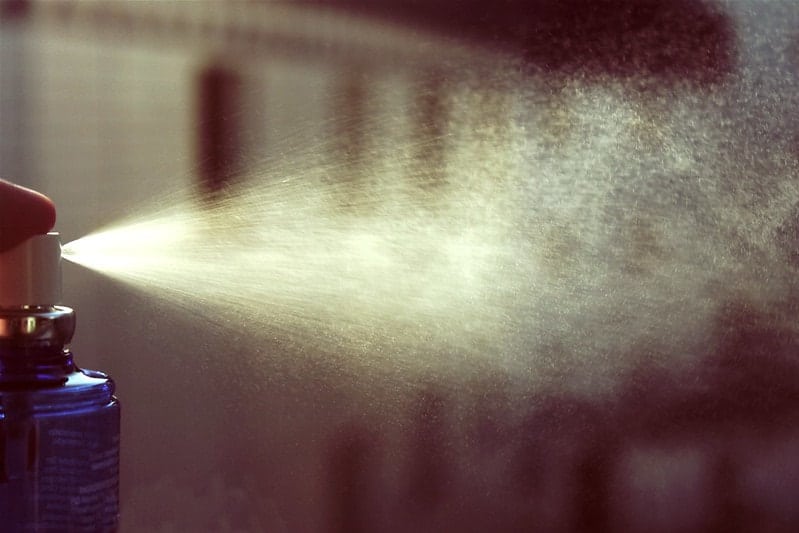 Applying Stink Bug Control
In case you face an outdoor pest invasion, you should protect the perimeter of the house and not let them in as it is more problematic to manage stink bugs in homes. You have to be on guard during the spring-summer season when bugs search for food and during autumn when they hide for winter.
The house perimeter has to be protected with stink bug spray or another form of pesticide. As you see from this article, there is a wide selection of solutions, even the professional ones, that can be applied for domestic use. Spray the insecticide every 30 days during the warm seasons. Pay special attention to doors, windows, and other areas that can lead inside. When using chemicals, make sure your kids and animals are away until the treatment is dry.
Protecting your yard and garden, choose products that are allowed to use near ornamental trees and bushes and edible plants.
In case you noticed bugs inside your house, use natural sprays or ones that are allowed for indoor use. In this case, you have to check your house regularly for dead bugs, as their smell can "invite" other insects. Also, throw away the ripe fruit or vegetables. Vacuum the house every day until you are sure there are no bugs left, and the infestation is terminated.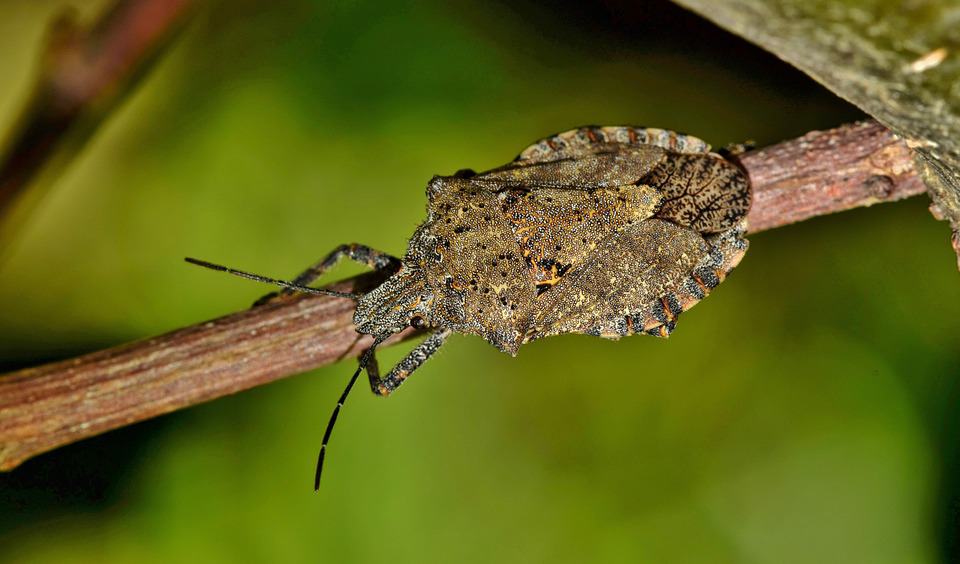 FAQ
Does Neem Oil Work to Kill Stink Bugs?
Neem oil, like other repellent oils, has a strong smell that forces back stink bugs. But it also interferes with their life cycle and works as a natural stink bug control. It prevents the maturing of the insects as well as changes their feeding habits. Some ingredients of this solution block the pests' airways and cut their air supply.
What Attracts Stink Bugs?
Stink bugs eat fruit vegetables, and they are often attracted by the ripe ones. They also can eat garden trees, bushes, and herbs. While these bugs are mostly active in day hours, at night, they can be attracted by the lights. However, this feature is used to trap them, as well.
What Chemical Kills Stink Bugs?
Synthetic chemicals used in sprays for killing stink bugs are ß-cyfluthrin, Deltamethrin, Bifenthrin, A-cyhalothrin, Cyfluthrin, Dinotefuran, Fenpropathrin, and Pyrethrin. They are toxic and can be used only when following the instructions. Among plant-based and organic chemicals are citronella, garlic, neem oil, peppermint, cedar, rosemary, and others. They are safe for nature, humans, and pets.
When to Apply Stink Bugs Spray?
If you noticed just a few bugs in your yard, there is no need for harsh insect control. It is enough to cut out and throw away the spoiled fruit or other parts of plants. But if the scale of the infestation is large, you have to combine chemical and mechanical methods to protect your crops. The activity of bugs increases in spring and autumn.



Protect Your House and Garden
I hope that my recommendations will help you in finding suitable bug treatment. Use the given information to keep bugs away from your home and yard from these pests. However, there are also other methods for insect treatment besides spray for stink bugs. What approaches do you use to keep them away? Share them in comments!
References:
Neem Oil (National Pesticide Information Center, Oregon State University Extension Services):
http://npic.orst.edu/factsheets/neemgen.html
Managing brown marmorated stink bugs in homes (Michigan State University Extension):
https://www.canr.msu.edu/news/managing_brown_marmorated_stink_bugs_in_homes
Pesticide Control for the Brown Marmorated Stink Bug (New Jersey Agricultural Experiment Station):
https://njaes.rutgers.edu/stink-bug/pesticides.php
Azadirachtin (National Center for Biotechnology Information):
https://pubchem.ncbi.nlm.nih.gov/compound/Azadirachtin#section=Information-Sources
Why You Should Trust Pest Control Hacks?
We know that pests are nasty neighbors, and it can take months to eliminate them without the right approach. Our experts use their own experience to compile articles and guides that are introductory and informative. Our authors' opinions are independent and based on the results of practical testing of pest control tools. We do not notify manufacturers of testing of their products and do not receive payment from them for posting their items. Also, our texts are never submitted to company representatives for proofreading before placement. On the site, you will find exclusively objective ratings and reviews.