It's always pleasant to live in a clean, comfortable place, and nobody wishes to feel that shock when you flick on the kitchen light and hear the scuttling legs or even see the cockroaches antennas on your floor, cabinets, or countertops.
In case these ugly pests are not insolent yet and try to hide, you will realize their presence in your territory by seeing empty egg casings and droppings or by feeling an unpleasant oily scent in your house.
You don't have to take roach infestation lightly because it's not only сosmetic issue. Cockroaches can taint your food and countertops with salmonella and E.coli, causing severe illnesses to family members. So roach foggers will become a perfect solution if you are looking for an effective weapon to cope with these bug enemies.
Foggers, also called roach bombs or bug bombs, work by spreading the insecticide to the air in the confined area. The chemicals fall to the ground and surface, killing household pests by contact. Subtle fog can also penetrate the cracks, killing even hiding cockroaches. Keep reading this article to be able to find your best bug bomb for roaches, and make your house free.



A Cockroach Bomb: Reviews of the 5 Best Products on the Market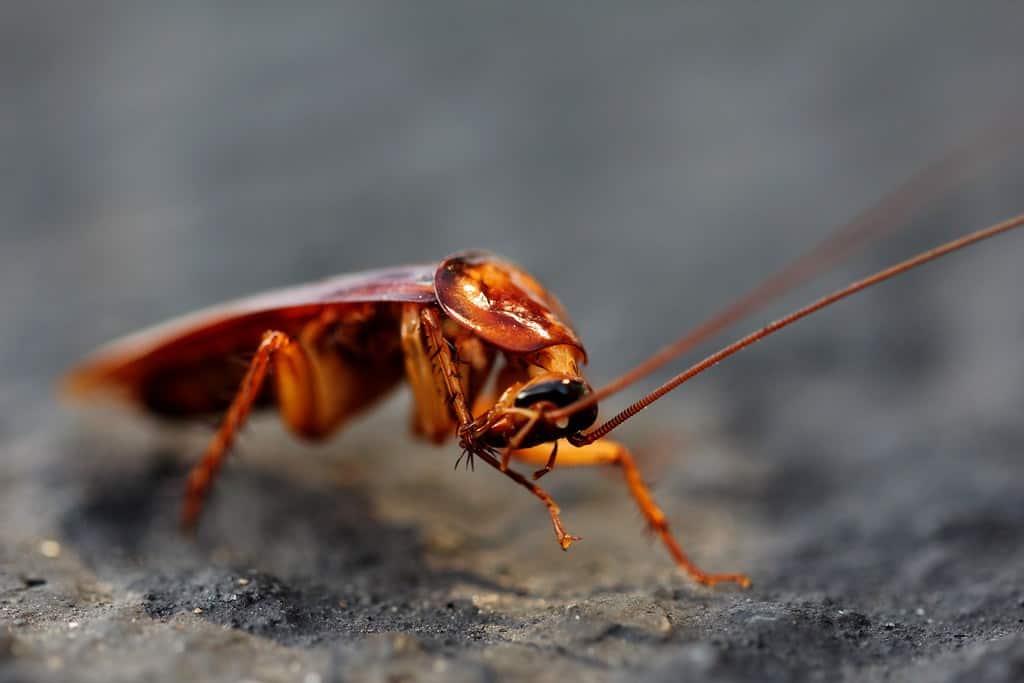 Today's market suggests a wide variety of different roach foggers that differ in price, quality, duration of exposure, and even the spectrum of insects that they kill. In this part, I've tried to make a short review of the best products, in my opinion, and I hope it will help you choose the most effective roach bomb for your problem.
1. Best Roach Fogger by Hot Shot
Specifications:
Item Weight: 1.57 pounds
Item Form: Aerosol
Item Dimensions LxWxH: 4.37 x 6.44 x 5.25 inches
Duration of action: Up to 2 months
Target Species: Ants (except fire ants), Black Carpet Beetles, Brown Dog Ticks, Crickets, Earwigs, Firebrats, Fleas, Flies, Gnats, Houseflies, Mosquitoes, Palmetto Bugs, Pillbugs, Rice Weevils, Roaches, Saw Toothed Grain Beetles, Silverfish, Small Flying Moths, Spiders and Waterbugs
This product helps to solve bugs` heavy infestations and continues to work up to two months after the first application. This fogger creates a fine mist that can reach into all the cracks to kill even those insects you can't see. Hot Shot Fogger kills on contact almost all pests you can meet inside your house.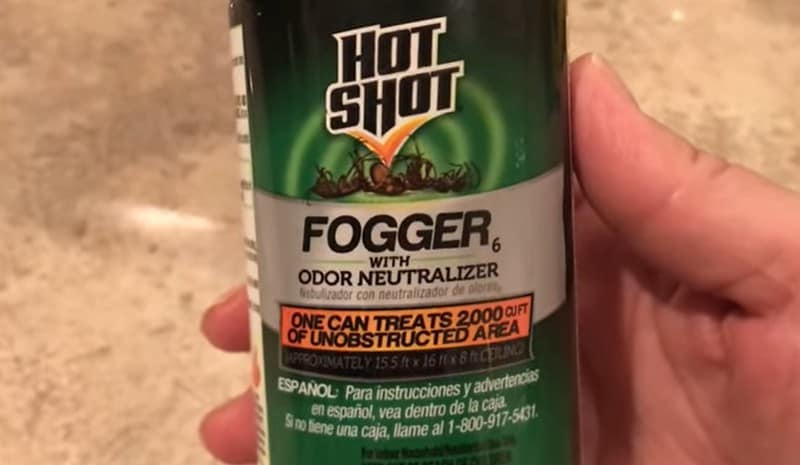 These are roaches, black carpet beetles, brown dog ticks, ants, crickets, fleas, earwigs, firebrats, gnats, mosquitoes, houseflies, pillbugs, palmetto bugs, silverfish, rice weevils, saw toothed grain beetles, small flying moths, waterbugs, and spiders.
It's not effective only against fire ants and bed bugs. This roach fogger has an odor neutralizer and can be applied to any enclosed area. The clean formula of the insecticide won't stain the surfaces or leave a wet residue so that you can use it everywhere in your house or apartment. One can of fogger treats up to 2000 cubic feet of space.
Pros:
Cons:

kills on contact different types of bugs;
keeps working for 2 months;
no odor;
no wet residue.
2. Raid Max Cockroach Fogger
Specifications:
Active Ingredient: Cypermethrin (1.7%)
Item Weight: 6.24 Ounces
Item Form: Aerosol
Item Dimensions LxWxH: 2.19 x 6.38 x 5.38 inches
Target Species: Ants, Black Carpet Beetles, Crickets, Earwigs, Fleas, Houseflies, Mosquitoes, Palmetto Bugs, Pillbugs, Rice Weevils, Roaches, Saw Toothed Grain Beetles, Small Flying Moths, Spiders, Ticks and Waterbugs
This product helps to control heavy infestations of pests in your house. The active ingredient of Cypermethrin is sufficient in killing roaches, ants, fleas, ticks, mosquitoes, and other bugs in your home or apartment. Fine consistency helps the fogger to kill roaches even in places they hide – сracks and rifts. Chemicals continue to work and kill the insects for 2 months after the first use.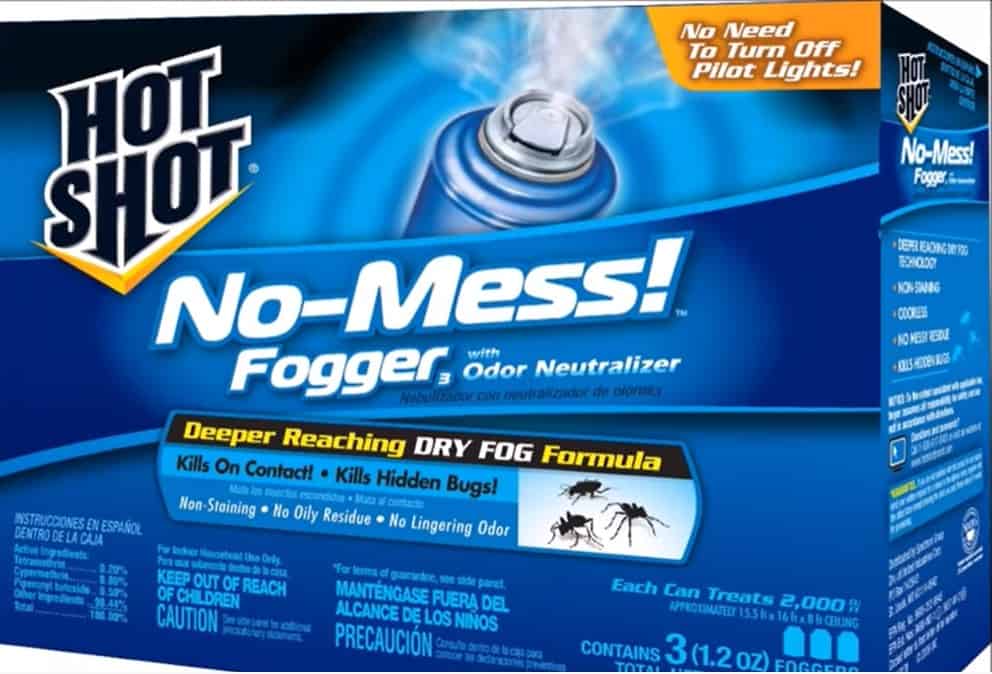 You have to remember that the fogger might be toxic, so you shouldn't allow your family or pets to stay in the treated area, and don't even enter it for 4 hours. After the application, you have to open doors and windows and ventilate the area for at least 30 minutes before re-occupation.
The precautions include removing the food and dishes and covering the surfaces and furniture (you can use newspapers for that).
The fogger is powerful enough to treat spacious areas (like 25' to 25' room). For the same reason, I do not recommend using it in small confined areas like closets and cabinets.
Pros:
Cons:

concentrated for heavy bug infestations;
the product doesn't leave messy residue;
the fogger prevents new pests for 2 months.

contains hazardous chemicals.
3. Spectracide Indoor Fogger for Roaches
It is a multi-purpose fogger that kills on contact flying, jumping, and crawling insects. The aerosol creates a fine mist penetrating all the cracks and crevices in your house, killing even those pests that hide.
Spectracide fogger has a clear formula that won't leave wet residue on your furniture and walls. So you can use the fogger bravely and don't worry about any potential harm to your floors, ceilings, carpeting, drapes, bedspreads, and clothing.
One can of the fogger is supposed to treat up to 2000 cubic feet of space. In spite that this fogger doesn't have a lingerie odor, Spectracide recommends airing up your home for about 2 hours before you return there to stay.
Pros:
Cons:

effective against different bugs;
penetrates in cracks to kill on contact;
water-based formula with no odor;
it doesn't impair furniure and surfaces.

the product doesn't kill roach eggs.
4. Bengal Chemical Roach Bomb for Apartments
Specifications:
Active Ingredient: Permethrin (2%)
Item Weight: 8.2 ounces
Number of pieces: 3
Item Dimensions LxWxH: 2.25 x 6.75 x 6.5 inches
Target Species: Roaches, Fleas, Ants, Spiders, Crickets, Lice and Ticks that may carry Lyme disease
It's an indoor fogger that kills more than 24 types of insects. It is especially effective against cockroaches, fleas, ants, spiders, lice and lice eggs, mosquitoes, and ticks that carry Lyme disease.
When used as directed, it will not harm drapes, carpeting, clothing, linens, furniture, and walls, because its dry formula doesn't leave a messy wet residue. The package of 3 cans treats up to 6,000 cubic feet of unobstructed area. Don't use more then one fogger per room, and if the room is small (less than 5ft x 5ft) – let the fog treat this area from other rooms.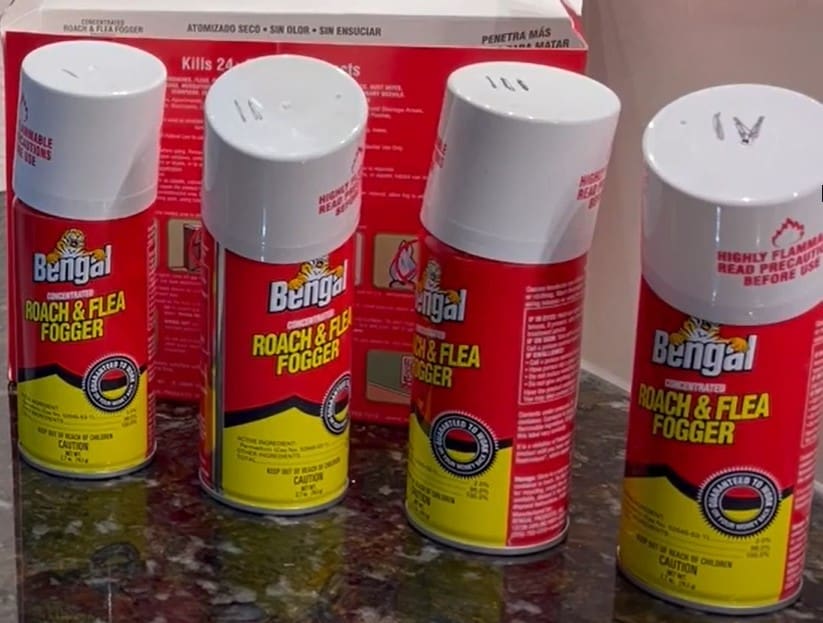 For effective treatment, the room has to be closed for 2 hours; don't enter it until mists and aerosols have dispersed, and the treated area has been thoroughly ventilated. Before fogging, you need to turn off all ignition sources like pilot lights, running electrical appliances that cycle on and off. If you need to apply it in the garage, motor vehicles should be taken off.
Related Post: Bengal Roach Spray Review
Pros:
Cons:

kills more than 24 types of insects;
doesn't leave unpleasant odor;
it doesn't contain ozone-depleting chemicals.

requires preparation of the area before using it.
5. Black Flag Indoor Cockroach Fogger
Specifications:
Active Ingredient: Cypermethrin (0.8%)
Item Weight: 1 pounds
Item Form: Spray
Item Dimensions LxWxH: 4 x 6 x 5 inches
Target Species: Roaches, Ants (Except Fire, Carpenter, Harvester and Pharaoh Ants), Fleas, Spiders (Except Brown Recluse), Mosquitoes, Silverfish, Brown Dog Ticks, Houseflies and more as listed.
It's a concentrated fogger that helps to defeat the insect invasion and won't allow pests to come back. The reason is it keeps working on non-porous surfaces for 12 weeks after the application. Black Flag fogger helps to control a variety of household insects.
It's effective against cockroaches, fleas and ticks, mosquitoes, houseflies, silverfish, spiders, and some kind of ants. You can read a full list of controlled pests on the label of the product. The formula of this fogger is quick, effective, clean, and dry, so you won't see unpleasant residue on surfaces after using Black Flag.
Each aerosol can (the package contains six items) creates fog to treat up to 2,000 cubic feet room. The manufacturer asks not to use multiple canisters in one room since one is entirely enough for effective treatment.
The pleasant bonus of this fogger is that it leaves a pleasant fresh fragrance, so one product will provide a perfect dual-action not only for houses and apartments but also for garages, basements, and different household storages.
Pros:
Cons:

the fast concentrated formula kills by contact;
long action (up 12 weeks after the application);
no wet residue;
it leaves a fresh scent.

not intended for small areas (less than 5 ft x 5 ft).
Essential Things You Need to Know About the Roach Foggers and the Buyer's Guide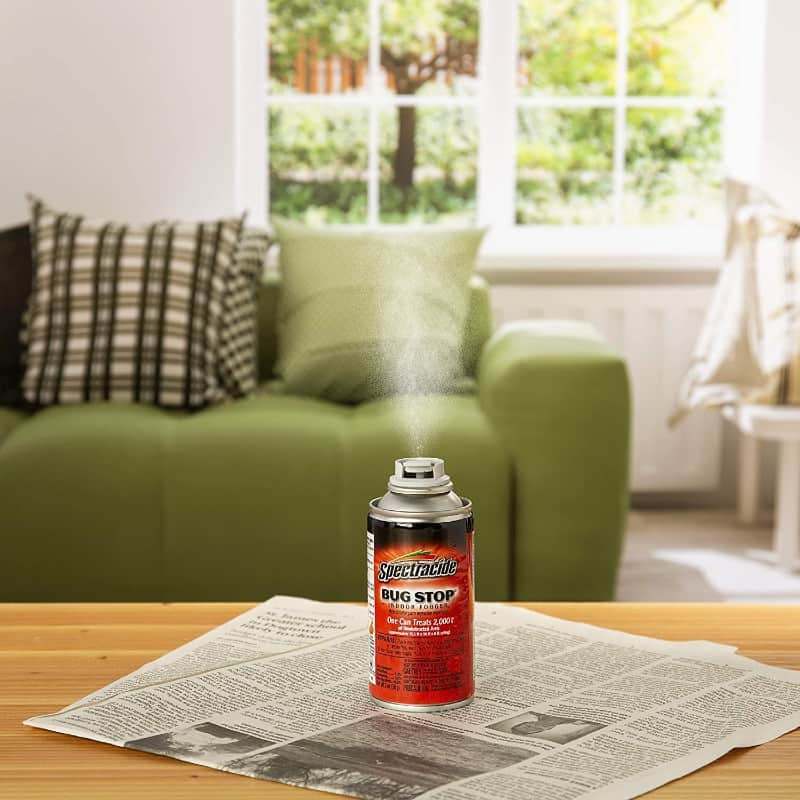 When you declare war to household pests, you have to use insecticides. Therefore, you have to be careful and observe appropriate safety measures. Here I'll give you a small guide on how to use roach foggers safely and correctly.
How to Bug Bomb a House for Roaches?
It's quite easy – you just place a bug bomb in a treated area and set it off. It releases pesticides that kill cockroaches on contact.
How Do Cockroach Killer Bombs Work?
After the contact with the insect and penetrating the bug's body, chemicals (usually it's pyrethroids) cause irreversible malfunctions in the transmission of nerve impulses, which leads to fatal paralysis soon.
The advantage of these insecticides is the duration of impact: it acts in contact when the mist gets to insects, settles on all treated surfaces, and remains active for several weeks. When cockroaches move along an aerosol-treated surface, they smear in insecticides, which easily penetrate inside through the chitin cover and poison pests.
FAQ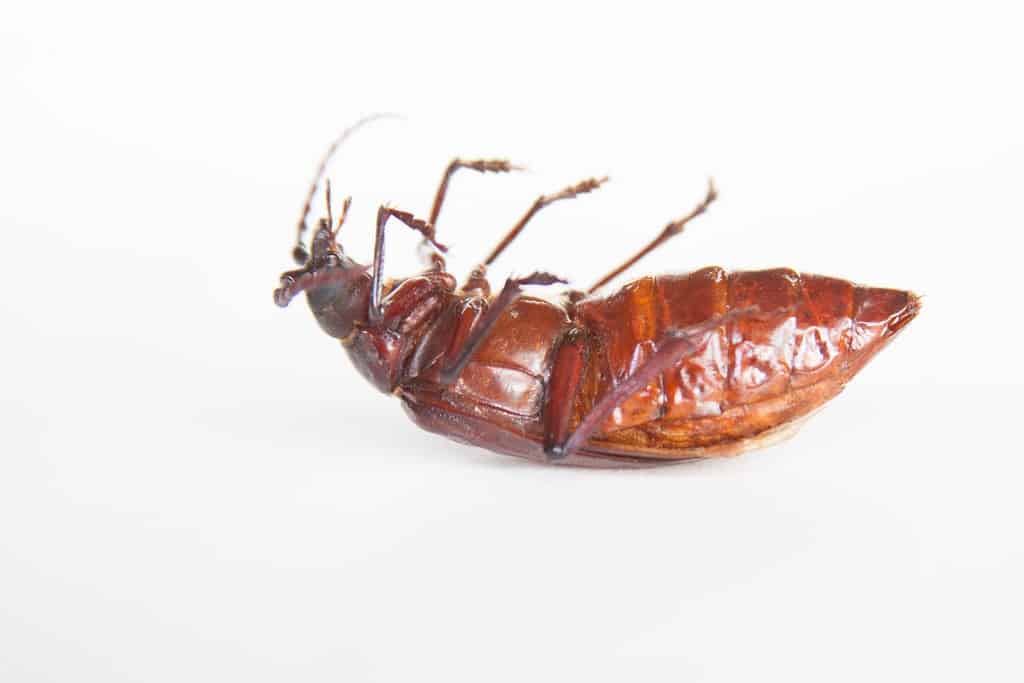 Do Bug Bombs Affect Clothing?
Yes, сlothes are getting contaminated with dangerous chemicals if you leave them during treatment in the area. If you wear those clothes with insecticides, they will be transferred to your skin and might cause you ill.
So all the clothing should be taken off before you fog or put in a plastic bag, to prevent transferring chemicals to clothes. If you leave the clothing in the room where you used a roach fogger, wash it thoroughly before using it.
What Happens if You Inhale Bug Bomb?
Although bug bombs are meant to kill pests only, foggers can still harm humans if they don't follow safety precautions. Breathing the mist mostly affects the respiratory system, of course. Symptoms of insecticide influence are nausea, shortness of breath, throat irritation, and coughing.
But also, inhaling a bug bomb may lead to more severe effects such as headaches, dizzying, vomiting, diarrhea, and allergy.
To prevent these problems, I recommend taking care of your safety during the procedure of setting up the fogger: you should wear protective gloves and a face mask. If you have sensitive skin, it's better to cover open parts with the right clothing – a long sleeve shirt, long pants, socks, and shoes. It's also essential to keep your eyes protected so that the fog won't irritate them.
Remember that returning to the treated area is possible only after sufficient ventilation within an hour.
Related Post: How to Get Rid of German Cockroaches



Do Roach Foggers Work?
Yes, roach foggers are a fast and effective decision to cooperate with pests infestations. Bug bombs mostly contain an insecticide based on pyrethroids, which has a toxic effect on cockroaches and other insects but is relatively safe for people.
Pyrethroids are effective in removing insects, have no specific odor, and are resistant to weathering, which helps foggers to continue killing pests up to 2 weeks after the first application.
Do I Have to Cover Electronics, Beds, and Furniture?
Yes, you have to cover all surfaces if you don't want to wash them after fogging. Chemicals in bug bombs remain on all surfaces for some time after the application, so you have to cover bed and furniture with plastic bags or newspapers.
How Long Should I Stay out of the House When Using a Fogger?
The duration of each fogger may vary, so it's better to clarify this in the instructions for a particular product. But in general, it takes about 2-4 hours for a bomb to kill the insects; then, you have to open doors and windows and ventilate the area for about 30 minutes.
Does fumigation kill cockroach eggs?
As for the eggs, the roaches hide them very well because they expect more roaches to come from them and live happily. The usual old-fashioned ways of killing the eggs include crushing them with a boot and vacuum cleaning. But what if there's no way you can get into the nest?
Fumigators and foggers cannot offer ultimate lethality for cockroach eggs. As we said above, the insects hide their breed very well and it is doubtful if the fumigator can reach them. One of the best way of dealing with cockroach eggs is to use growth regulators — this way the eggs become sterile and will not hatch.
Do You Agree Roach Foggers Is the Best Solution?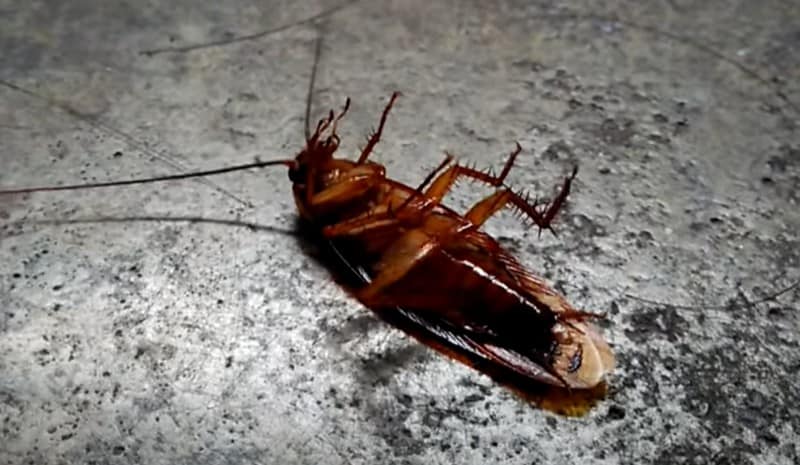 There is no person in the world dreaming about sharing their house with cockroaches. The problem is that once these ugly pests found a way into your home or other building, they would multiply there and would not be easy to get rid of.
Cockroaches have survived since the dinosaurs` times, and they are very skilled in adapting to any environment. That is why many homeowners are looking for fast and effective roach killers.
Related Post: Best Roach Traps Reviewed
Bug bombs become the first choice for most people because they're a fast and effective method that is easy to use and relatively inexpensive. As a professional entomologist, in my article, I tried to explain whether this method is beneficial, and how to use roach foggers correctly to reach success in killing pests and keep your family safe while using these insecticides.
I also described some products on the current market, mentioning their advantages and disadvantages, hoping that my roach fogger reviews will help you to choose the best one.
Do you think roach foggers are really effective in killing pests? Have you ever met cockroaches resistant to some insecticides? Have you tried homemade roach killers, and were they helpful? I would like to read about your experience, so feel free to share your opinion in the section below!
References:
Salmonella (U.S. Department of Health & Human Services):
https://www.cdc.gov/salmonella/index.html
Escherichia coli (E. coli) (U.S. Food & Drug Administration):
https://www.fda.gov/food/foodborne-pathogens/escherichia-coli-e-coli
Cypermethrin (Oregon State University and the U.S. Environmental Protection Agency):
http://npic.orst.edu/factsheets/cypermethrin.pdf
Insecticides (United States Environmental Protection Agency):
https://www.epa.gov/caddis-vol2/insecticides
Safety Precautions for Total Release Foggers (United States Environmental Protection Agency):
https://www.epa.gov/safepestcontrol/safety-precautions-total-release-foggers
Why You Should Trust Pest Control Hacks?
We know that pests are nasty neighbors, and it can take months to eliminate them without the right approach. Our experts use their own experience to compile articles and guides that are introductory and informative. Our authors' opinions are independent and based on the results of practical testing of pest control tools. We do not notify manufacturers of testing of their products and do not receive payment from them for posting their items. Also, our texts are never submitted to company representatives for proofreading before placement. On the site, you will find exclusively objective ratings and reviews.