A clothes moth has an excellent taste: in any season, it prefers expensive cashmere, natural silk, pure wool, feathers, furs, and cotton. A food moth has more straightforward requests: it will be satisfied with anything found in the kitchen.
If you want to save your wardrobe, you should take measures to protect it, without waiting for the first holes. And if the moth has already begun to feast in your kitchen cabinet, then it's time for decisive action.
Pros
Different variants of the product.
Effective during 4 months.
Best Moth Repellent Pack
Pros
Different variants of the product.
Not for Home Closets
Pros
Effective during 4 months.
In this article, I'll tell you about different variants of the best moth repellent. These means will help you to get rid of moths in clothes and kitchen.



Top 6 Best Moth Repellents on the Market
You can find a lot of moth control products on the market. However, not all of them are effective. Here you'll find the list of means that can help you to get rid of this insect.
1. Armour Shell — Best Moth Repellent Pack
Specifications:
100% Safe and Non-toxic
Includes: 5 Cedar Hangers, 20 Cedar Rings, 30 Cedar Balls, 4 Lavender Sachets, 4 Cedar Sachets and 2 Pieces of Sandpaper
Item Weight: 1.78 pounds
Package Dimensions: 10.98 x 8.78 x 2.52 inches
Target Species: Moth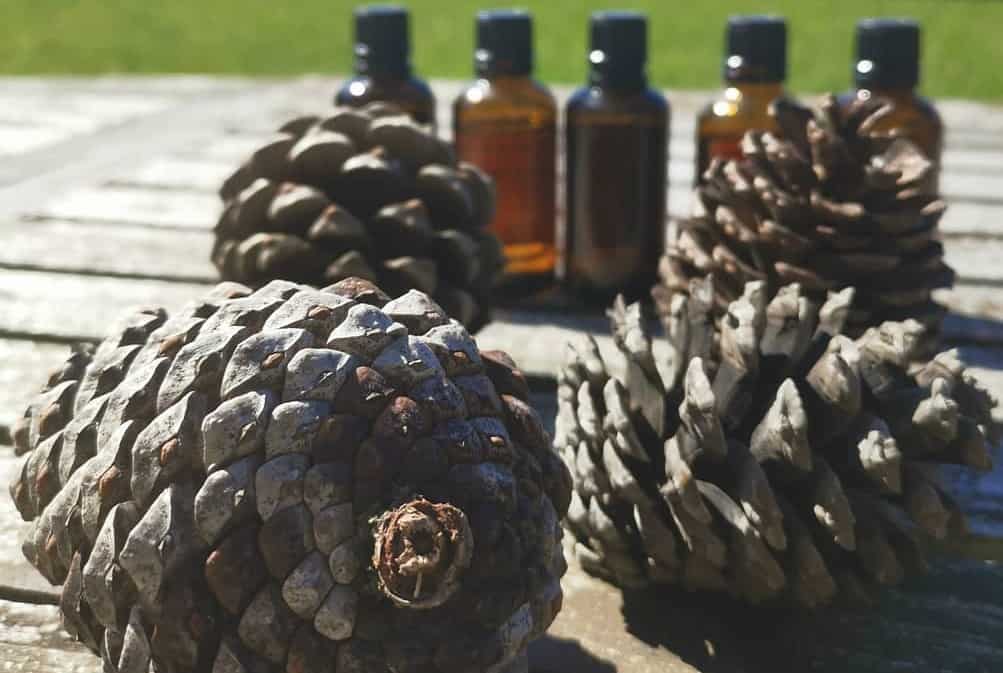 Armor Shells moths deterrent is designed to protect your wardrobe. In the given kit, you will find special balls, hangers of cedar, sachets, and rings to protect the cabinet and drawers. You will also get a scent for your home that you love.
You can get 65 items, and each of them is suitable to protect your wardrobe. Pouches and balls can be put on shelves or in drawers where your belongings are. Hangers are also located in the closet. These items are environmentally friendly and do not contain any chemicals.
They are also easy to use. You only have to choose the right place. That's why this product is the best choice for getting rid of moths. Apart from protection, your clothes will also get a great, pleasant smell.
Pros:
Cons:

eco-friendly;
pleasant smell;
effective;
different variants of the product.

the smell can be quite intrusive.
2. Colton's Naturals Cedar Spray — Cedar Spray for Moths
Specifications:
100% Safe and Non-toxic
Contains: 100% Natural Essential Oil
Item Form: Spray
Package Weight: 3.84 Ounces
Package Dimensions: 6.69 x 4.72 x 1.61 inches
Colton's Natural brand creates a variety of products to repel or eliminate these pests. The brand focuses on creating natural products that do not contain toxic substances and can be used even in a home with children.
The 4 oz spray is easy to use. Just shake it and spray onto the surface from a short distance. The spray has a pleasant cedar scent and is a natural, chemical-free product. The product can be used for drawers, cabinets, carpets, fabrics, and beds.
This natural moth repellent does not stain surfaces and dries quickly on them. Colton's Naturals Cedar Spray also contains lavender extract, which is great for fighting moths. It is an excellent option if you want to get a non-toxic preventive measure for your home.
Pros:
Cons:

non-toxic;
easy-to-use;
keeps surfaces clean;
fresh scent.
3. Wondercide Natural Pest Control Spray — Effective Moth Killer Spray
Specifications:
100% Safe and Non-toxic
Scent: Cedar
Coverage: 32 oz. Bottle Treats Up To 400 sq.ft.
Item Weight: 2.5 Pounds
Package Dimensions: 10.6 x 4.3 x 3.8 inches
The product is made on the basis of cedarwood oil. This ingredient naturally repels moths as well as kills them. It also helps get rid of the larvae.
Shake the can before use and spray onto the surface from a distance of at least 8 inches. Spray the product all over your home, including the bathroom and kitchen. Apply it along with windows, skirting boards, tiles, doors, and more. The spray works as one of the most effective moth prevention products.
You can spray any time you see fit. The spray may leave small temporary stains as lemongrass oil has a yellow tint. If you're worried about ruining an item, try it in a small, hidden area. The product is entirely safe for children and pets.
Pros:
Cons:

natural ingredients;
suitable for different kinds of surfaces
kills and prevents moths

remains stains;
is not suitable for clothes.
4. Richards Homewares Herbal Moth Repellent — Fragrant Sachets for your Clothes Safety
Specifications:
100% Natural Ingredients: Peppermint, Rosemary And Thyme
Includes: Optional Hook For Hanging
18 Jumbo Sachets
Box contains: 9 twin packs
Item Weight: 1.05 pounds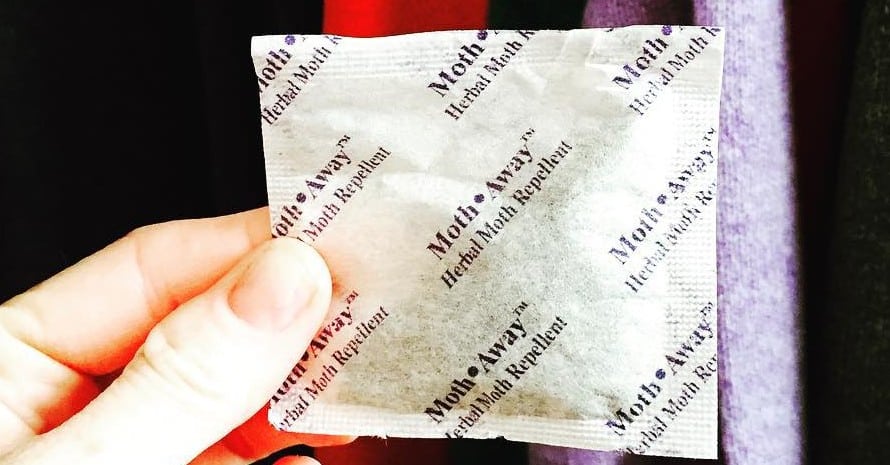 Richards has been around since 1939. The company develops products for storage, organizing home spaces, including bathrooms, kitchens, and walk-in closets.
After activation of the section, the active substance begins to fill the space, mixing with air molecules gradually. After the required concentration is reached in the closet, the destruction of the moth and its larvae, which are inside the space, begins.
The sachets are an herbal blend that helps prevent moths from growing in your closet and includes rosemary, mint, cloves, and thyme. The pack contains 18 sachets. In terms of use, there is nothing easier than dealing with these sachets.
Arrange your bags on shelves, in drawers, and other parts of your cabinet. When you keep the closet closed, the space in it fills with herbs' scent, which repels moths.
Pros:
Cons:

non-toxic components;
easy-to-use;
practical.
5. Enoz Made in The USA Old Fashioned Moth Balls — Effective Repellent, Not for Home Closets
Specifications:
Active Ingredient: Naphthalene 99.95%
Contains: 8 oz. Single Use Packets
Item Weight: 2.16 pounds
Package Dimensions: 8.9 x 5.08 x 3.15 inches
Target Species: Moth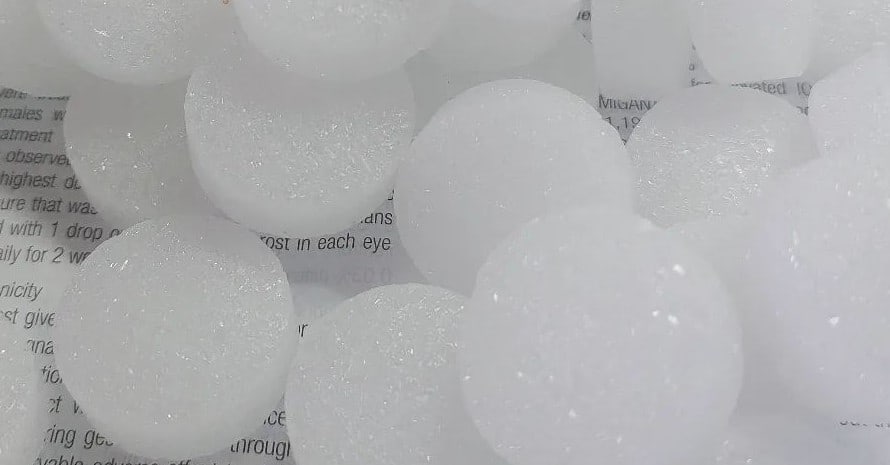 Old Fashioned Moth Balls are an EPA approved natural product. It is a practical and straightforward insect control agent. You can place the balls in all rooms of the house and use them to get rid of the moth itself and the larvae.
These balls do not have a strong odor and will not cause allergies for children or pets. In this case, the balls act over the entire area. You will find 80 balls in the package.
In the process of evaporation of the agent used, the smell of lavender is released and substances that spread their detrimental effect on the reproduction of butterflies (butterflies lose their ability to lay eggs). Moth larvae and previously laid eggs are also destroyed. The balls' period of action is up to six months, with complete evaporation, replace with new ones. Convenient use can be attributed to the positive qualities.
Pros:
Cons:

natural product;
practical design;
destroys larvae and eggs.

you may not like the smell of mothballs.
6. Hot Shot 100046114 No-Pest Strip — Simple Device for Inner Use
Specifications:
Scent: Unscented
Material: Plastic
Item Weight: 3.84 ounces
Package Dimensions: 11 x 10 x 8 inches
Target Species: Flies, Moths, Cockroaches, Silverfish, Spiders and other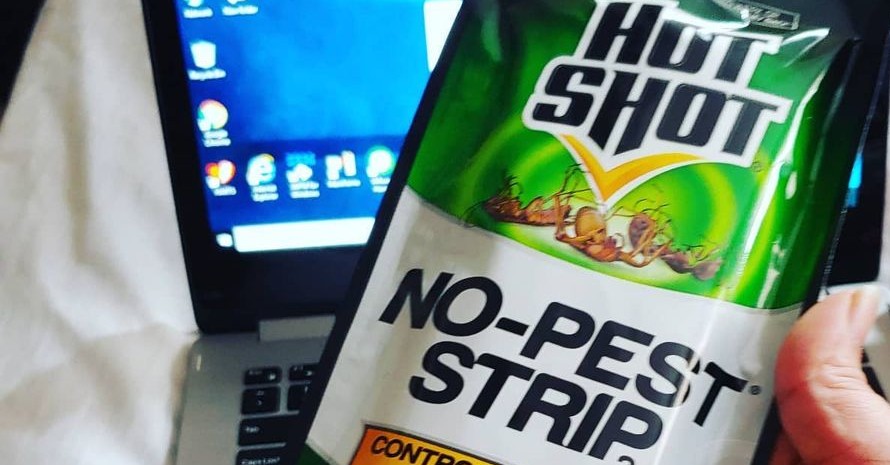 This tool is different from all the previous ones. It is not suitable for use in a closet. It is better to use it in places such as attics, storage rooms, etc. It is advisable not to be in the same room with this device for a long time because the tape contains chemicals.
In the package, you will find a strap that can be easily hung from a plastic hook. The strip is designed for four months. Hot Shot repels the moths effectively during this period. After the expiring date, you have to change the strip.
Pros:
Cons:

effective during 4 months;
convenient design;
suitable for unoccupied areas.
How To Find The Most Effective Moth Repellent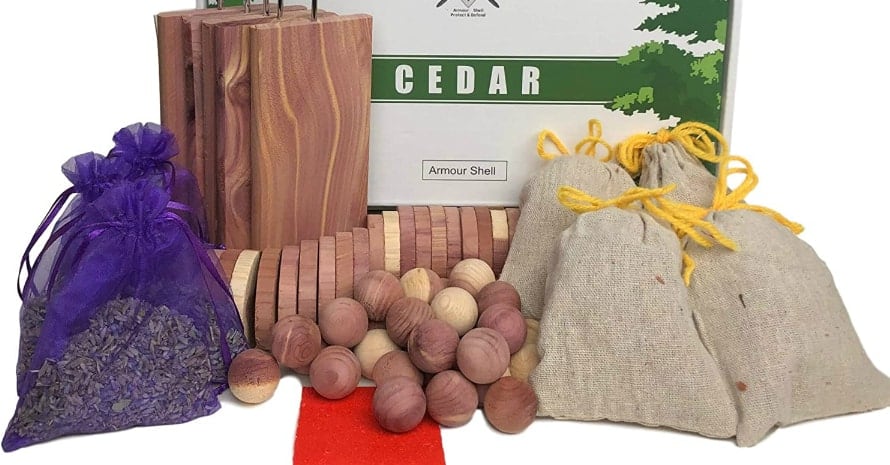 What is the best moth repellent? Before answering this question, it is necessary to determine which type of moth bothers you. There are about thirty species, and most of them can live in residential premises. Conventionally, all these butterflies can be divided into food and clothing pests.
The first ones enjoy products with disturbed storage conditions. The second type likes clothes made from natural fabrics, book spines, carpets, and upholstery.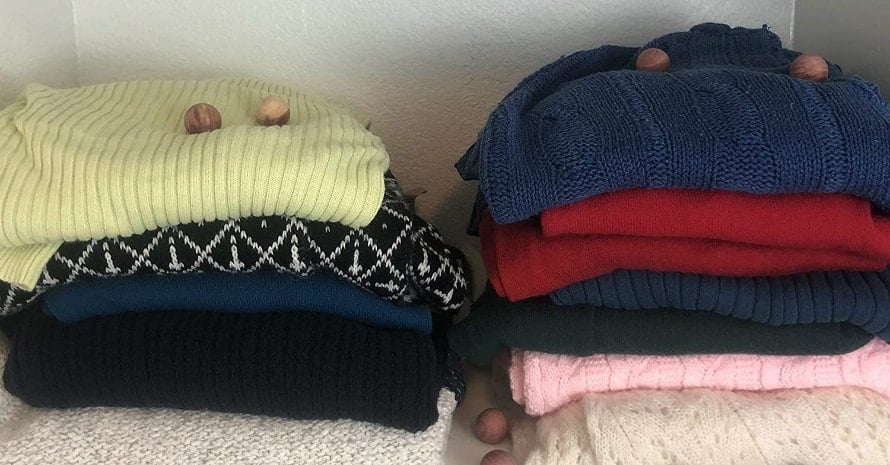 The moth enters your area through an open window, door, or ventilation. They can also enter the house with purchased items. Therefore, anyone can suffer from these pests. A moth seen on your territory is a reason to check the cabinets for a nest.
True, there is almost no point in chasing one moth: they live for a maximum of two weeks, and their harm is in the formation of new offspring. The larvae do direct damage to things and food. They develop for a long time, and over a season, can irreversibly ruin more than one good thing. They need to be destroyed first.
What are different moth repellent types
There are a lot of ways to get rid of moths. Mothballs are one of the most popular ways of moth deterring. Essential oils that enter the internal systems of the moth destroy the ability to reproduce. Chemicals kill adults, larvae, and destroy egg clutches.
Sachet and plates are not dangerous to humans but can repel the insects. This item is based on essential oils. Suitable for prevention rather than the destruction of the nest. Products are in the assortment of almost all companies that produce such items.
The spray is one of the most effective remedies, as it instantly destroys both the adult moth and its larvae. At the same time, the effect of the moth repellent spray lasts up to 1 year. These products do not stain fabrics or damage clothing.
Fumigators and moth stripes can also be useful. They are straightforward to use, but they may contain chemicals that a person should be careful with.
How to use different moth repellents
As for the use of mothballs, particular attention should be paid to the far shelves' remote corners, where boxes with winter shoes are stored. There you will definitely have to lay out the balls. One pack of balls is laid out in a large cabinet. If the cabinet does not open often, the balls should be replaced after 5-6 months with a new one, increasing the number of balls by several pieces.
Woolen clothes and shoe boxes should be reviewed and then closed again. At the same time, do not forget to put a mothball in each box. Air must circulate freely inside the cabinet so that the moth balls' vapor can penetrate the most distant corners.
The balls are laid out in several pieces on the shelves of the cabinet, as well as in the pockets of winter clothes, in gauze napkins or plastic containers.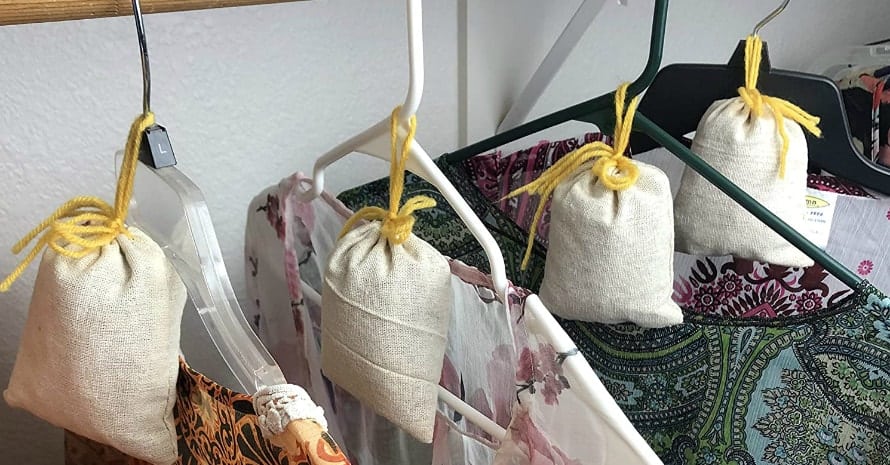 As you work with spray, you should observe safety rules: take children and animals out of the room, put on a respirator, and ventilate for half an hour. The best anti-moth spray is natural, for example, based on cedar or lavender oil. You do not need a respirator for their use, since such products do not contain chemicals.
A fumigator will work for your purpose but will be slower than the spray. It will take at least a week to remove insects. It does not always wreck the nest, which means it may be useless. Assess the degree of contamination at home. If it is large, choose the previous method. The advantage of the technique is the absence of labor costs. Airing, wet cleaning, washing of things are not needed.
As for the sachets, you have to place them in different parts of the wardrobe, on hangers with pieces of clothes of natural fabrics. You can also place a sachet between pieces of bedding sets. As a bonus, you will get a pleasant smell.
FAQ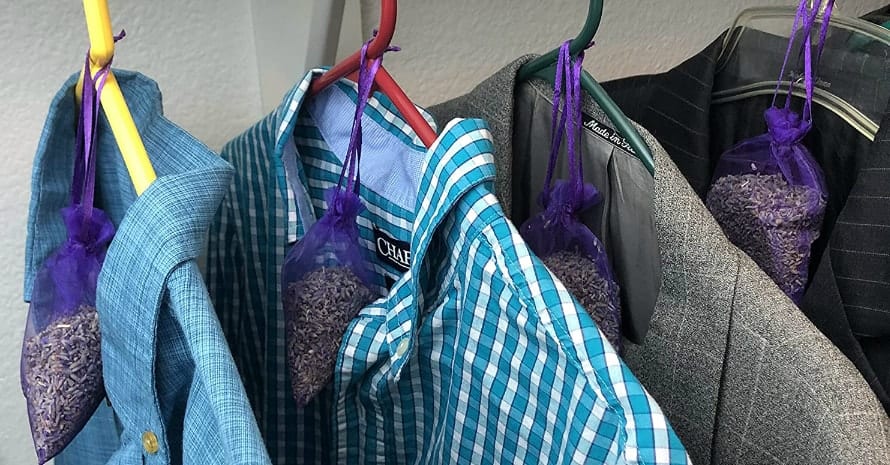 In this section, you can get the answers to the most popular questions. This information will help you to get rid of moths.
Does Cedar Repel Moths?
The moth does not tolerate conifers, especially cedar. Its bark is a beautiful natural repellent that can expel unwanted guests from the wardrobe. Hang a few cloth bags with cedar bark in the closet—and the fresher it is, the better. Besides, you can use special sachets and sprays with cedar extract.
How Well Does Lavender Repel Moths?
Lavender is perhaps the most famous herb for moths. Strong odors repel the insect, and lavender just has such a scent. It will not help get rid of larvae or eggs, but it is incredibly effective in preventing moths in a sachet.
Are Mothballs Safe to Use in the House?
Mothballs repel and destroy moths, but not all people can tolerate the smell of mothballs. Besides, the substance, entering the respiratory tract, can cause allergic reactions. In this case, you can use mothballs with flower smells.
What are Natural Moth Repellents?
Besides lavender and cedar, there is another famous natural remedy for moths. Cinnamon has a persistent and specific odor that repels moths very well. Place fresh cinnamon sticks on the shelves in the closet, and hang a small bunch on a clothes rail. And to protect things, wrap the spice in parchment paper. If moths have already attacked your clothes, scare them away with a homemade spray based on essential oils that they hate.



The Moths Won't Resist
In this article, you have learned about the best modern ways to control moths. The insect hates strong odors, including essential oils and herbs. They are natural and do not harm human health. In more advanced cases, when you need to get rid of larvae and eggs, it is better to use sprays or balls from moths, they may contain chemicals, so it is better to use them in closed spaces where residents of the house and pets don't spend their time frequently.
If you have your own experience of fighting moths, please, share it in the comments section, and perhaps a few simple words on your part will help some of the readers in a difficult situation.
References:
Master Label (United States Environmental Protection Agency):
https://www3.epa.gov/pesticides/chem_search/ppls/001475-00039-20050307.pdf
Mothballs (Naphthalene and Paradichlorobenzene) (Oregon State University and the U.S. Environmental Protection Agency):
http://npic.orst.edu/ingred/ptype/mothball/index.html
Fumigation FAQ (Department of Consumer Affairs):
https://www.pestboard.ca.gov/forms/fumigate.pdf
Why You Should Trust Pest Control Hacks?
We know that pests are nasty neighbors, and it can take months to eliminate them without the right approach. Our experts use their own experience to compile articles and guides that are introductory and informative. Our authors' opinions are independent and based on the results of practical testing of pest control tools. We do not notify manufacturers of testing of their products and do not receive payment from them for posting their items. Also, our texts are never submitted to company representatives for proofreading before placement. On the site, you will find exclusively objective ratings and reviews.