This time, I want to tell you about the popular way of fighting the groundhogs, or as we also call them – woodchucks. When you have tried all the methods, and nothing helped, the repellents will save you and your garden.
There are three types of repellents that differ a little in usage and mode of action. They all are manufactured of natural products and are safe for your plants and environment. You can use them in any weather conditions and any time of the year.
I will give some more details about how they work and how to choose the best item, so you can finally find a solution to the groundhog problem.
Top 5 Best Groundhog Repellents
1. I Must Garden Deer, Rabbit and Groundhog Repellent – Best Groundhog Repellent in Granules
Specifications:
Safe For Pets, People, Environment
Scent: Mint
Item Form: Granules
Item Weight: 2.7 pounds
Item Dimensions: 5 x 4.5 x 7.5 inches
I Must Garden is a company that had a long way to success. Its owner, Marilyn Cox, for years, has been trying to find a formula that would help her to get rid of pests but won't hurt them. She did great, and now I Must Garden is a brand that produces high-quality natural repellents.
Groundhog Repellent is a product in granules that you can use at any temperature and in any weather conditions. It won't wash away easily during the rain and will protect your seeds, fast-growing plants from uninvited guests.




It provides double security, affecting the fear and sense of smell to quickly break the feeding habits of groundhogs. For humans, these products have a pleasant scent and are completely safe.
The repellent is made of natural materials and botanical oils that are safe for the environment and plants. It contains more active ingredients than other similar products. Moreover, It provides a long-lasting effect.
Pros:
Cons:

double protection formula;
natural materials;
more than one active ingredient;
safe for the environment.
2. Ortho Animal B Gon All Purpose Animal Repellent Ready-to-Use Spray – Natural Groundhog Repellent Spray
Specifications:
Safe For Pets, People, Environment
Coverage: 4,000 sq. ft.
Item Volume: 1 gallon
Item Weight: 9.3 pounds
Item Dimensions: 4.88 x 8.95 x 12 inches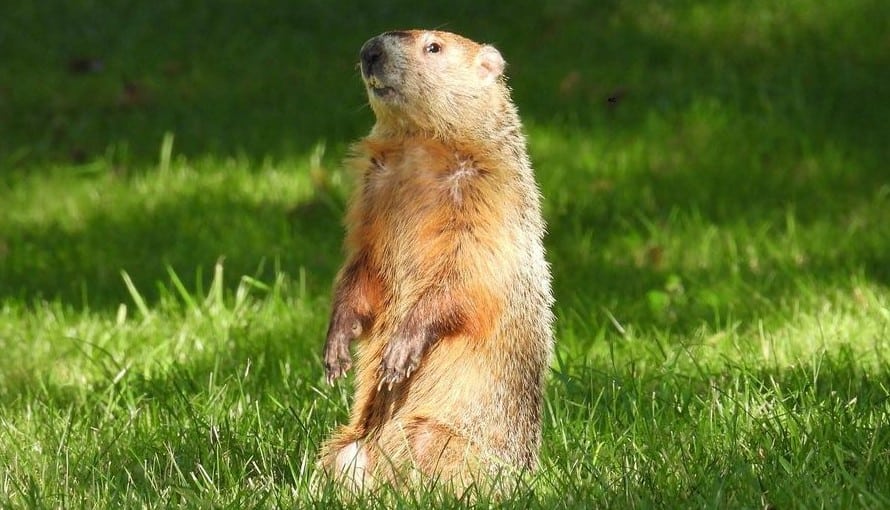 The Repellent spray is simple in usage with a fast-acting effect. One bottle can cover about 4,000 sq ft and provide a long-lasting effect that protects your garden from the deers, rabbits, and woodchucks.
It is harmless for people and pets, but only when used properly. The smell is pleasant for humans and is not attractive to animals. The active ingredients contain natural oils.
Pros:
Cons:

covers a big area;
long-lasting effect;
contains organic oils;
"no sting" formula.

it could be dangerous to you if not used as directed;
not field-specific.
3. Repellex 20006 300-Count Systemic Animal Repellent – Best Groundhog Deterrent in Tablets
Specifications:
Rainproof
Active Ingredient: Capsaicin (Hot Pepper)
Size of Container: 300 tablets
Item Weight: 1.72 Pounds
Item Dimensions: 12 x 6 x 6 inches
The team of Repellex group believes that it is possible to get rid of rodents without using a poison that could harm animals and your plants. They provide all-natural repellents that scary the groundhogs away but keep pollinators and other useful insects safe.
Systemic Animal Repellent can be used against deers, rabbits, gophers, and, of course, groundhogs. An active ingredient is capsaicin, not the pepper as other repellents use. The plants absorb it, and the capsaicin protects them from been eaten.
It is easy-to-use as you just need to place a tablet near the plants and wait for about a week to one month until the repellent absorbs. It will stay active for over a year. Due to the repellent formula, it won't be washed by the rain during this time.
Pros:
Cons:

lasts for a long time;
waterproof;
easy-to-use.
4. Rabbit & Groundhog Repellent – Fast-Acting Repellent to Deter Groundhogs
Specifications:
All Natural Ingredients
Scent: Minty Fresh
Item Volume: 40 fl. oz.
Item Weight: 2.86 pounds
Item Dimensions: 12.24 x 6.3 x 5.59 inches
Rabbit & Groundhog Out is a manufacturer of the repellent sprays that helps gardeners all around the world for over a decade. They provide easy-to-use spray containers or economical concentration form. Their products have a strong scent that scares the pests away from your planted area.
Groundhog Repellent features a lemon aroma unpleasant to woodchucks which easily scares them away. It uses both taste and smell to deter groundhogs and protect your garden. The formula contains two natural active ingredients – gum arabic and vegetable oil.
Their combination provides high-quality action for a longer time. The product is weatherproof, so it won't simply wash away. It carries no harm to your plants and the environment.
Pros:
Cons:

long-lasting effect;
two active ingredients;
weatherproof;
simply in using.
5. Thanos 8X Solar Sonic Mole Repellent Groundhog Repeller – Ultrasonic Groundhog Repellent
No products found.
Specifications:
Waterproof
Batteries: 1 AAA batteries required (included)
Item Weight: 1.63 pounds
Item Dimensions: 11.61 x 5.2 x 5.08 inches
Target Tests: Moles, Gophers, Voles, Ants, etc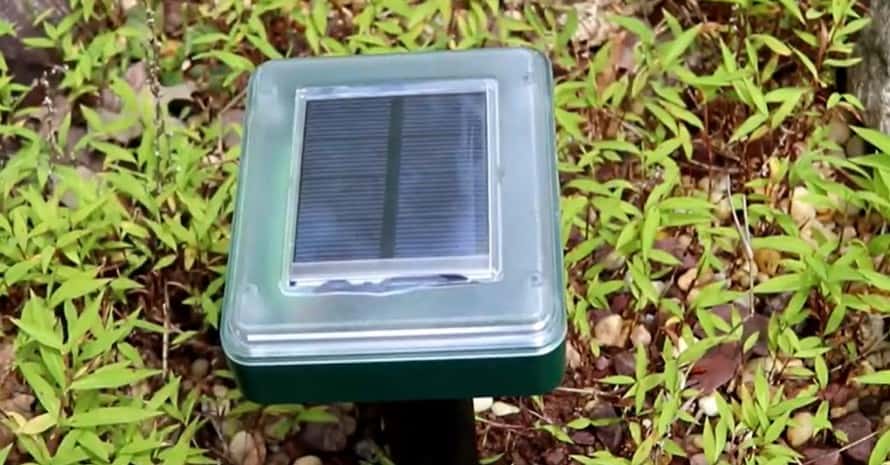 Thanos Repeller proposes a humane way to deter groundhogs. The mode of action of this product is to create an unpleasant sound to scare away the woodchucks. Their ears are more sensitive than ours, and they can hear the ultrasonic noise provided by the Thanos repeller.
It does not contain chemicals or poison. It needs from two to four weeks to make the groundhogs go away, and the effect would last for about several weeks. The repellent is solar-powered. It takes about four hours to charge it, and after that, you could use the product for five days without the need to change batteries.
Pros:
Cons:

without chemicals;
solar-powered;
easy-to-use.
Repellent: What Is It?
Repellent is a product that provides groundhog predators or other rodents protection control. Its action bases on creating an unattractive smell and taste for the animals. Some repellents use an annoying sound.
When pests try to reach your garden, they will face a barrier because their noses or ears are more sensitive than ours. It will be hard for them to get close to the processed plants, and after some time, they will just go away.
Repellents can be in a form of granules or spray. There are also ultrasonic repellents that do not contain any chemicals. All the types are easy-to-use and have a long-lasting effect. They are mostly slow-acting and need some time to repel groundhogs.
A big plus is their wide range of action. If you apply a repellent, it usually acts on several species except the groundhogs such as rabbits, deers, gophers.
Are They Effective?
The focal point of the repellents is to protect the plants not to attract the pests. They are effective because it is easy for animals not to get to a trap but hard to eat untasty food that smells not so good.
The system does work because animals have a thousand times more sensitive sense organs. This feature helps them to find something to eat, but in our case, we use it against them to secure the plants.
How to Repel Woodchucks Using Repellents?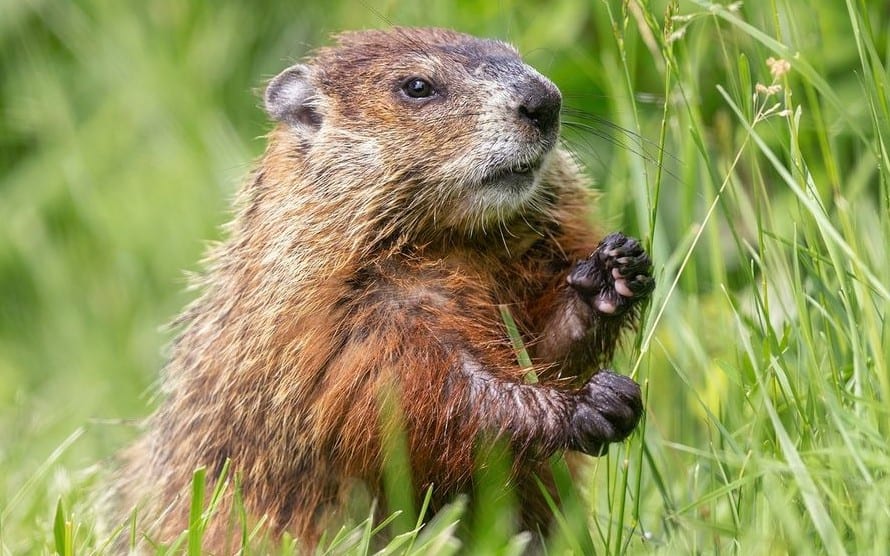 There are three types of repellents – granular, spray, and sonic repellers. I'm not sure you would find other products that are so ease in usage. If you choose granular repellent or spray, you need to spread it around the plants. There is no need to spray it exactly on the seeds or corns.
You can just process the product in the soil near the food. If we are talking about the groundhogs, you may also use the repellent near the burrows. It won't harm the animals. It would just scare them away. The solution also carries no damage to your plants, pets, and the environment.
However, you need to be careful for not to overuse a repellent because some of them contain chemicals that can be dangerous for humans when used in big amounts. If you do not want to apply the chemicals, you can choose the sonic repeller.
These products look like small nails with the solar panels on the top. You need to use about twelve items per acre. They protect for several weeks, and there is no need to change them because sonic repellers get the energy from the sun.
You do not need to apply force using the repellents – it's a plus. You just have to place them in the right way and wait. A minus is that the repellents are not fast-acting. You will see the effect only about two weeks later. But two weeks is nothing comparing to months of peace, right?
They are also natural and safe for people, pets, plants, and the environment. Repellent action influences a wide range of pests, so your protection is on a high level. Most of the repellent products have a nice lemon or peppermint smell, so they are not only effective but also pleasant in using.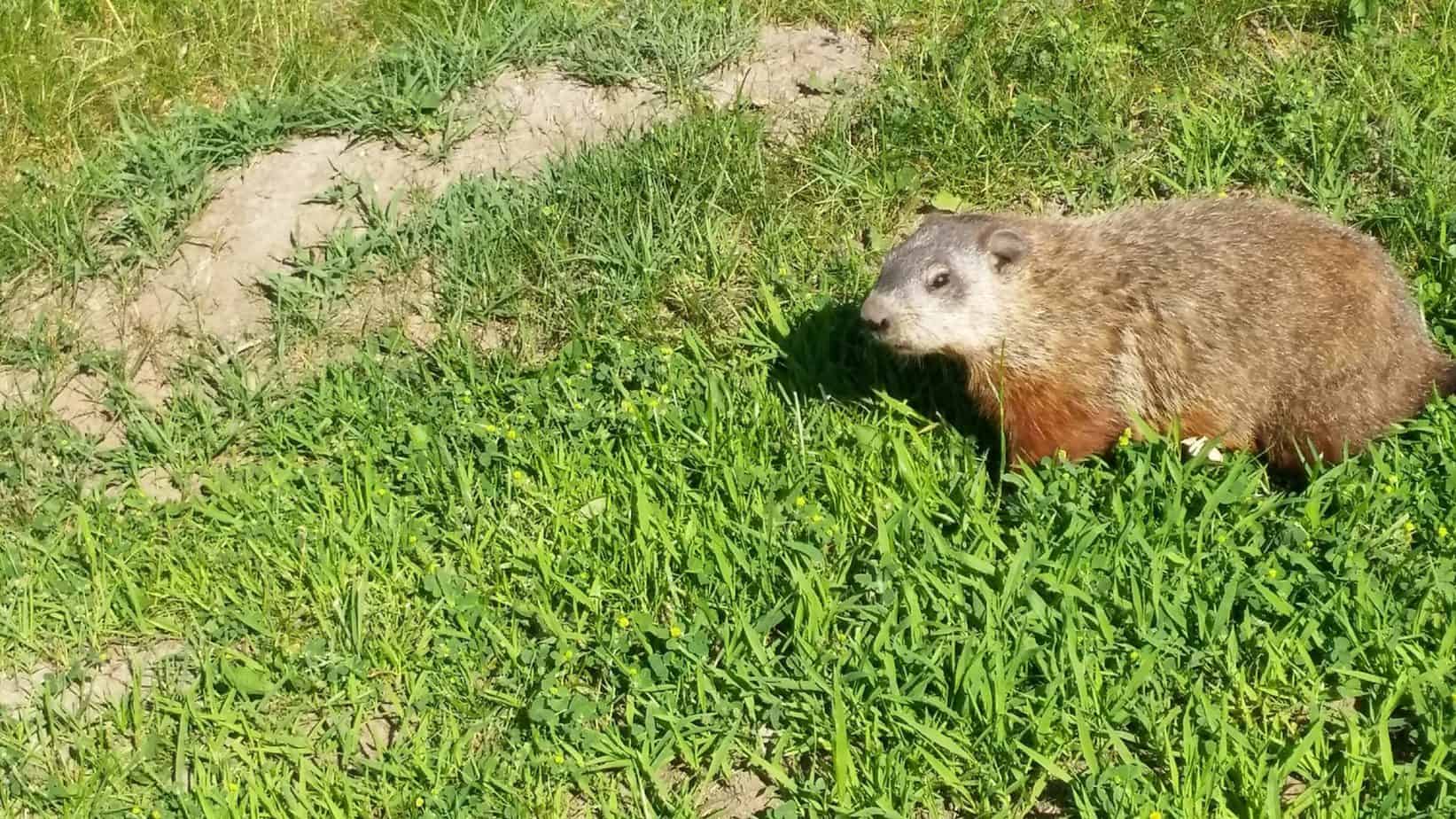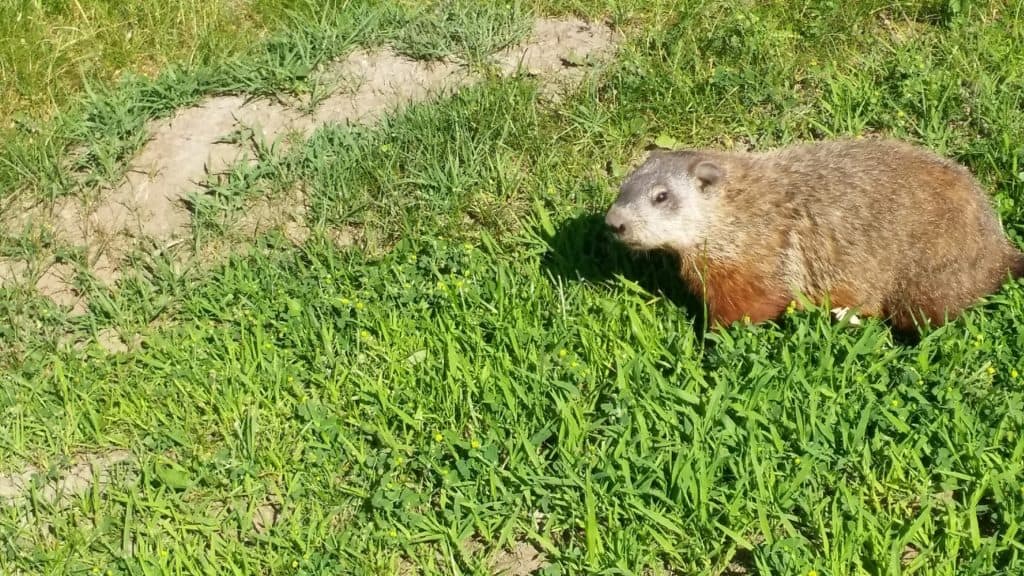 How to Choose a Repellent?
The mode of action of all repellents is similar. Your final choice should depend on your preferences and the type of area you want to protect. If you don't want to use chemicals, your best groundhog repellent should be a sonic product. It also works great when you have a big area.
In this case, it would take a lot of effort to proceed all the soil with a spray or granules, so the ultrasonic repellent is a solution. If you want to secure a small garden, you may choose spray. You should know that its action is faster than that of a sonic repellent. In case you want to get rid of woodchucks quickly, chemicals will provide this.
Try to choose the repellent that has more than two active ingredients, or at least two. The effect would be longer without the need to cover the land with a repellent every month. All the ingredients should be natural, with no damage to the plants.
Make sure that a repellent won't wash with the water. If you are looking for ultrasonic repellents, they should act in about one or two weeks and last at least for two months. If you follow these recommendations, I'm sure your fighting with groundhogs will finish soon.
FAQ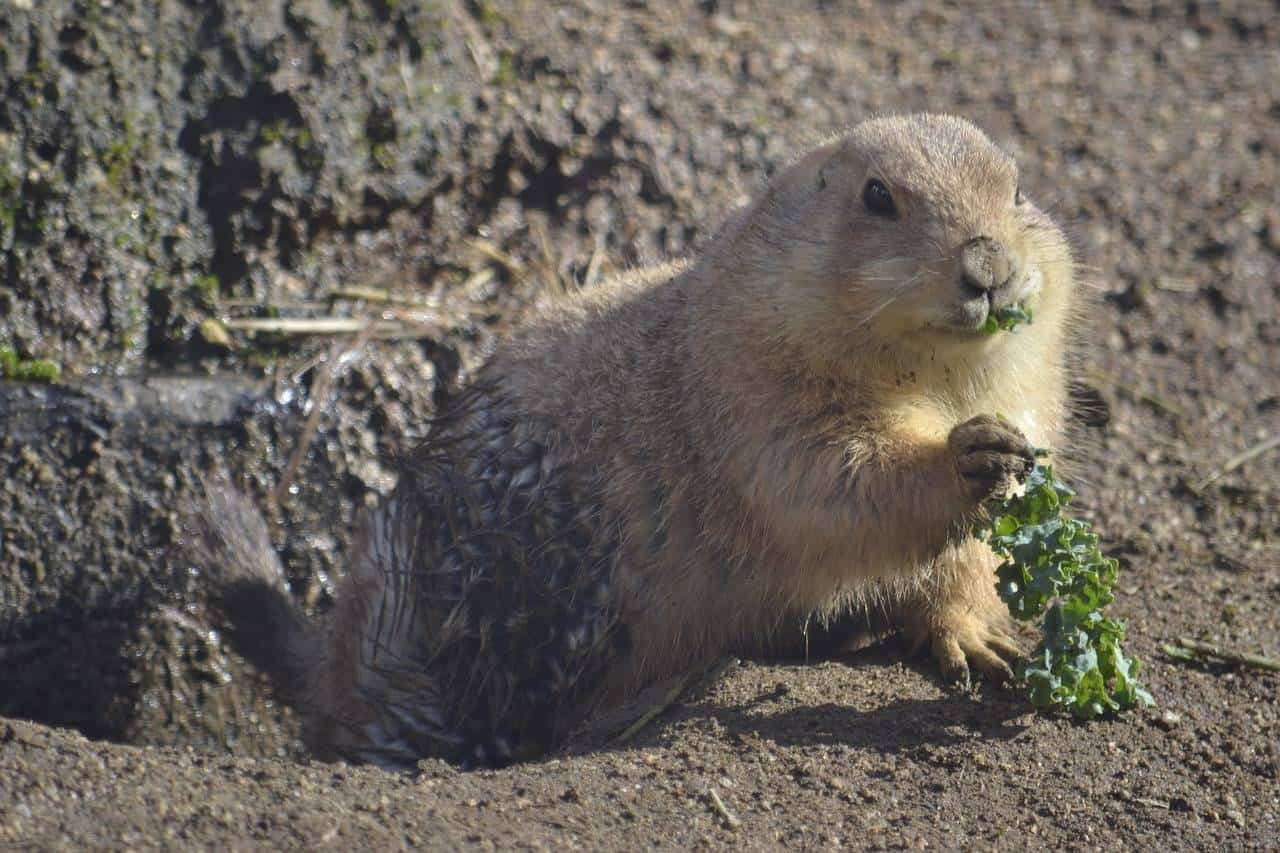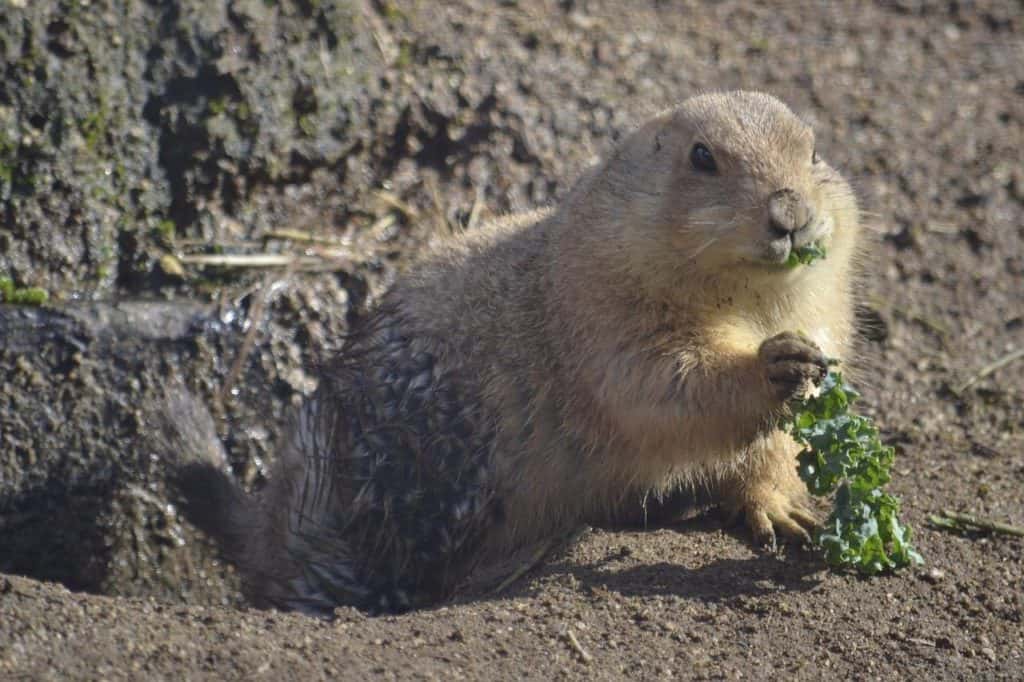 What Do Groundhogs Eat?
Their diet includes mostly grass and vegetables. Sometimes, they can eat small insects. They may look for lettuce, carrots, sweet corn, and flowers in your garden. They can also chew tree bark because their teeth grow quickly.
How Long Do Groundhogs Live?
The average lifetime of groundhogs is about six years. However, usually, they live longer.
Do Groundhogs Come out at Night?
They are active in the early morning or at the and of the afternoon. As for the night, you will see them on rare occasions.
What Do Groundhogs Fear?
What repels groundhogs is strong smells, especially garlic and pepper. They are also sensitive to ultrasonic noise.
Summary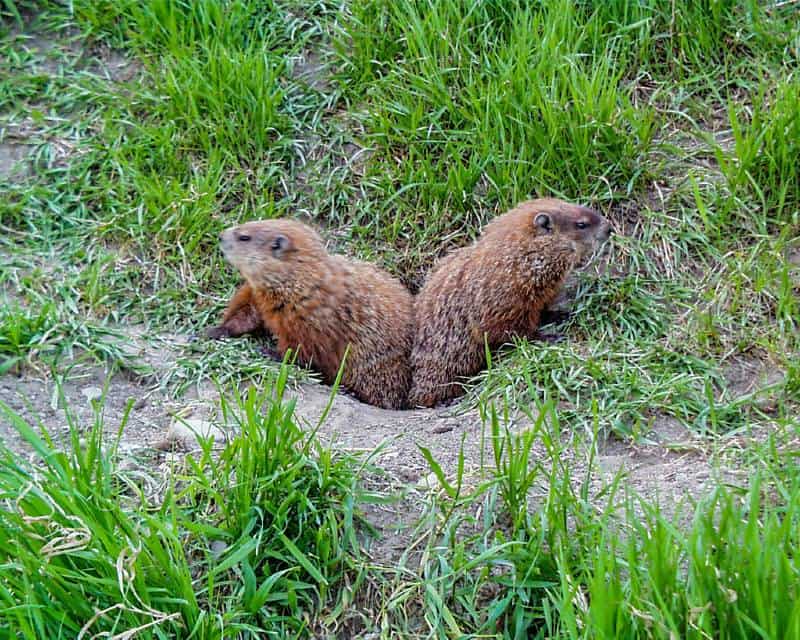 I'm glad that now you know more about the best woodchuck repellents, and your garden will be protected. I understand how important the plants are for gardeners, but they also don't want to harm the environment. The repellents are ideal for natural woodchucks security control. They are so easy-to-use that everyone can apply them and rest while knowing that no one will eat their plants.
Do you have other recommendations for the repellent using? Or, maybe, you know some better methods? Share your thoughts in the comments below.



References:
Groundhogs (University of Maryland Extension):
https://extension.umd.edu/hgic/topics/groundhogs
Capsaicin General Fact Sheet (National Pesticide Information Center, Oregon State University Extension Services):
http://npic.orst.edu/factsheets/capgen.html
Terminology for Vegetable Oils and Animal Fats (Caroline Burgess Clifford, Senior Research Associate, Energy Institute, The Pennsylvania State University):
https://www.e-education.psu.edu/egee439/node/683
Woodchucks (Kansas State University):
https://www.wildlife.k-state.edu/species/woodchucks/index.html
Why You Should Trust Pest Control Hacks?
We know that pests are nasty neighbors, and it can take months to eliminate them without the right approach. Our experts use their own experience to compile articles and guides that are introductory and informative. Our authors' opinions are independent and based on the results of practical testing of pest control tools. We do not notify manufacturers of testing of their products and do not receive payment from them for posting their items. Also, our texts are never submitted to company representatives for proofreading before placement. On the site, you will find exclusively objective ratings and reviews.