While browsing deer may seem harmless, they can cause damage to a wide array of plants and trees. If you've tried multiple kinds of deer repellent sprays, predator scents, deer-resistant trees, yet still have deer munching on your precious vegetation, perhaps it's time to use something more upscale.
Considering a reliable fencing solution would be wise. Just because you already have a fence doesn't mean it will help you keep the pesky garden invaders at bay. Today, I will review some of the best deer fence options made specifically for keeping deer out of your garden. So, if controlling deer damage is your goal, keep reading.
5 Best Deer Fence Options Reviewed
Easy Gardener LG400171 Deer Barrier — Best Poly Mesh Deer Fencing
Tenax 1A120530 Select — Best 8 Ft Deer Fence

No products found.

— Best Electric Deer Fence
Below, you will find detailed reviews of some of the best deer fencing solutions out there. So, you're free to study the pros and cons of each product and decide which one suits your needs best.
1. Easy Gardener LG400171 Deer Barrier: Reliable Protection
If you've already realized that seeing a real-life wild deer in your garden is not just thrilling, but also equals potential destruction, this deer-proof fencing solution might be your best bet. Lightweight yet sturdy, the Easy Gardener LG400171 fence is a challenge to rip and inconspicuous from a distance.
Even though it's a two-person job, the fence is a cakewalk to unroll and put up using zip ties. And it is easy to stretch from post to post with just your hands. No doubt, this deer barrier doesn't look gorgeous or stylish. But it works like a champ and is cost-effective.
And you can hardly ever see it when you stand back, which is nice if you love spending time on the patio. With this wonderful deer barrier, deer will have to find another yard to raid and snack on someone else's fruit trees.
A lot of people who aren't facing deer issues purchase this plastic deer fence for their cats' safety. Yep, with this barrier solution, your kitties will enjoy being outdoors without you worrying that they may get hit by a car, bother your neighbors, or get into trouble with other animals.
Furthermore, the fence is durable enough to prevent raccoons, chipmunks, squirrels, and rabbits. And it allows the bees to get through to your garden to pollinate and thrive. Overall, chances are that this product will fulfill all your requirements of a happy gardener. So, if you're on the prowl for some of the most effective deer fences, give this item a go.
Pros:
Cons:

sturdy and durable;
holds up well;
installation is a breeze;
almost invisible from a distance;
economical and effective deer barrier solution.

this deer garden fence is not a thing of beauty.
2. Tenax 1A120530 Select: Best 8 Ft Deer Fence
Want to prevent deer from eating your plants and trees? Give this well-made (and low-cost!) deer fence a go. It's durable and reliable enough not to stretch or wrinkle easily.
Feel free to use it for a full summer in the sun, and it won't show any signs of sun damage. It stands up to severe winters, too. Even if the local deer eats the leaves that poke through the netting on a regular basis, they still won't damage it in any way.
Yep, you'll be impressed with how lightweight yet rigid and durable the thing is. It's easy to install, which is nice, too. You will also like that this item is not as heavy as metal deer fencing, and not as flimsy as the cheap deer netting. On an additional plus side, this deer barrier fits almost seamlessly into the environment. And it doesn't look cheap. Overall, it's as attractive as far as fencing goes.
Just like the previous item, this deer-proof fencing solution is also great for anyone who wants to build their own 'catio' (cat patio) to give their indoor furry buddies some fresh air in a safe environment. When you use the thing for some time, you will realize that the deer fencing materials the product is made from are top-notch. The thing won't spoil the view for you, because it's almost invisible from a distance. And the height is perfect! Buh-bye, hungry Bambi!
Pros:
Cons:

looks nice as far as fencing goes;
easy, no-tools-necessary set up;
solid construction, durable, and doesn't stretch easily;
almost invisible, except for the poles;
can be used as a cat enclosure.

may start sagging over time, but nothing lasts forever.
3. Fi-Shock PW1320Y6-FS 6-Strand Fence Wire: Best Electric Deer Fence
No products found.
Rust-proof and easy to install due to the flexibility of the string, this portable electric fence wire works like a charm when it comes to deterring deer. It's lightweight, it doesn't kink, and transmits electricity very well. The fact that the thing is yellow and black makes it visible, which means it will keep deer (and other animals) from jumping and bumping into the wire.
You will also love that you can take this electric fence wire down and use it again when you move. Exceptionally easy to splice and handle. So, if you're considering building an electric fence to keep deer and other garden invaders at bay, this product is highly recommended.
No need to rummage the net Googling electric deer fence reviews anymore. Just give this fence a try. Definitely money well-spent!
Pros:
Cons:

easy to set up and handle, especially compared to metal wire.
rust-resistant and very strong;
visible, which has its bonuses;
transmits electricity like a pro;
easy to take down and use again.

doesn't last as long as aluminum wire, but it's only natural.
4. YARDGARD 308361B: Solid & Versatile
Are you on the hunt for a reliable fence to keep deer out of the vegetable garden? Perhaps, you have a lovely doggie whose life goal seems to be making sure that no flowers grow in your yard? Planning to build a catio? Maybe you're just looking for a rigid and reliable fencing solution that would keep your cats/dogs from roaming around and bothering your neighbors?
In either of these cases, this multi-purpose fence might be right up your street. It's neither flimsy nor poorly-welded. On the contrary, it's made to last, and it's capable of holding up for months. The fence is super easy to handle, the size is just right, and it is going to become a great addition to your garden.
The Yardgard brand manufactures top-level borders and fencing for the needs of agricultural and residential property owners.
This wire mesh is lightweight, rolls out very well, is bendable, and a breeze to cut with small wire cutters. You'll truly be amazed by the build quality. The fence easily prevents deer, rabbits, groundhogs, dogs, and other animals you don't want to make themselves at home in your precious garden.
The price is nice, too. The thing does a great job keeping a variety of unwanted animal visitors from your garden. And it's perfect for deer damage control. At the end of the day, the best bang for your buck.
Pros:
Cons:

it's a nice-looking and effective fence;
installation and use are as easy as ABC;
well-made and durable;
inexpensive and versatile;
can be used as a catio.

will not contain bears and other large carnivores (but it's only natural).
5. MTB Sturdy Duty Fence Post: Excellent Garden Tool Pack
Need some really good fence posts for a fairly small garden fence? This pack of 10 excellent fence posts might be exactly what you need. The items are well-made, a breeze to install and connect a fence to. No digging needed, just drive posts into the ground, and that's it. They hold wire fencing up like a charm.
The posts come in different sizes and can be used for multiple purposes. They are not just for building deer-proof fences. Feel free to use the posts as a tree straightener or as a signpost. You will like these posts because they are durable and strong.
Bear in mind that if your soil is too hard (or rocky), these posts can slightly bend. However, you can bend them back easily in case this misfortune occurs. Overall, this excellent fence post-pack boasts fantastic versatility, reliability, cost-efficiency, and ease of use. The set is totally worth the purchase.
Pros:
Cons:

sturdy, good-quality product;
easy to install and fasten a fence to;
great to prevent nasty pests from destroying your plants;
rust-proof green powder coating;
affordable price.

bendable (if your ground is really hard).
Your Guide to Deer Fencing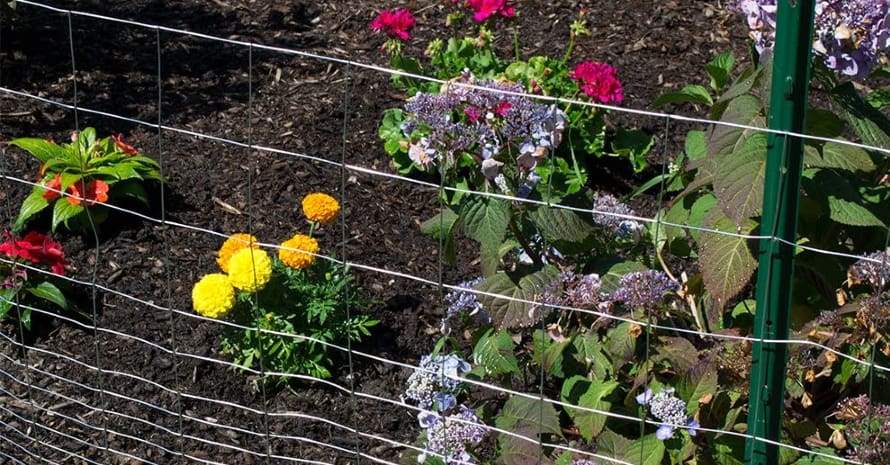 Delving into the issue of deer control options that are available out there is vital if you have your precious plants devoured by deer (and you realize that further harm is inevitable).
Furthermore, you're probably aware that if you don't protect your home from deer, there's a high risk of Lyme disease transmission via the ticks that deer carry. Thus, by opting for the best deer fence for your garden, you deal with at least three problems at once:
plant destruction caused by deer;
deer tick prevention;
containing your pet(s) safely in your yard.
Aspects to Consider Before Making a Purchase
Prior to shopping for the best deer barrier solution, take the following characteristics into account:
the height of the fence: deer are good at jumping (surprised?), so if you want the thing to work, opt for a solid metal or polypropylene mesh barrier-style solution that stands about eight feet tall;
the need for quick damage detection and restoration: you're going to repair the fence fast if anything happens to it (because if you don't, deer are going to make the most of the damage to make themselves at home in your home);
longevity: if you're looking for maximum durability, focus on galvanized metal deer fences (or UV-resistant polypropylene fences);
versatility: the possibility to deter the majority of annoying animals is a big bonus; so, if that's your goal, you may want to consider pricier deer netting fence options with smaller openings.
Your Best Choices, Their Benefits, and Drawbacks
Deer barriers vary in pricing, visibility, performance, and long-lastingness. First and foremost, consider how much money you're ready to spend on deer fencing. If your budget is pretty limited, then focus on the least expensive solutions right away.
Finding the best option that will suit you like a glove is unlikely. That's why you're going to need to learn all there is to know about the most widely used deer fence solutions. As well as their advantages and drawbacks, and stick with the best deer fencing ideas and solutions for your current needs.
These two deer fence types are usually the most suitable for the majority of gardens:
metal wire-mesh fence: it gets the job done very well and is long-lasting, but it isn't good at blending well into the scenery (and pretty expensive, too);
polypropylene-mesh deer fence: a widely used plastic deer fencing option that costs less than metal deer fencing, blends well into the environment, is rather effective (especially the high-quality items some of which have been reviewed in today's post). The only drawback of this deer fencing is that it's not as long-lasting as the metal one.
Both these deer fence solutions get fixed to the specialized posts to set up a barrier. In addition to this, there are also electric deer fencing solutions. They are not considered full-fledged barriers, though. Instead, this solution influences the way deer behaves. They're similar to the electric dog fences in this aspect.
With high tensile deer fence solutions, you get to prevent deer from attacking your garden without injuring them. Some regular wooden fences can deter deer as well, mostly because the deer are unable to see through them (what if there are wolves on the other side?), so they'll most likely restrain from hopping the fence for that reason.
Still, Googling 'nylon deer fence'? Focus on the list above. I've selected and reviewed the best products for you.
What Is Deer Fencing? Answering Your FAQ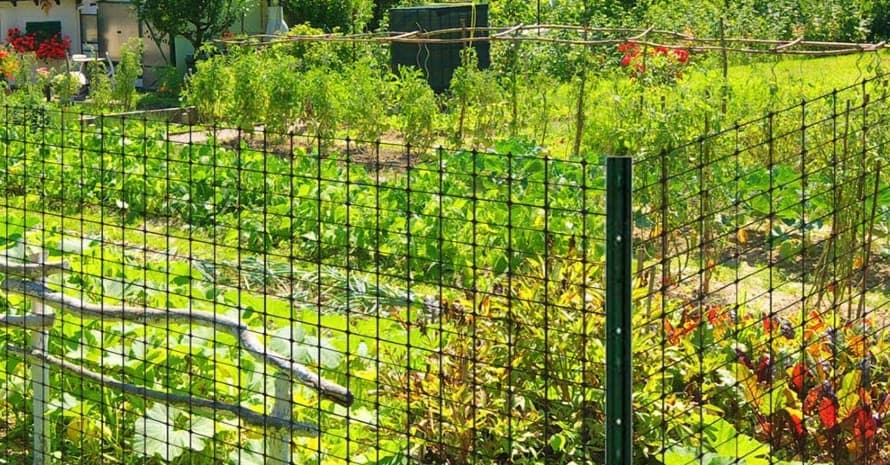 Have questions left on the topic? Below, I've answered some of my readers' most frequently asked questions about deer fencing. Browse through the answers, and if you don't find the details you're currently interested in, you're welcome to ask your questions in the comment section at the bottom of this post.
How high does a fence need to be to keep deer out?
To prevent deer from attacking your garden, you're going to need a barrier-style fencing solution that stands about eight feet tall. That's because deer are very good at jumping and can easily jump a shorter fence.
What color is best for a fence to keep deer out?
Deer have a horrible daytime vision, so just focus on choosing a fence that visually suits the area and doesn't make your garden look awful. After all, you can always add white deer flags to the structure for the deer to stop before hitting or attempting to jump it.
How much power is needed to keep deer out of the garden with an electric fence?
In a nutshell, your fence will need to run at 5,000-6,000 V to keep deer out of your garden. Use your voltmeter to check the voltage (to achieve the most accurate results, stick with the device that's the same brand as the energizer).
Can deer crawl under a fence?
Yes, these creatures can jump, and they can crawl. Therefore, make sure you attach the fence to the ground very well and address any damages as soon as they occur.
Protect Your Garden Today
You're probably aware that to a deer, your garden is like a birthday candy bar to a child. Now that you've armed yourself with some knowledge on deer-deterring fences, their various types, and some of the best items on today's market, you're more than ready to shop for that very product that suits your unique needs best.
What about your experience with deer fences? What are your preferences and why? You're welcome to share your opinion in the comment box below. I value your feedback greatly.