Few people know what harm these insects can do and even fewer do know how to choose the best pesticide for bees or how to kill a bee in the most humane way. The professional bee killer usually works on several types of bees. It is of vital importance to learn how to use bee insecticides in a proper way, just to make sure that your protection from bees is on a high level.
The bee stinger contains venom, which could cause an allergic reaction in some people. Even more dangerous are the pheromones in the stinger that may lead to more stings from other bees. A large dose of venom causes severe health problems, that's why it's better to prevent such situations.
Top 5 Best Bee Killer Sprays
1. BASF – 597802 – PT Wasp-Freeze II – Top Pick Among the Bee Killers
Specifications:
Active Ingredient: Prallethrin 0.1%
Item Form: Aerosol
Item Weight: 1.09 Pounds
Item Dimensions LxWxH: 2.63 x 2.63 x 11 inches
Target Species: Wasps, Hornets, Yellow Jackets, Spiders
BASF SE is the largest chemical producer around the world that specializes in chemicals, coatings, and functional polymers. The company puts a lot of effort into decreasing the amount of greenhouse gas emissions. In 2006 BASF was included in the Climate Leadership Index, and since that time, the amount of waste the company produces has fallen even more.



Wasp-Freeze Wasp & Hornet Insecticide is a bee and wasp spray that works on more than five types of insects. It works perfectly on a large territory, which means that the product definitely protects you from contact with bees.
Wasp and bee spray contains a Prallethrin insecticide that acts on the insect's nervous system and provides the rapid knockdown effect. The action of this chemical is very quick: in a few seconds, the bees will be harmless.
Pros:
Cons:

spray can travel 15 ft. to provide applicator's safety;
knockdown effect in a 5 seconds;
provides the complete elimination of the nest;
action is quick, so no stinging pheromone is released, thus reducing the possibility of stings.
2. Control Solutions – 82002401 – Cyzmic CS – Best Professional Bee Insecticide
Specifications:
Active Ingredient: Lambda-Cyhalothrin 9.7%
Item Form: Liquid
Item Weight: 8.8 ounces
Item Dimensions LxWxH: 3.3 x 1.3 x 7 inches
Target Species: Ants, Cockroaches, Mosquitoes, Silverfish, Spiders, Stink Bugs, Darkling Beetles, Ticks, Flies, Fleas, Scorpions, Bed Bugs.
Control Solutions Inc. is probably one of the fastest-growing companies on the market. The main idea of the company is to provide practical and economical solutions for its customers. They do not only propose a wide range of products but also offer innovations based on the Combination Chemistry and other techniques.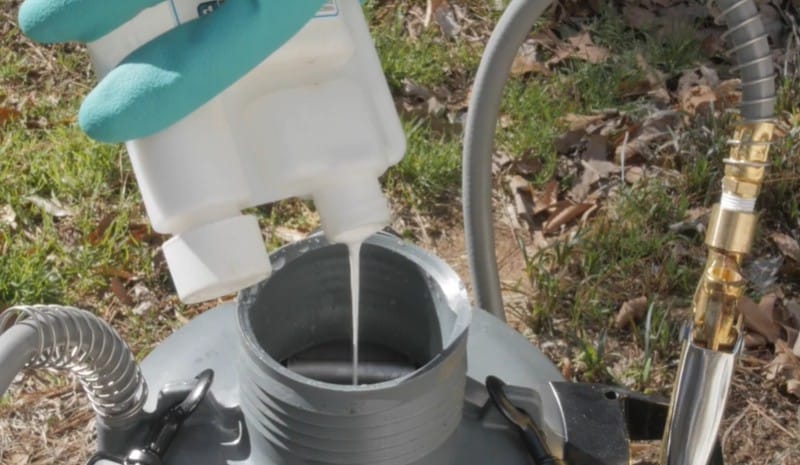 Controlled Release Insecticide is a professional bee-killing microencapsulated suspension with ample scope for action. You can also use it to fight spiders, ants, cockroaches, mosquitoes, and other troublesome insects.
Cyzmic CS contains an active ingredient Lambda-Cyhalothrin, which has contact, enteric, and residual action as well as intimidating properties. This active ingredient provides a long-lasting effect. It is possible to use an insecticide to kill bees indoors.
Pros:
Cons:

can be used for a variety of indoor and outdoor pest applications;
has a wide range of action;
the knockdown after the insecticide combined with the spray is long-lasting;
almost odorless;
has innovative CapVantage technology for a more comfortable application.

it is not a knockdown insecticide and it has to be used together with knockdown sprays for optimal results.
3. Spectracide 53371 Carpenter Bee and Ground Nesting Yellow Jacket Foaming Aerosol – Field-Specific Spray
Specifications:
Active Ingredient: Prallethrin (0.025%), Lambda-Cyhalothrin (0.010%)
Item Form: Foaming Aerosol
Item Weight: 16.28 pounds
Item Dimensions LxWxH: 11.44 x 5.69 x 10.81 inches
Target Species: Yellowjackets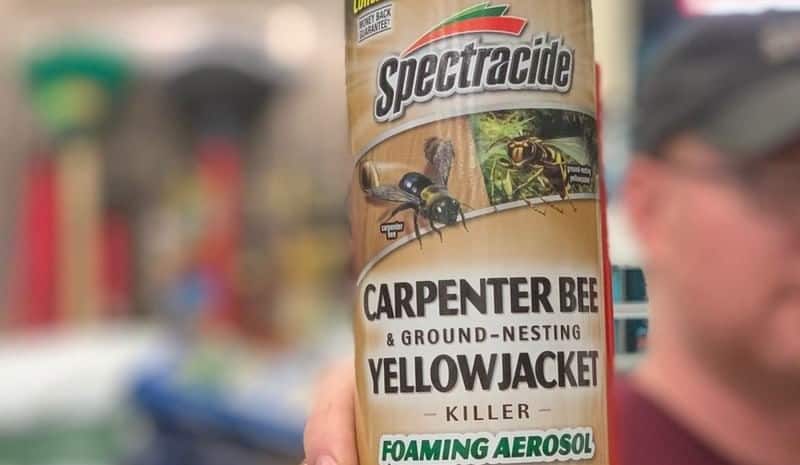 Spectracide is a provider of lawn and garden products, including weed, grass, and insect killers. The company has developed a popular brand with an estimate of fewer than ten employers. They are manufacturing field-specific insecticides to kill various types of bees and other insects.
Spectracide Foaming Aerosol is what kills bees on contact and controls ground-nesting yellow jackets. The key to the best result is an extension tube that lets you spray into hard-to-reach areas. The foam gets into the nest where bees live, and insects distribute the insecticide throughout the nest, which provides an ironclad guarantee of bee-killing.
The spray contains two active ingredients. The combination of Prallethrin and Lambda-Cyhalothrin makes the action of aerosol way more effective and durable.
Pros:
Cons:

kills on contact;
gets to all hard-to-reach places;
expands through the nest and affects more bees;
controls ground-nesting yellow jackets.

has a narrowly specialized action;
not a long-lasting knockdown.
4. BioAdvanced 700420A Termite & Carpenter Bee Killer Plus Pesticide – Best Pesticide For Carpenter Bees
Specifications:
Active Ingredient:
Item Form: Foaming Aerosol
Item Weight: 1.34 pounds
Item Dimensions LxWxH: 2.6 x 2.6 x 10 inches
Target Species: Termite, Carpenter Bee
The BioAdvanced appeared on the market about fifteen years ago and now operates in more than 20 countries. The company is a creator of science-based solutions and innovative advancements. By using cutting-edge biology, they manufacture the products to improve garden plants and protect them from pests.
Termite & Carpenter Bee Killer is an easy-to-use and fast-acting best bee killer spray that affects mostly the termite and carpenter bees. It is a foaming spray with foam that could expand on the length, which is the most comfortable for use. This feature provides the possibility to reach the hard-to-get places and spread the substance on the whole area of bee living.
It also has a two weeks duration of effectiveness. The active ingredient of this spray is imidacloprid, which is probably the most abundantly used insecticide. Imidacloprid affects the bee's nervous system, which leads to the paralysis and death of the insects. You can use it on lawns, woodpiles, and wooden elements in basements, attics, and other areas.
Pros:
Cons:

foam that expands at a 3 to 1 ratio;
also kills ants, wood-infesting beetles and other;
14 days duration of effectiveness.
5. Tempo Dust Insecticide BA1011 – Easy to Use Insecticide
No products found.
This product is being manufactured by the largest pharmaceutical company called Bayer. This corporation's area of business is big and also includes pest control chemicals. Bayer has been on the market for more than one hundred and fifty years. During this time, it has put the quality of its products at a very high level and gained worldwide recognition.
Tempo Dust Insecticide is a ready-to-use dust formulation. It affects a large scope of flying and crawling insects. This product could be easily spread by your hand or other suitable equipment. Due to this, it could get to the hard-to-reach areas. You can apply it on floors, walls, around window and door frames.
The active ingredient cyfluthrin creates the places where pests seek shelter and fall into a trap. The dust formulation provides quick action and long-term residual effect.
Pros:
Cons:

for indoor and outdoor use;
low odor and non-staining;
wide range of action;
easy-to-use.

is not shipped to NY, SC, CA, CT;
mostly used for fighting beetles.
How to Use Bee Killer Products?
Sprays
The top pick of bee killer is a spray product because it is easy in application. At the start, you should find the underground nest or the place that looks like the area of the bee living. Be sure to wear gloves and use the substance carefully to avoid skin contact.
When you have found the nest, keep the safety distance, shake the spray and open the actuator on the spray directly opposite the mark on the valve cup. Then press the actuator and treat, with a sweeping motion, the stimulated bees around the nest.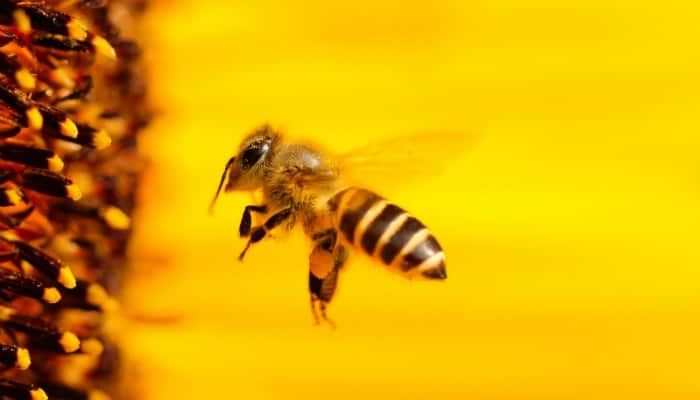 You should apply the liquid directly to the nest. Keep on spraying for several seconds straight to the hole. After that the bees will be harmless. If you need, you can repeat the procedure after some time; the precise instruction is indicated on the label of the product. It is better to use the product early in the morning or at night when the activity of bees is lower.
If you are looking for a product that is not complicated in the application – the spray is the best option for you. You may choose bee killing spray when you're fighting with the ground bees, for example, the yellow jackets. Also, there is a honey bee killer spray, but it is not so popular.
The sprays are fast-acting, so you will be protected from the possibility of getting stung by a bee.
Professional Insecticides
The professional insecticides have a wide range of action. However, they are a little bit more complicated in usage than sprays. Such insecticides are usually the microencapsulated suspensions that should be diluted with the water. They also require the spray applicator to fill it with a liquid.
After preparing the substance and filling the applicator, shake it for the proper mixing. Then locate and treat nests. Be sure to wear the protecting closing. Also, after the application of the insecticide, do not allow people and pets to come to the treated areas until the spray dries. It is not effective if you use insecticide during rain.
Do not overuse the spray, as you don't need to water the hole to the highest point.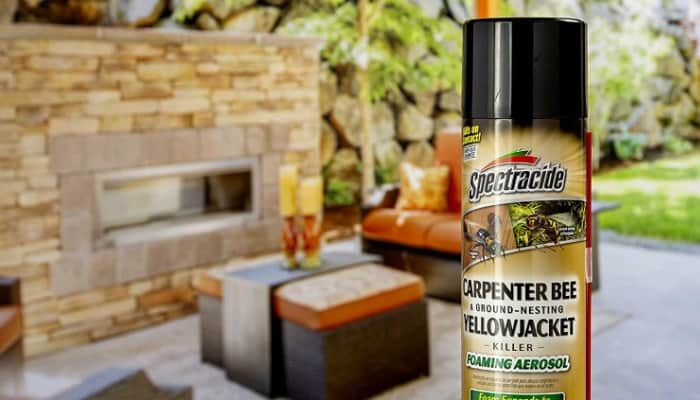 Such products can be used for fighting ground, carpenter, and honey bees. The advantage of the professional insecticides is that it is applicable to mostly all the types of bees and many other insects. If you have a large area to protect from the various pests, I would recommend you to choose one of the professional products that I have mentioned above.
Foaming Bee Sprays
Among the products I have described, the two of them were the foaming sprays or aerosols. They are not complicated in applying, but there are specific cases when to use them. Firstly, of course, do not forget about protecting clothes.
For fighting ground bees, locate the nest and then get ready to treat in the early morning or late at night. Use the extension tube to make sure you are protected from the stings. You should spray the foam directly to the hole, where you see the bees activity.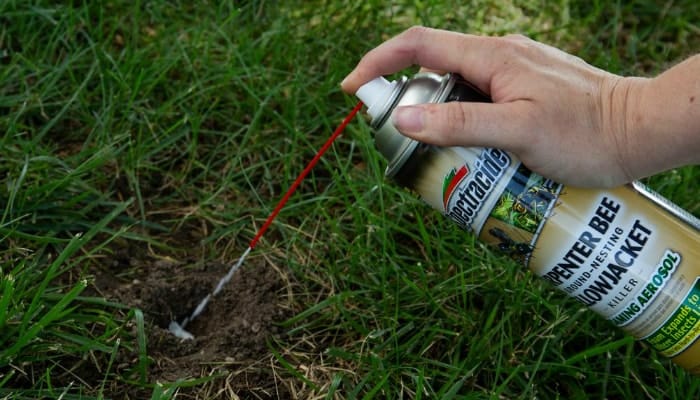 For the carpenter bees, treat the tunnels with the foam where it is more likely to observe the activity. Leave them open for two days and allow the insects to reach the chemicals. It is better to repeat the procedure in a few months. Remember, do not allow people and pets to come to the wet area, wait until it dries. Also, do not apply the product during rain.
The foaming bee spray is usually field-specific. So, if you only need to fight one type of bees and you are looking for a fast-acting spray – such a product is the best choice! Foaming bee sprays are mostly used to cope with carpenter bees and ground bees.
The advantage of these products is that they usually get rid of these two types at the same time. Foaming bee sprays also affect other insects, such as ants, wood-infesting beetles, etc.



Dust
Dust insecticides are not as popular as sprays, but they have a large score of action and are very easy to apply. Such products are used to protect floors, walls, windows and door frames from insects. During the procedure, you should use hand dusters or other equipment. It is better to make light moves to get an effective application.
Pay attention to the hard-to-reach places, such as wall voids, places around windows and door frames. You can repeat treatment if you think it is necessary.
Be careful with the dust, make sure it does not get in eyes, on skin or clothing. Avoid dust breathing and wash your hands after using the insecticide.
If you want to protect your house from different types of insects, especially bees, dust products are the best for you. They could be used for all types of bees, but these products are not the best option if you have a severe infestation. Dust spray is usually used to fight single insects, so when you need to disarm a nest, it is better to use other types of bee-killing products.
FAQ
How Does Bee Spray Work?
The spray contains a chemical that affects the nervous system of insects and kills them when you spray the product on them or when they contact the toxin in the nest.
Will Wasp Spray Kill Bees?
The spray would paralyze bees and then kill them.
Do Bee Sprays Kill Instantly?
Yes, the bee spray kills bees pretty quickly.
When to Spray Against Carpenter Bees?
It is better to spray the insecticide during the night time when the activity of the bees is low.
Final Words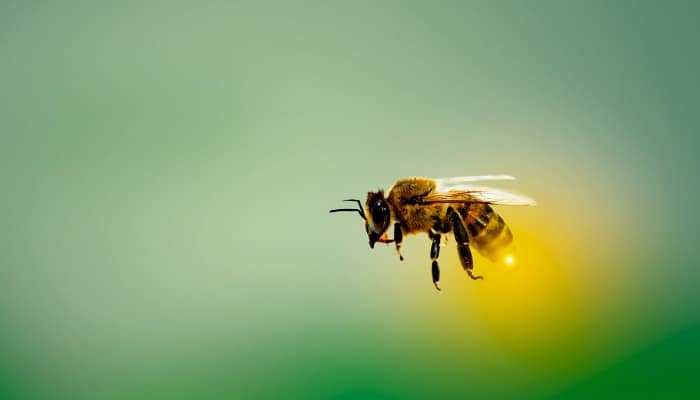 The bees seem to be very friendly from the first side, but there are cases when they see you as a treat and attack. In this article, I have described lots of ways to prevent such an interaction with these insects. You can easily choose the product that will suit your personal needs as the variety of products is enormous: starting from the easy-to-use sprays, fast-acting foaming sprays, dust, right to professional insecticides.
Make sure you know the exact type of bees you are fighting and what danger they could carry – this will make the process of getting rid of pests lots easier and way quicker!
Did you have to get rid of the bees infestation in your apartment? Did you succeed? Which products did you use to fight the bees? Share your experience with us in the comments section below.
References:
Unravelling the Molecular Determinants of Bee Sensitivity to Neonicotinoid Insecticides (U.S. National Library of Medicine National Institutes of Health):
https://www.ncbi.nlm.nih.gov/pmc/articles/PMC5887109/
Controlled Release of Imidacloprid from Poly Styrene-Diacetone – Nanoformulation (Qian, Kun; Guo, Yanzhen; He, Lin):
https://ui.adsabs.harvard.edu/abs/2012IJN….1140036Q/abstract
Psyche (Cambridge Entomological Club):
https://groups.csail.mit.edu/mac/projects/psyche/77/77-184.html
Why You Should Trust Pest Control Hacks?
We know that pests are nasty neighbors, and it can take months to eliminate them without the right approach. Our experts use their own experience to compile articles and guides that are introductory and informative. Our authors' opinions are independent and based on the results of practical testing of pest control tools. We do not notify manufacturers of testing of their products and do not receive payment from them for posting their items. Also, our texts are never submitted to company representatives for proofreading before placement. On the site, you will find exclusively objective ratings and reviews.