As of the start of 2020, there is a great demand for various detergents and cleansers, and we understand why. There is currently a raging global pandemic that has already forced countries all over the world to shut down.
People are becoming much more aware of the dangers that small bacteria and viruses pose to humans. However, it is not a bad trend because people have finally started washing their hands properly and disinfecting the objects that are constantly in use, from doorknobs to smartphones. These actions should have been the norm before the outbreak, but it's never too late to start disinfecting your place to stay healthy and safe.
Down below, you can read about the effectiveness of Fabuloso, a popular cleaning solution, as well as its common applications. Also, I will give quick answers to common questions regarding Fabuloso, including the most popular one, 'Does Fabuloso kill germs?' So, let's get started with a general overview of this product.
General Overview of the Fabuloso Cleaner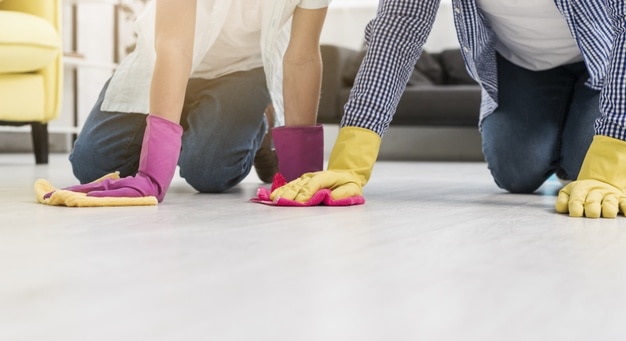 First of all, what is Fabuloso? It is a very common and affordable multi-purpose cleanser manufactured by the Colgate-Palmolive company. It is a renowned company that produces various items for oral care (toothpaste, toothbrushes, and mouthwash), personal care (deodorants, body wash, etc.), pet nutrition, and home care (specialized and all-purpose detergents).
One of the main advantages of this company is that it offers high-quality products for pocket-friendly prices, and the cleanser in question serves as a great proof of that statement. The smallest bottle of Fabuloso goes for only about a few dollars, and that's incredibly cheap for a cleanser of such a high quality that you can use on almost any surface with no damage to the areas themselves.
A statement that this cleanser is very popular can be backed up by thousands of positive Fabuloso reviews from customers, as its applications are universal. It is being used in numerous households, offices, and workspaces. The product comes in many scents, and the most common ones are passion fruit, tropical spring, lavender, spring fresh, ocean paradise, and refreshing lemon.
Each of these scents works extremely well because they last for a very long time if the cleaning solution is not too diluted and perfectly mask the stench of the chemicals that most cleansers can't hide whatsoever. In addition to protecting one from the smell of chemicals, Fabuloso's scents are, in fact, very pleasing to smell and not distracting.
Another feature of Fabuloso that makes it stand out is the cleanser's performance. It is incredible in dealing with dirt and grease. The product easily removes old stains, leaving absolutely no residue. The cleanser achieves it thanks to the optimal combination of chemicals. You can check all the Fabuloso ingredients, as well as other specifics, on the FAQ section on the official Fabuloso website.
Does Fabuloso Disinfect?
As the interest in disinfectants drastically surged after the recent events, more and more people started asking questions like 'Is Fabuloso a disinfectant?' and 'Is Fabuloso antibacterial?' The queries are pretty logical because Fabuloso is one of the most popular cleansers in the US and abroad.
If you already have a bottle of this cleanser at home, you can rest assured that Fabuloso can help you to clean and disinfect your place. Fabuloso can make any surface clean of microorganisms, meaning it is a great disinfectant, and it kills all germs on the treated areas.
Does Fabuloso Kill Bacteria, Viruses, Mold, Etc.?
Every cleanser with a phrase 'kills 99.9% of germs' or similar ones on its label has been tested and approved as a disinfectant by the Environmental Protection Agency (EPA) with antimicrobial testing methods. The 99.9% figure is mentioned because the manufacturer can't guarantee that the buyer will use the cleanser completely in line with instructions to get rid of all the germs.
Fabuloso did undergo such testing, and on the official Fabuloso website, you can see that it is considered a disinfectant. So, to answer the question 'does Fabuloso kill bacteria and viruses?', yes, it does kill them.
Related Post: Is Pine-Sol a Disinfectant? How It Works
However, concerning mold, it is essential to understand that this product wasn't designed to destroy mold completely. It is possible to mix Fabuloso with cleaning products that contain benzalkonium chloride (usually products meant for cleaning pools) and use the created solution on mold. Note that it is a DIY solution that is not explicitly approved by Fabuloso's manufacturers. So, it would be better to buy another product that is made for killing mold.
Main Fabuloso Uses
Fabuloso is an all-purpose hard surfaces cleanser. The recommended areas to treat with this disinfectant are:
Bathroom floor and walls;
Windows and other glass surfaces;
Kitchen tops and stoves;
Floors in every room of your home;
Just about any hard surface you have.
There are, however, some things to be aware of. You can use Fabuloso on a wood floor only if it is sealed, so be wary of this point if you have a wooden floor. Also, note that you can't use this cleanser for washing dishes.
No products found.
When and How to Use Fabuloso
To use this cleanser correctly, you have to dilute it with plain water. The pure formula is too potent to be used on surfaces, as it can damage and burn some materials. The perfect ratio is one gallon of water and one-fourth of a cup of Fabuloso. For maximizing the germ-killing effect of the cleanser, the water should be hot. However, if the particular hard surface can't be treated with hot water, keep it at room temperature.
To clean the floor, you have to sweep it at first, and only then apply the diluted solution to the surface with a mop, and any standard mop will work. The main task is to apply an even amount of the solution onto the floor.
To clean other surfaces, including walls, glass, kitchen tops, you can apply the same diluted solution on the desired surface. Preferably, use a sponge to wipe the area after the application. Repeat these two actions until you clean all the surfaces. Do not forget to wipe the clean areas with a wet cloth and let them air dry if you want to get a shiny look.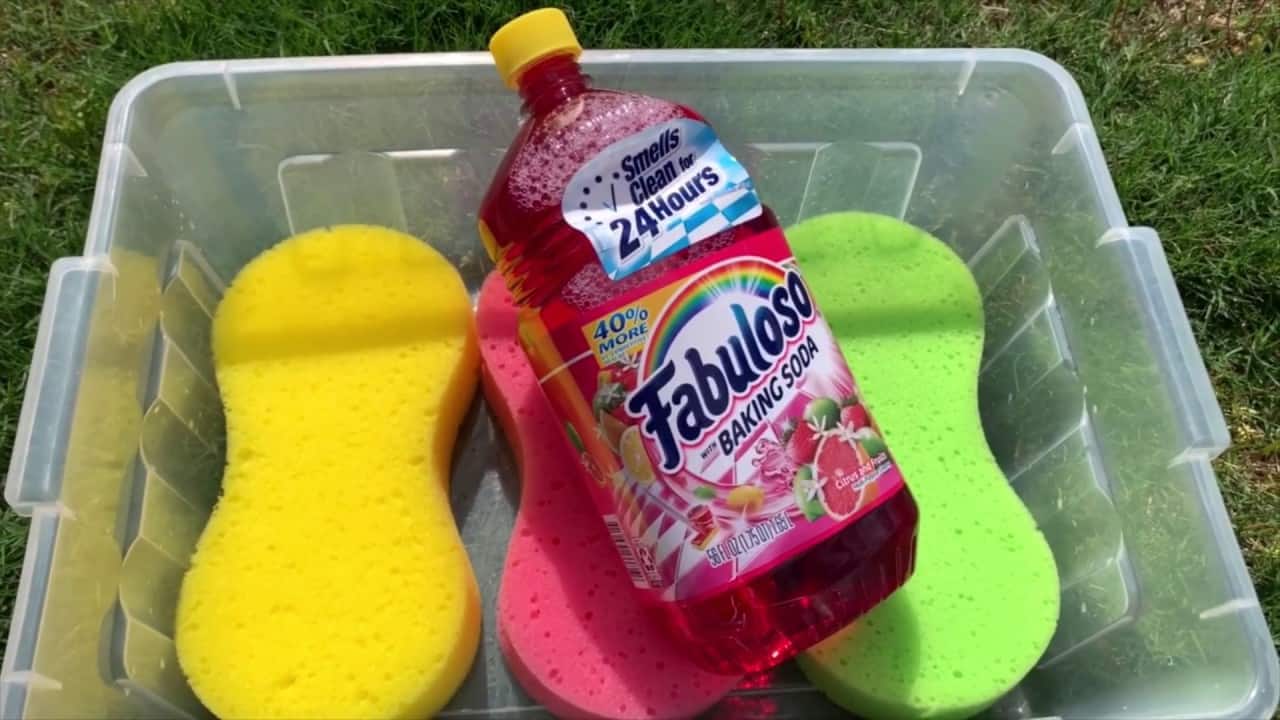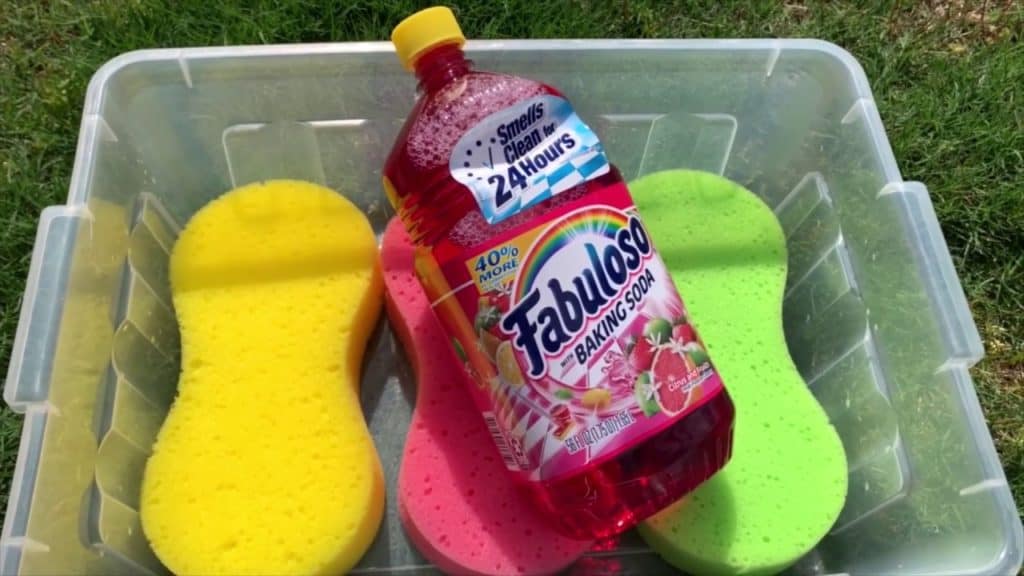 The commonly recommended time between cleanings is one week. It is enough time for a considerable amount of dirt and grease to build upon the floors, as well as on other surfaces, again. Moreover, this product allows disinfecting your home and protecting yourself from different germs and bacteria.
The Center for Disease Control and Prevention (CDC) makes a distinction between cleaning and disinfecting. The former removes dirt but not necessarily kills germs, and the latter eliminates germs but not always removes dirt.
According to the CDC, the most secure way to get rid of bacteria and viruses is first to clean a surface and then disinfect it. Fabuloso does both, but to ensure maximum safety from germs, you need to condition the treated surfaces one more time with Fabuloso. This way, with the first application, you will mostly remove dirt, and with the second one, you will disinfect the area for sure.
Related Post: Is Lysol Toxic? Detailed Review
Regarding the regularity of cleaning and disinfecting during a pandemic, it heavily relies on how often you and your closest ones leave home. It is, of course, recommended to stay at home during this period, but if your supplies run out, or you work in life-support systems, you will still need to go out. In such cases, you need first to wash your hands for at least thirty seconds and then disinfect the areas you touched.
If you or people that live with you in the house/apartment have to leave the premises every day, and there is no way to avoid this, you should regularly disinfect the high-touch common areas in your home. For more instructions and guidelines on preventing the spread of bacteria and viruses, you can refer to the official recommendations from the CDC.
Questions and Answers on Fabuloso Use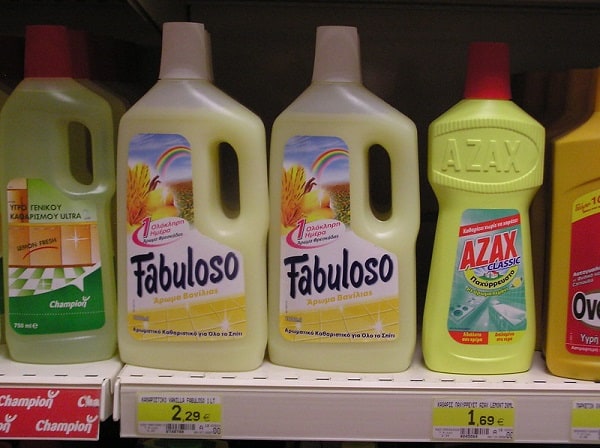 I know that many read such articles for quick answers to some specific questions. So, here are the most frequently asked questions on the net regarding using Fabuloso as of now.
Is Fabuloso Safe?
On the official website, it is stated that the cleanser does not contain any hazardous ingredients. There are also no negative effects on the inhalation of the product. However, your skin might become irritated if it was exposed to the cleanser for a prolonged time.
Is Fabuloso Toxic?
The manufacturers warn against warming the cleanser up. If the solution gets in your eye, you need to seek medical attention. Also, do not ingest the product, as it will harm your digestive organs.
Can I Use Fabuloso in Laundry?
Yes, it is a very effective disinfectant, and adding it to the regular laundry detergent can kill germs on your clothes, as well as give clothes a nicer smell.
Can You Mix Bleach and Fabuloso?
Absolutely not. This combination will produce an incredibly harmful (and in certain quantities deadly) gas in mere seconds. So, the manufacturer advises against doing it. Bleach can only be mixed with plain water and some laundry detergents.
Can Fabuloso Be Used on Wood Floors?
Yes, but only if the wood floor is sealed. If not, the cleanser will indivertibly soak the top of your wood floor, making it puff up. In the end, it will lead to your floor being uneven, bumpy, and more prone to cracks.
Does Fabuloso Help Against SARS-CoV-2?
According to the EPA list of registered disinfectants that can be used against this virus, Fabuloso is effective against SARS-CoV-2 and can kill all bacteria and viruses on hard surfaces.
No products found.
Final Words
I hope that this information was helpful, and I answered all your questions regarding Fabuloso characteristics and ways of use. If I had to name a couple of things that I would want you to remember from reading this piece, they would be:
Fabuloso is a cheap and effective disinfectant, meaning it can kill all the germs on hard surfaces in your house.
Regular application of the disinfectant to common high-touch areas is a must during a pandemic, especially if you can't be fully compliant to the quarantine.
Fabuloso can efficiently kill the SARS-CoV-2 virus, so it is one of the possible protecting solutions against the spread of this disease.
To sum up, if you were looking for a reliable and affordable disinfectant, Fabuloso is your best bet. Make sure to read the instructions and keep yourself safe.
References:
FAQs (Fabuloso):
https://www.fabuloso.com/faq
Antimicrobial Testing Methods & Procedures Developed by EPA's Microbiology Laboratory (U.S. Environmental Protection Agency):
https://www.epa.gov/pesticide-analytical-methods/antimicrobial-testing-methods-procedures-developed-epas-microbiology
Cleaning and Disinfecting Your Home (National Center for Immunization and Respiratory Diseases):
https://www.cdc.gov/coronavirus/2019-ncov/prevent-getting-sick/disinfecting-your-home.html?CDC_AA_refVal=https%3A%2F%2Fwww.cdc.gov%2Fcoronavirus%2F2019-ncov%2Fprevent-getting-sick%2Fcleaning-disinfection.html
Disinfection and Sterilization (Centers for Disease Control and Prevention):
https://www.cdc.gov/infectioncontrol/guidelines/disinfection/index.html
What Can You Safely Mix With Bleach? (Water Quality & Health Council):
https://waterandhealth.org/disinfect/safely-mix-bleach-2/
New York State Registered Disinfectants Based on EPA List:
https://www.dec.ny.gov/docs/materials_minerals_pdf/covid19.pdf
Why You Should Trust Pest Control Hacks?
We know that pests are nasty neighbors, and it can take months to eliminate them without the right approach. Our experts use their own experience to compile articles and guides that are introductory and informative. Our authors' opinions are independent and based on the results of practical testing of pest control tools. We do not notify manufacturers of testing of their products and do not receive payment from them for posting their items. Also, our texts are never submitted to company representatives for proofreading before placement. On the site, you will find exclusively objective ratings and reviews.