Once you notice grubs on your lawn, you have to act immediately using the best grub killer in order to save it. Usually, those who suffer from these tiny but dangerous for the yard grubs have no idea how to deal with them. For starters, these creatures dwell under the ground, and their home is not easy to find.
They are small and leave tiny trails which may stay completely unnoticed until they eat all the grass around, as they feed on grassroots. Thus, the most reliable way to make sure that you have these pests on your land is to dig the lawn and find them. If grubs are there, you have to get rid of them, and I am here to help.
Top 5 Best Grub Killers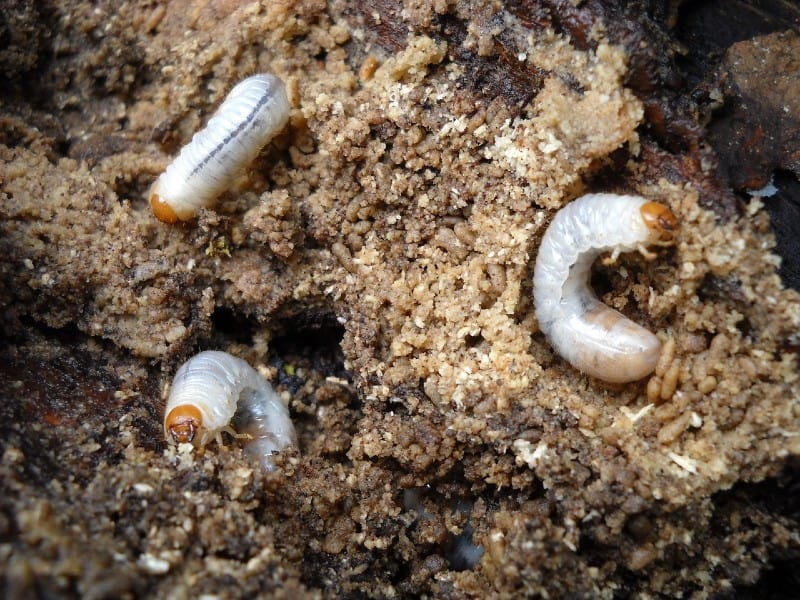 Getting rid of grubs may be a tough task, as these creatures prefer to hide under the ground. Feeding on the grassroots, they can stay on the lawn for months, until it is too late. I have gathered here my top 5 favorite killers that act splendidly on any type of lawn. Check out their description and find out what is the best treatment for grubs in your yard.



1. Bonide Insect and Grub Control – The Best Grub Treatment for Above and Below the Surface
Specifications:
Active Ingredients: Imidacloprid – 0.5%, Lambda-cyhalothrin – 0.1%
Item Form: Granules
Item Weight: 6 Pounds
Item Dimensions LxWxH: 3.8 x 14.8 x 15 inches
Target Pest: Ants, except Carpenter and Pharaoh Ants, Crickets, Fire Ants, Chinch Bugs, Armyworms (Fall and Yellow-striped), Billbugs, Cutworms, Earwigs, Fleas, Roaches (German & American), Grubs, Sod webworms, European Crane Flies, Ticks and other listed Insects
This product kills versatile pests both above and under the ground. It kills grubs, roaches, ants, crickets, billbugs, chinch bugs, fleas. It acts quickly after you spread it, killing grubs and other insects. To avoid the appearance of new insects, you can reapply the killer after 3 months.
During these 3 months, it stays active on the lawn. I recommend you to use it on your lawn and near the foundation of the house.
Bonide is the company that develops pest killers and protects American yards since 1926. They guarantee simple application. You have to spread granules on the territory you believe is invaded by grubs. The killer contains Imidacloprid and Lambda-Cyhalothrin as active components. Keep this killer far from the children and pets. Protect your skin and face while applying the product.
Pros:
Cons:

It kills over 40 species of small insects;
Powerful active ingredients;
Kills during the first 24 hours;
Affordable price;
Simple to apply.

It is recommended to protect your eyes and skin while spreading.
2. Scotts GrubEx – The Leader Among Long Distance Lawn Grub Killers
Specifications:
Active Ingredients: Chlorantraniliprole 0.08%
Provides Protection For 4 Months
Treats up to 10,000 sq. ft., 28.7 lb.
Item Weight: 28.7 pounds
Item Dimensions LxWxH: 20 x 13.25 x 5 inches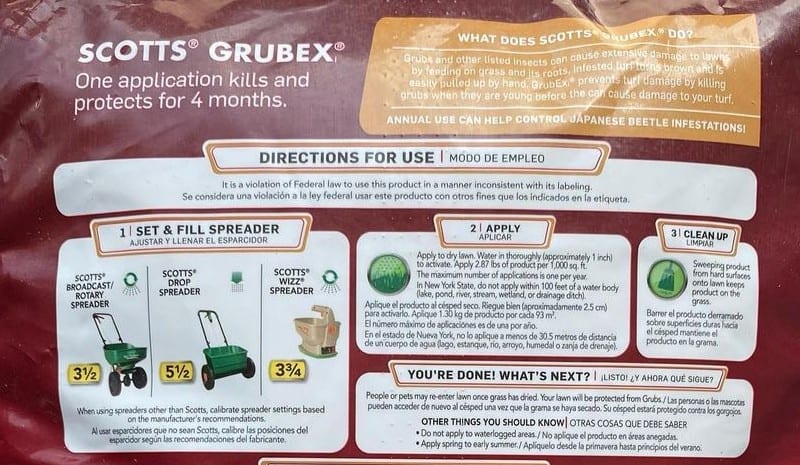 This product kills white grubs, caterpillars, chinch bug, and larvae of billbug, cranefly, and Japanese beetle. If you are not sure about the classification of white warms you see near the roots of the lawn grass, use this killer as it is universal.
It is recommended to apply the product in spring or at the beginning of summer. Active ingredients will immediately kill grubs, and prevent others from settling down on your lawn for the next 4 months. The turf stays undamaged.
This GrubEx is made by Scotts, the company that takes care of the grass on your lawn. They are well known in the USA and abroad, founded in 1868 by a farmer. This killer is 25 times more effective than the original GrubEx.
However, prepare to use the spreaders of Scotts company designed specifically for this item. I recommend buying a 10 000 sq ft pack, which is savvy, especially if you need to repeat the procedure or have big territories to cover. After you spread the granules with a spreader, you have to water the lawn. Once water is dried, people and animals can safely walk there.
Pros:
Cons:

Savvy Pack;
Kills multiple species;
Works more effectively than GrubEx;
Easy to apply;
Affordable price.

It requires a Scotts spreader for better results.
3. St Gabriel Organics Milky Spore – Effective and Pet Safe Grub Killer for Your Lawn
Specifications:
Active Ingredients: Spores of Bacillus Popilliae 0.02%
Item Form: Powder
Item Weight: 20 Pounds
Item Dimensions LxWxH: 5 x 18 x 36 inches
Coverage Area: 20 lbs. will Treat 7,000 square feet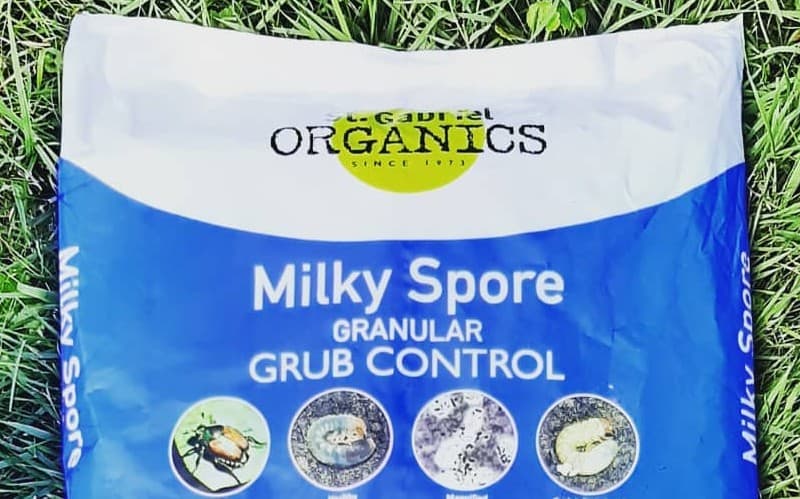 This granular grub killer suits lawn owners who have pets and children running in the yard. The pack consists of a 20 lb milky spore mix. Apart from grubs, it also kills Japanese Beetles and versatile larvae. Depending on the type of insect, you can apply this mix from early spring to fall. It is recommended to use a spreader for better results.
This killer has 7 000 sq ft coverage radius and will serve you for up to 20 years. St. Gabriel Organics company offers a 10 years warranty. Since 1973 they produce children and pet safe measures for killing insects in your yard. To raise the effect, it is recommended to spread the mix every 3-4 feet distance.
Pros:
Cons:

Children and pet safe;
Kills multiple types of pests;
10 years warranty;
Completely organic;
Can be stored for 20 years.

Costs slightly more than similar products.
4. BioAdvanced Grub Control – The Best Grub Control Product with 24 Hours Action
No products found.
Specifications:
Active Ingredients: Trichlorfon 9.3%
Coverage Area: Treats up to 5,000 square feet
Item Weight: 9.97 pounds
Item Dimensions LxWxH: 19 x 12 x 1 inches
Target Pest: Ants, Ticks, Billbugs, Chinch Bugs, Crickets, Cutworms, Earwigs, Grasshoppers, and more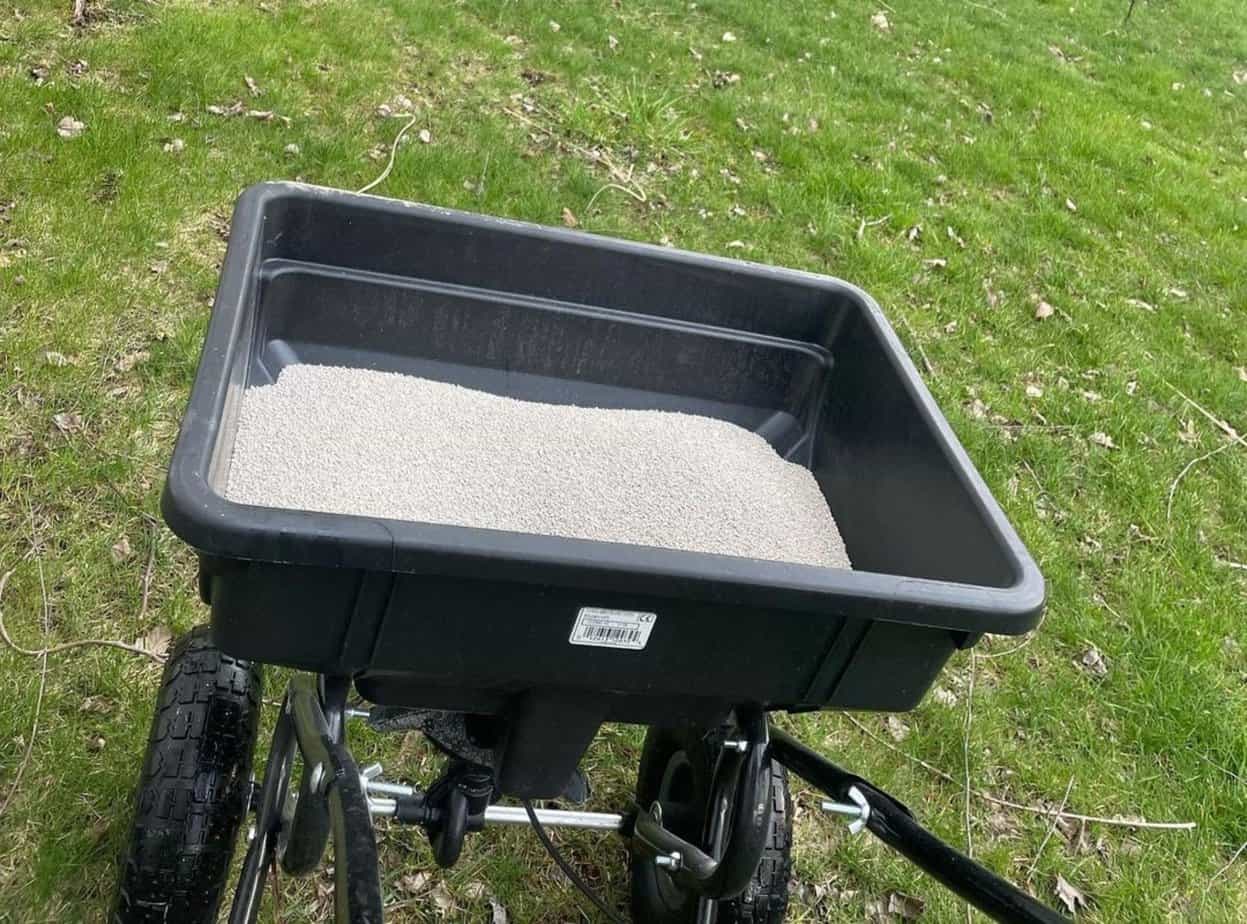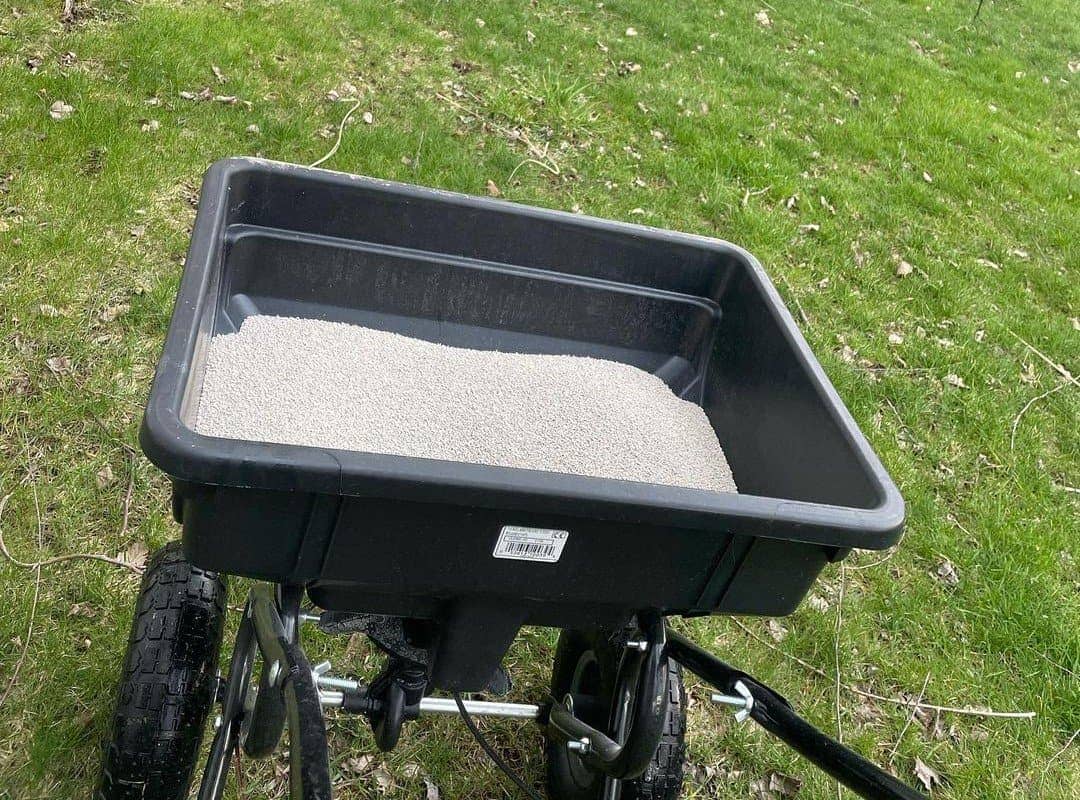 This killer works quickly and effectively. It kills all the grubs in one day after it was spread. The main ingredient of the product is Dylox, which kills insects after the contact. Apart from grubs, this measure works well for chinch bugs, billbugs, ants, crickets, ticks, grasshoppers, and earwigs. You don't have to wait for several days to notice the difference. The standard pack is 10 pounds.
Developers of this bug killer recommend using these granules in spring when grubs just awoke from winter. You can re-apply it in the fall, to prevent the appearance of new grubs from eggs. To apply the killer, use a spreader. Make sure that the lawn is completely covered.
One pack can work on 5 000 sq ft. BioAdvanced company offers versatile insecticides and bug killers for your lawn. They recommend using gloves and protective glasses while you are spreading the killer.
Pros:
Cons:

High quality product;
Contains Dylox that kills pests in 24 hours;
Works effectively on multiple species;
Savvy offer;
Easy to spread.

You have to cover your face and body while applying the killer.
5. Sevin Ready to Use Grub Killer Dust
Specifications:
Active Ingredient: Carbaryl 5%
Ready-to-Use 5% Dust
Item Weight: 1 pounds
Item Dimensions LxWxH: 16.5 x 3.3 x 8.8 inches
Target Pest: Fall Armyworm, Japanese Beetle, Flea Beetles, Leaf Hoppers Stink Bugs, Raspberry Maggot, Blueberry Aphid, Blister Beetles, Boxelder Bugs, Lace Bugs, Psyllids, Leafrollers, Tent Caterpillars, Thrips, Millipedes, Sod Webworms, Ticks, Earwigs, Ants and others
This dust kills multiple species of small insects, including grubs. According to developers, it determinates over 65 types of insects. The offer is suitable for everyone who has a large territory to take care of.
This killer is already good for use. I still recommend you to wear gloves while applying it on the grass. All you need is to open the bottle with the killer and spread the substance. That's all. The bottle is easy to hold.
The main ingredients of the killer are zeta-cypermethrin and bifenthrin. These insecticides are non-systemic and are not absorbed by the plant itself. When insects contact these ingredients, they die. Sevin is a well-known brand that produces insecticides and killers for yard pests.While getting rid of all small creatures that are unwelcome in your yard, it also offers plant protection .
Pros:
Cons:

It comes in 3 bottle pack;
This killer works on 65 types of insects;
Powerful ingredients inside;
Savvy offer;
It is not absorbed by plants.

You have to protect your skin.
Important Information on Grubs
Grubs are small larvae of a beetle that lives in the ground. It rarely comes out on the surface, feeding on the roots of the grass. It is colored in white or creamy shades with a dark brown head.
Usually, they prefer to curl into the shape of a C letter. Before you buy any of the killers I reviewed, you have to make sure that it is grubs you are dealing with. Here you can find the answers on how to kill grubs, while almost all of the killers I recommend are suitable for multiple insects.
Why grubs are dangerous for your garden?
After we have already discussed what kills grubs, let's talk about why we have to kill them anyway. I have to say that all experienced gardeners who were unlucky to find grubs on their territory are not particular fans of these insects. Grubs do not spread diseases or bite people.
However, they eat the grass on the lawn. They feed on the roots and can exterminate huge territories. Once they turn into beetles, there will be another problem, as they will crawl up onto the surface, destroying your harvest and breeding.
How to get rid of grubs without poisoning your pets
The most used variant of getting rid of grubs is to spread killers on the land. Since most of them contain active chemicals, it is recommended to work in gloves and glasses. Most of the killers work actively for 24 hours. After that, they can act as a preventive measure, but they are not that harmful to dogs and people. Just don't forget to irrigate the lawn to prevent the grass from burning down.
If you are worried about your pets that can't leave the lawn even for a day, pick eco-friendly Milky Spore by St Gabriel Organics I've mentioned on the list. It is harmless to other creatures except for small insects.
How to use different grubs treatments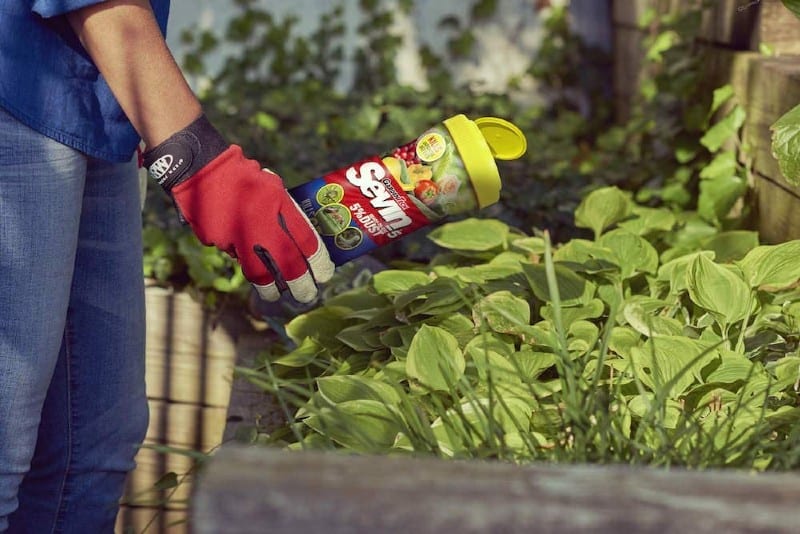 Usually, grub killers are produced in granules or dust. They all are simple to spread and all developers of the killers attach brief instructions. No matter whether the killer is organic or not, these are common rules. Here are a few simple steps you have to memorize on how to treat for grubs:
Choose the perfect timing. The middle of spring and the beginning of summer is the most suitable period for applying insecticides. Grubs just awake from the winter, and still did not turn into the beetles;
Wear protective gloves and glasses, no matter whether you use chemicals or natural products. They will protect your skin from itching and allergic reaction, and your eyes from irritation;
Use a spreader to apply granules. If you have a dust killer, you can use specific dusters. Some bottles are already made for easy applying, like Sevin Ready to Use Dust;
Cover all the territory with the product;
Don't irrigate the lawn for 24 hours.

How to prevent grubs in your yard in the future
Preventive measures are considered the most effective against grubs. They protect the lawn from the appearance of new grubs by the extermination of old grubs and beetles. In my top-5 favorite products list, I specifically mentioned universal killers that take care of all the insects, from their grubs and larvae to adult species.
Almost all of them stay active for several months and kill pests that can settle down on the former habitat of grubs you've got rid of. To protect your lawn from the new grubs, I recommend re-applying the killer two times a year.
After you killed pests in spring/early summer season, it is important to spread the product on your lawn at the end of July. This way new grubs will not appear from hatches of eggs. Beetles will not have enough time to lay eggs.
The Widespread Questions about Grubs
I have gathered several questions that you may have had. I advise you to get familiar with them before you buy grub killers. You can also check users' reviews if you have more specific questions for some of the products that will help you with white grubs in home lawns.
How to tell if you have grubs?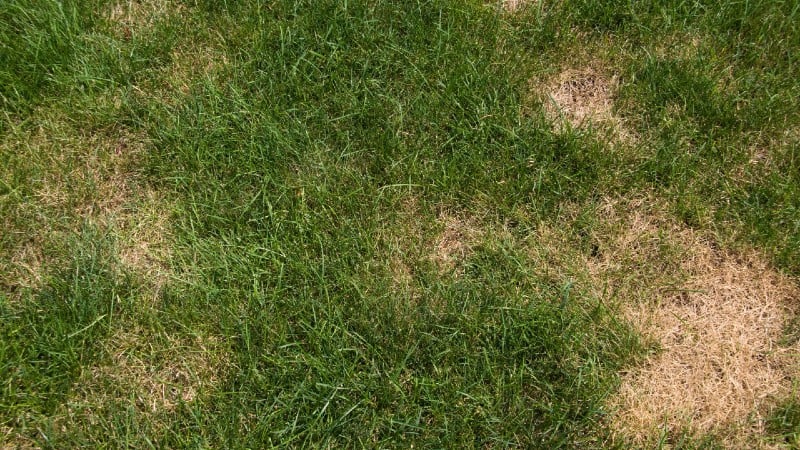 Check out whether you have these signs of infestation:
The grass is getting brown in random spots. Your lawn looks like a jaguar;
Birds, skunks, raccoons visit your lawn more often. It looks like they have found a source of food there;
The grass feels like a sponge while you are walking on it;
The increased amount of beetles near your lawn.
When to treat lawn for grubs?
It is extremely important to find the perfect time when to put down grub killer. That depends on what you want to do. Usually, we notice grubs at the end of spring or at the beginning of summer.
If you are wondering when to apply grub control products, I recommend you act immediately and not to wait for grubs to turn into beetles or there will be more problems. Experienced gardeners spread the remedy in Spring. To make sure that grubs will not appear again, they re-apply the killer in July or August, before adult beetles lay eggs.
Why are grubs dangerous?
Grubs in lawns are not deadly dangerous, as you may wonder. They are not contagious. These small creatures may look ugly, as they are definitely not colorful butterflies, but grubs are not dangerous for people. However, they are harmful to the grass on the lawn. Besides, if you don't get rid of them in time, these insects quickly turn into beetles and can cause damage to bigger territories.
Finding the Perfect Killer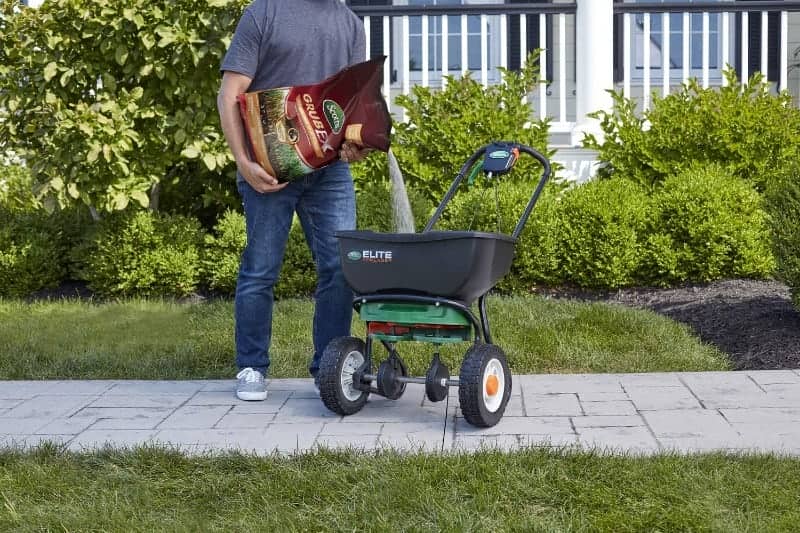 Grubs are the menace you have to deal with in your yard. It is not mission impossible, and what is more important, even a complete newbie can deal with it. I believe I have provided all the instructions necessary for this and described my top favorite products that will definitely help you with this task.
Based on your personal preferences like eco-friendliness, organic active ingredients, long-lasting effect, trusted developers, and suitable price, you can pick the one you need.
If you have tried some of these killers before, please share your opinion in the comments below. How do you like it? Was the killer effective?
References:
Grubs in Lawns (Ministry of Agriculture, Food and Rural Affairs):
http://www.omafra.gov.on.ca/english/crops/facts/08-023w.htm
How to choose and when to apply grub control products for your lawn (Michigan State University):
https://www.canr.msu.edu/news/how_to_choose_and_when_to_apply_grub_control_products_for_your_lawn
How do I treat for grubs in my lawn? (University of New Hampshire Cooperative Extension):
https://extension.unh.edu/blog/how-do-i-treat-grubs-my-lawn
Why You Should Trust Pest Control Hacks?
We know that pests are nasty neighbors, and it can take months to eliminate them without the right approach. Our experts use their own experience to compile articles and guides that are introductory and informative. Our authors' opinions are independent and based on the results of practical testing of pest control tools. We do not notify manufacturers of testing of their products and do not receive payment from them for posting their items. Also, our texts are never submitted to company representatives for proofreading before placement. On the site, you will find exclusively objective ratings and reviews.